Your potential unlocks new opportunities.
Are you a graduate looking to get your foot in the door with a Fortune 100 company? Ready to find an organization that will invest in you and your career? Spectrum's Field Operations business unit connects early-career professionals, who have a Bachelor's or Master's degree, to a 12-month rotational training program. With your career development in mind, we've designed a program to help you gain experience and exposure.
While you put your knowledge to the test, we'll provide you with hands-on experience to enhance your problem-solving skills, business acumen, and leadership abilities.
Understanding the program
Throughout the Field Operations Rotational Program, our goal is for you to become a well-rounded, adaptable professional who is ready to contribute to a wide range of projects.
In your first six months, you'll complete training rotations to learn the ins and outs of these key areas:
Fulfillment
Regional Service Center (RSC)
Maintenance
Regional Operations Center (ROC)
Construction
Customer Operations
In your final six months of the program, your program will center around one of the following specialties, based on your functional track:
As a full-time Spectrum employee, you'll have access to mentoring, paid time off, career advancement opportunities, comprehensive health care benefits, retirement savings plans, free and discounted company products and services (where available), and more! Spectrum will also provide you with relocation assistance to help offset any moving expenses.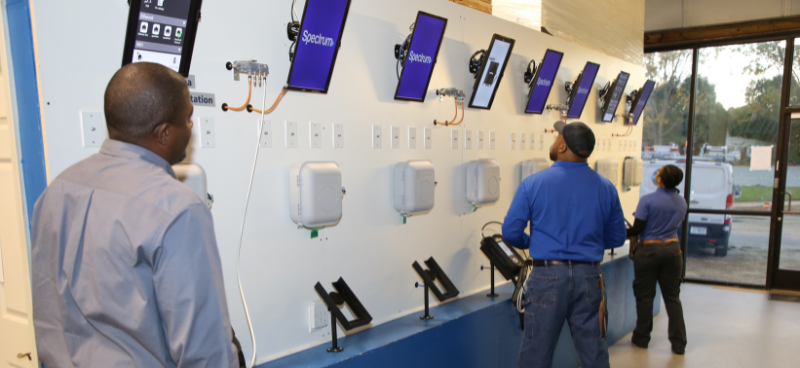 Deciding if it's the right fit for you
If you're a self-starter, eager to learn new things and develop your skills, our Field Operations Rotational Program may be a great next step for you.

As a recent graduate, there are countless directions to take your career. This training program will expose you to many facets of business—helping you learn all about the industry and empowering you to pursue the career you want. The invaluable experience you'll gain in just 12 months at Spectrum will set you up for a dynamic, rewarding career.
Ready to get started?
Connect to more
You know what you want to do. Now, see how we help you do it. Learn about our benefits and company culture and get some tips on how to take the next step in your career.