How Working at Spectrum Changed My Life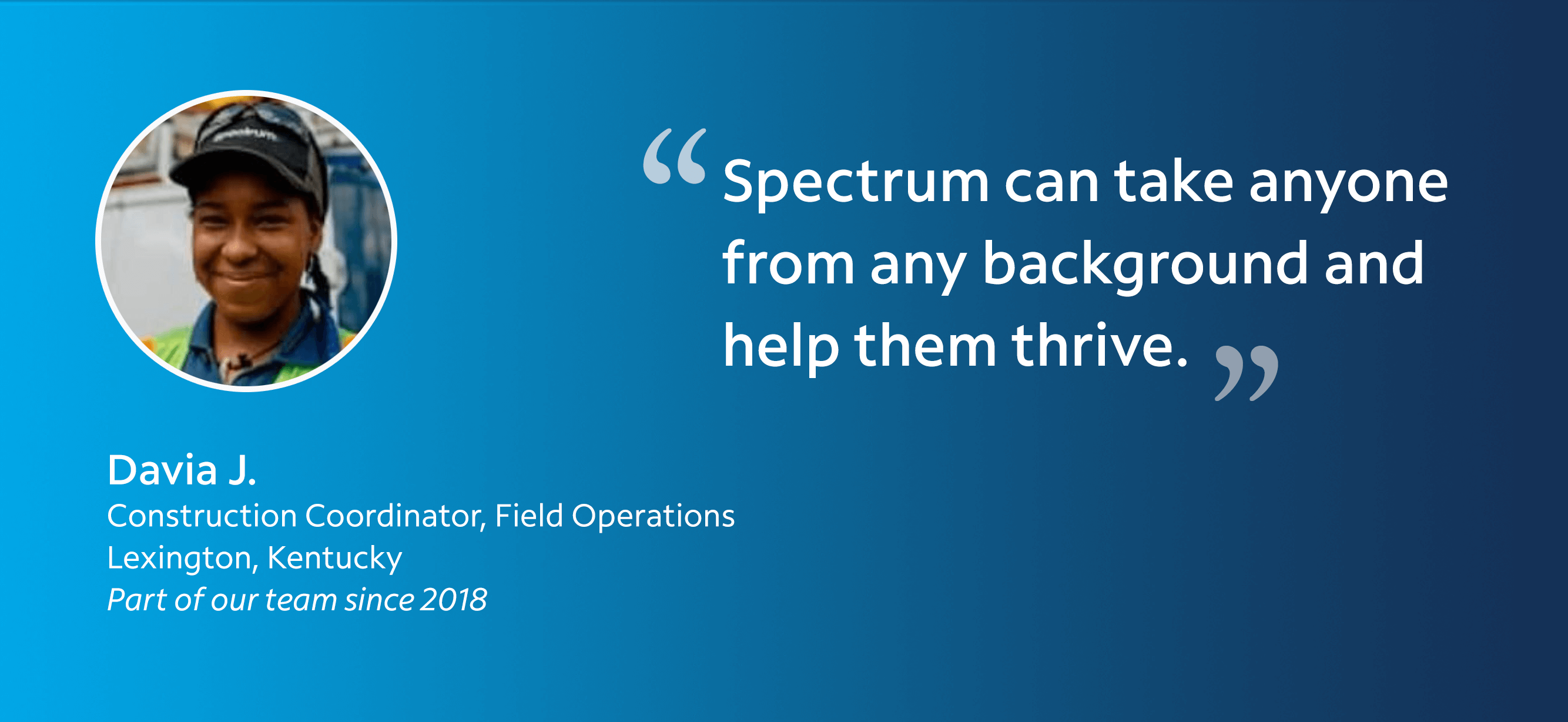 There's not a day that goes by at Spectrum that I am not blown away by the new opportunities and new things that are happening here. And that's been true since the day I started back in 2018. Spectrum can take anyone from any background and help them thrive.
I was 19-years old and working in a factory when I received an email that would change my life. It was for a four-week course in telecommunications technology hosted by the Urban League of Lexington-Fayette County in Kentucky. Most of the class was about fiber optics: what it is, how to work with it. It was fascinating. In my third week, a team from Spectrum came to our class and described their Broadband Field Technician Apprenticeship Program.
I remember thinking this sounds way too good to be true.
I was the only woman in my class, but that didn't deter me. When the class was over, I had the highest score and received a certification. Next, I applied to Spectrum and was excited to get an interview. I spent weeks preparing and was beyond nervous. The interviewer, who later became my supervisor, said, "You interviewed us, not the other way around."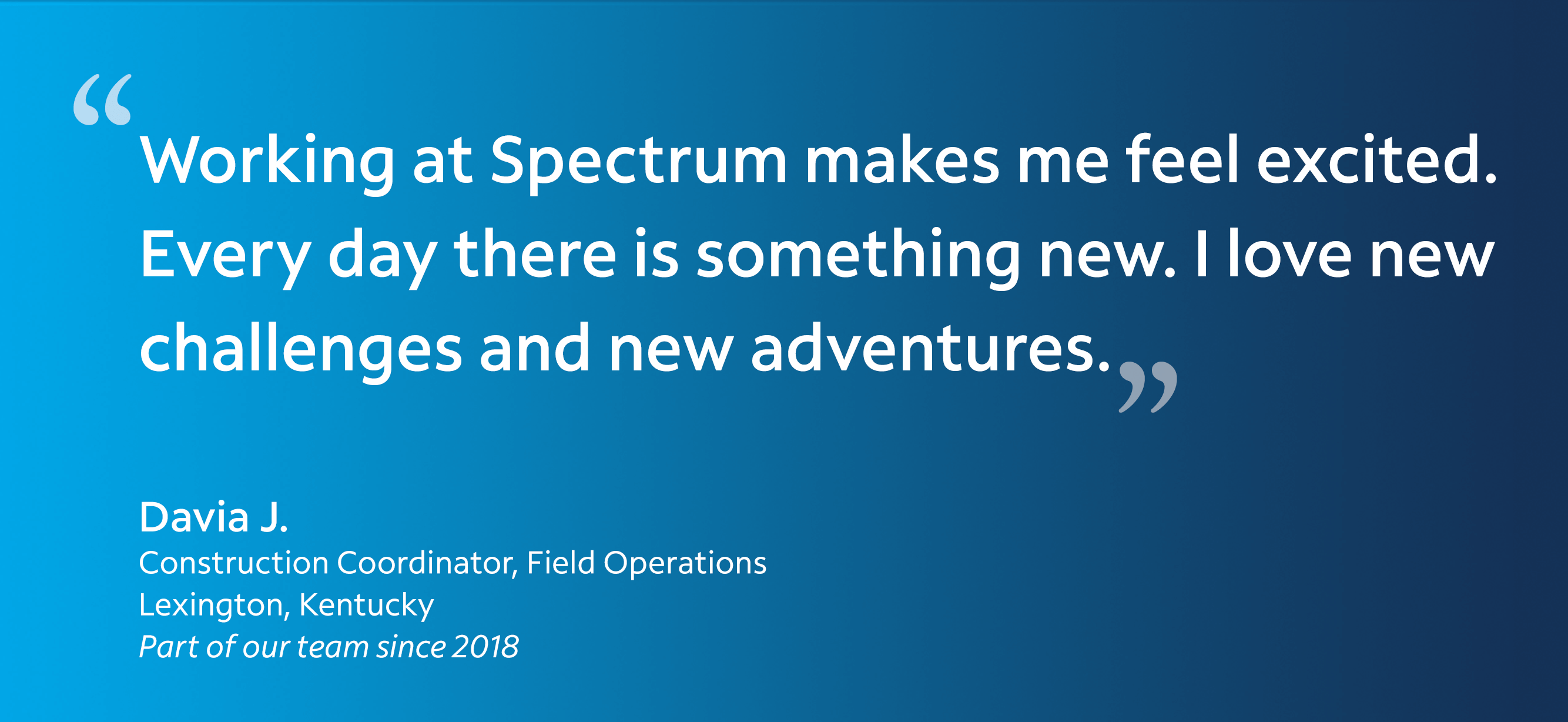 Time to Own My Career
I had a tough upbringing and didn't want to become a statistic. In my late teens, I bounced around odd jobs, including working in a factory, as a barista, and in corporate cleaning. But the time came for me to get serious about my life and career.
In 2018, I started basic training as a Spectrum Field Technician. I learned a lot, including how to properly carry a ladder (I'd never carried a ladder before), how to install and troubleshoot equipment, and how to educate our customers. Everyone was very supportive. It was also during this time I realized there are different ways to work and, here at Spectrum, you can make your career your own.
The career opportunity is here; I just had to own it. And that's what I did. For three years, I worked in the field as a technician. I was exposed to different situations, the weather, and many different types of people who helped give purpose to my work.
People Give a Purpose to My Job
My job is truly about connecting with others. Once, I went to a retirement home and helped an elderly woman. She wanted to know how to use her voice-activated smart device. By teaching her how to use it via voice commands, she was able to listen to music that she listened to when she was a little girl. This moment brought her, and me, to tears.
I was invited to speak to an all-girl group called "Leading Ladies" at a local middle school. They wanted to hear about my career and the challenges of being a woman in, what many consider to be a male-dominated job. The girls had a thousand questions like, "Are you actually on the utility poles?" "Are you out there in the weather?" They were filled with joy and excitement. It's that sort of energy I'm hoping to give to more young women who are looking to find their way in the world.
But my biggest accomplishment was two years ago.
It was the last call of the night and I was needed to do some troubleshooting at an elderly couple's home. While I was there, the wife had a stroke. I was terrified. I was there for phone work but ended up calling neighbors and staying with the couple until the ambulance arrived. The woman was rushed to the hospital and thank goodness is doing fine now.
What I didn't know until later was the neighbors called Spectrum and I ended up receiving one of the highest awards we can achieve in the field, the "Distinction Award." I was not expecting this; it was just me being human and showing kindness.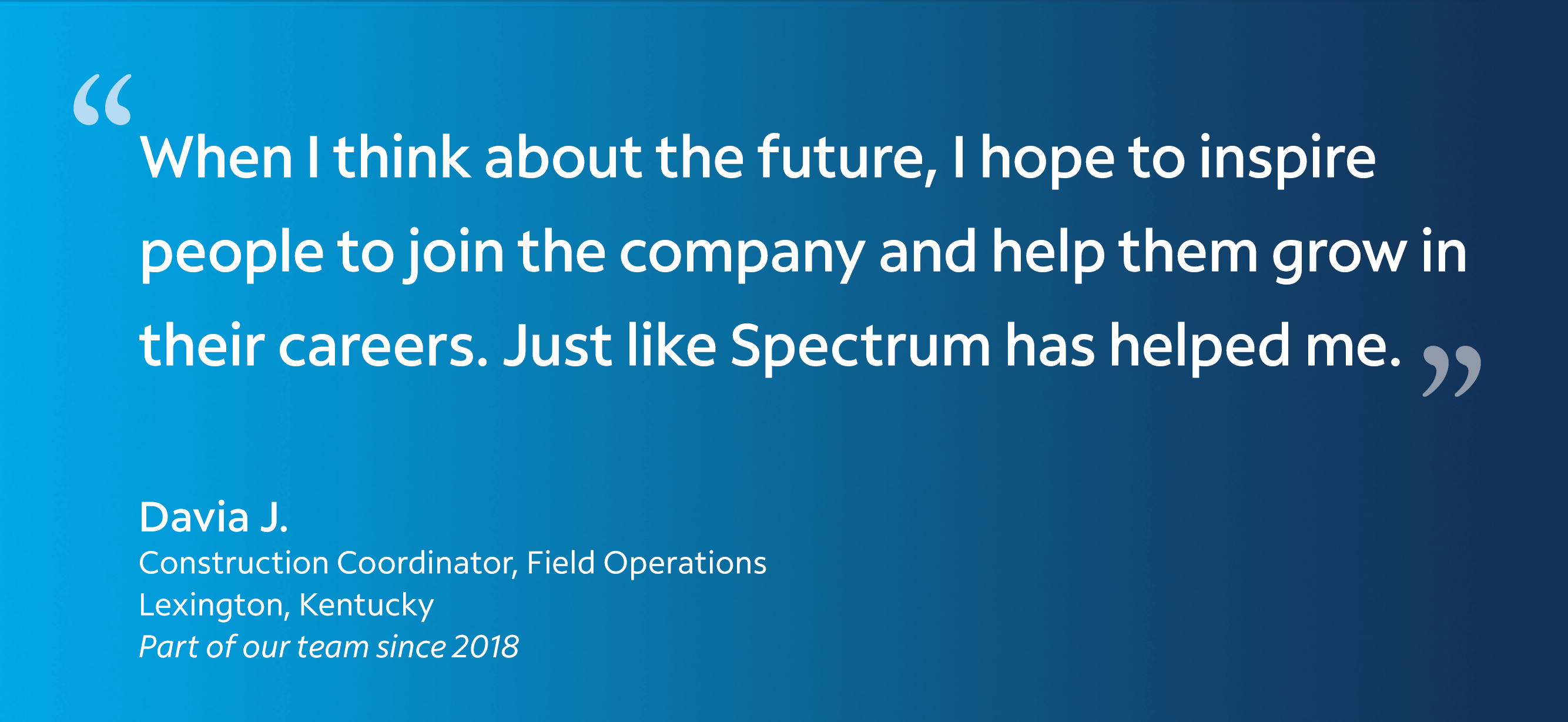 Working in Construction Is Super Cool
When I heard about the opportunity with Spectrum as a Construction Coordinator, I knew I wanted to apply. This role would allow me to oversee small-scale, residential hybrid fiber coax (HFC) construction projects. When a customer calls about construction, I inspect the site, see if there are pre-existing wires or if we have to install new ones. I take pictures and measurements, check signal levels, and gather lots of other details which I enter into our construction mapping system.
It's a job that I love because I get to see projects from start to finish and work with engineers, developers, contractors, and design teams. I get to learn a lot about funding, permits, construction prints, and network maps.
Every day there is something new working at Spectrum. I love meeting new people and facing new challenges. There are endless opportunities for growth here. The company now is helping me to earn my associate's degree and after that, I plan to go for my bachelor's degree in computer science.
When I think about the future, I hope to inspire people to join the company and help them grow in their careers. Just like Spectrum has helped me.
Tell us what you think about this story: https://bit.ly/3H99lhS