Streaming Video, Innovation and Collaboration at Spectrum
Video is everywhere and it's evolving. Today, developments in video, particularly with streaming and video on demand (VOD), are significant with no signs of slowing down. And Spectrum is at the leading edge. "People don't sit on the couch at home waiting for the one night per week that their favorite show airs on a TV anymore," shares John S. "They choose when, where and how they want to watch."
Based in Denver, Colorado, John S. is the Vice President of Video Operations for Spectrum. His role? Providing the best possible viewing services to Spectrum's more than 15 million video customers across the Company's 41-state footprint. To stay competitive with the industry's evolving technologies, his job requires innovation and constant learning. It also requires experienced leadership and the ability to cultivate a strong team. To stay competitive professionally, John strives to always be open-minded, adaptive and collaborative.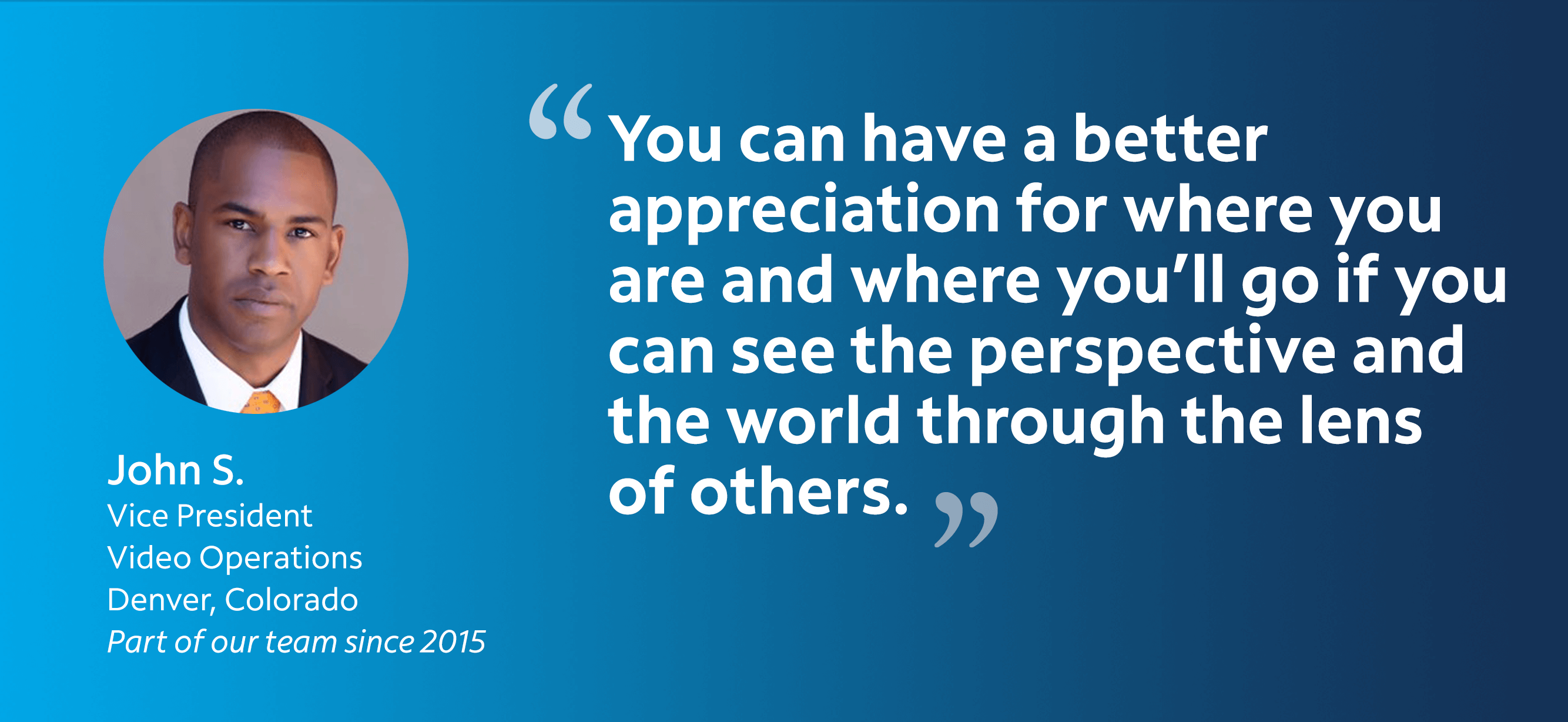 John enjoys the dynamic nature of working in a digital field, moving fast and seeing the world. Inside of work, he thrives on the speed of change in technology and in sharing a vision with his team and consumers. Outside of work, he enjoys riding motorcycles and dirt bikes, as well as traveling. "You can have a better appreciation for where you are and where you'll go if you can see the perspective and the world through the lens of others."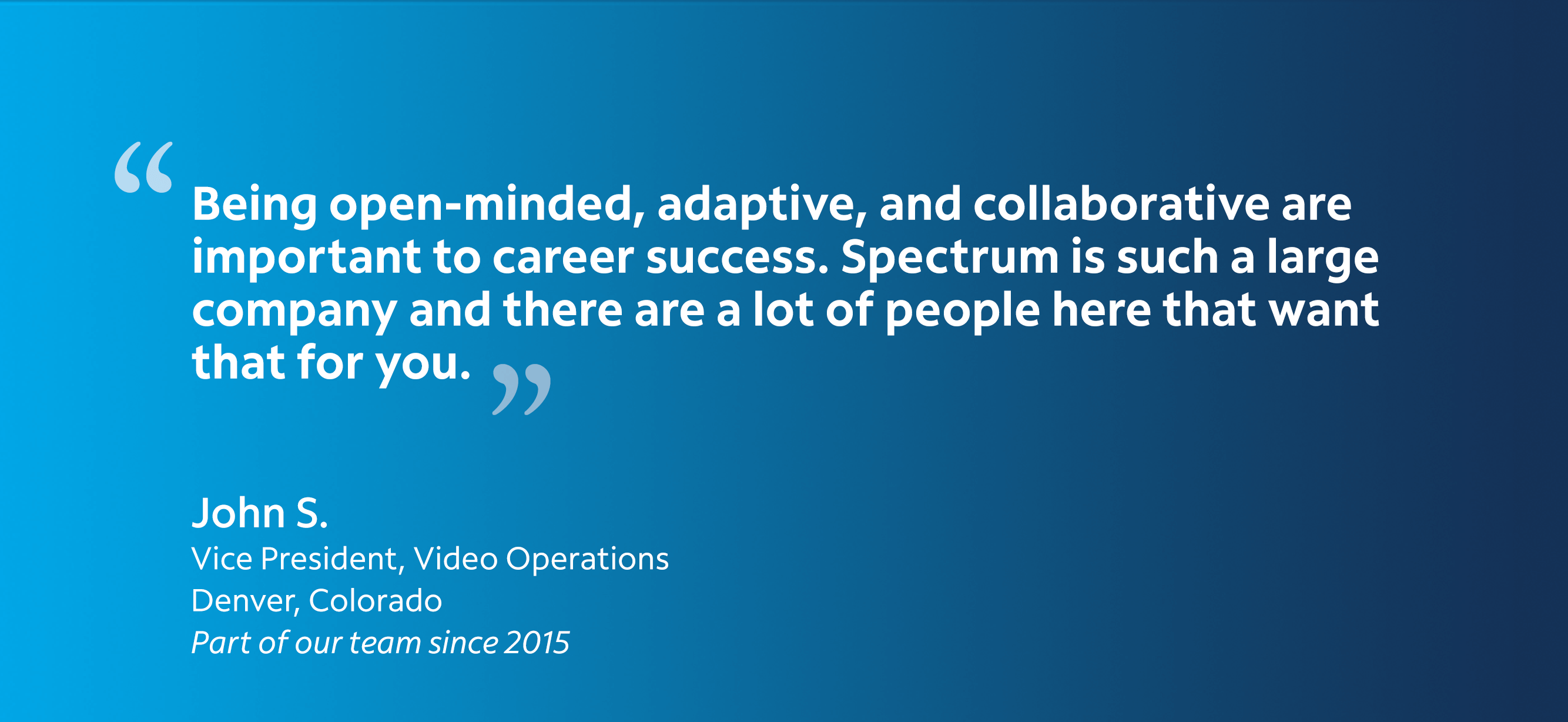 Do You Think Outside of the (Cable) Box?
Video Operations is part of Spectrum's Network Operations business unit. It's a 24/7 operation that includes running multiple large data centers in the U.S. "Video is a constantly changing, rapidly evolving environment," explains John. "It's rare to see the same challenge each day."
Cable television first became available in the United States in the 1940s. By the early 1990s, 60 percent of U.S. households received cable TV services. Next, households added internet services, voice, VOD, over-the-top video viewers, app-enabled smart TVs, and mobile devices. "I might be streaming something on the television with my child next to me on her tablet, and my wife is watching something else outside on her phone."
To meet the growing need for video, the Video Operations team is constantly ramping up on-demand and exclusive content, and improving Spectrum's IP video environment, so customers have seamless experiences—no matter the time, location, or platform they choose. Every time something new is on the horizon, Spectrum is ready to design, deliver, and support and John's team is there from start to finish.
And, as consumer habits continue to shift, technical skills applicable 20 years ago aren't the same as what's needed in today's always-on environment.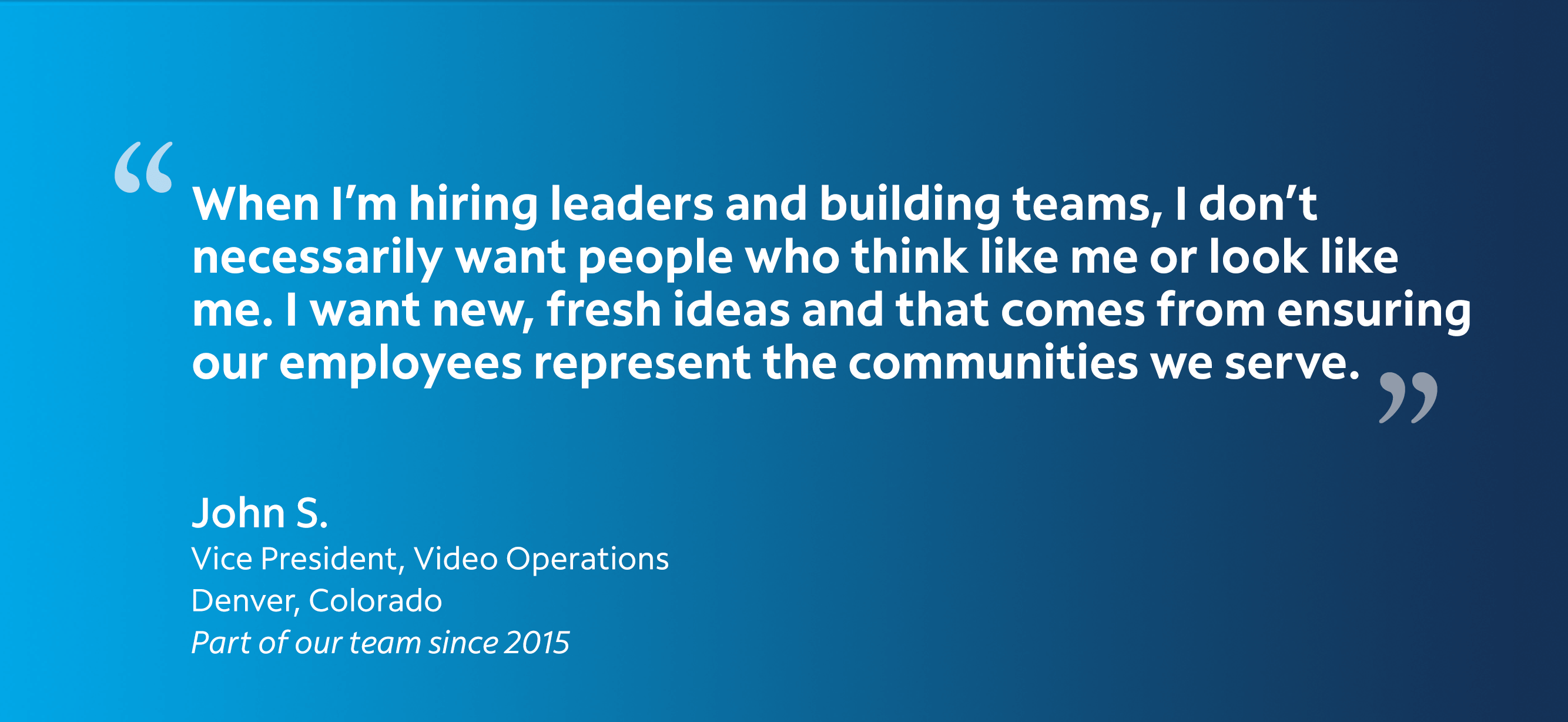 Are You Forward-thinking?
Each change introduces opportunities for employees to be innovative, develop new technical skills and hone existing ones. Forward-thinking and creativity help keep customers happy, and ideas need to start somewhere. "When we're recruiting and hiring technical talent, we want people from all ends of the spectrum," John shares. "When I'm hiring leaders and building teams, I don't necessarily want people who think like me or look like me. I want new, fresh ideas and that comes from ensuring our employees represent the communities we serve."
At Spectrum, employees at all levels are empowered to realize their potential and bring their best ideas forward. The company looks for opportunities to put these ideas into practice. Diversity in every way, including diversity of thought, is embraced and encouraged.
Another reason the Video Operations team is successful is that they proactively evolve to meet consumer needs. "It's important to detect and resolve issues before a customer even reports it. So when they do call, Spectrum's employees are ready," says John. This is where predictive analytics and artificial intelligence (AI) can come in.
"Preventing issues before they arise is part of what our team focuses on. And there are opportunities on the Video Operations team for people skilled in automation, programming, software engineering and analytics."
Behind the play button on any remote, app or video is a team of career-minded, hard-working professionals. Inside Network Operations, and specifically Video Operations, there are many career path possibilities to explore, and they don't have to be linear or vertical. "You could start with one job but, if you're open to it, find yourself moving into other parts of the company, growing along with Spectrum. The career path that you may have once thought was best for you could change and evolve," John advises.

Tell us what you think about this story: https://bit.ly/3H99lhS