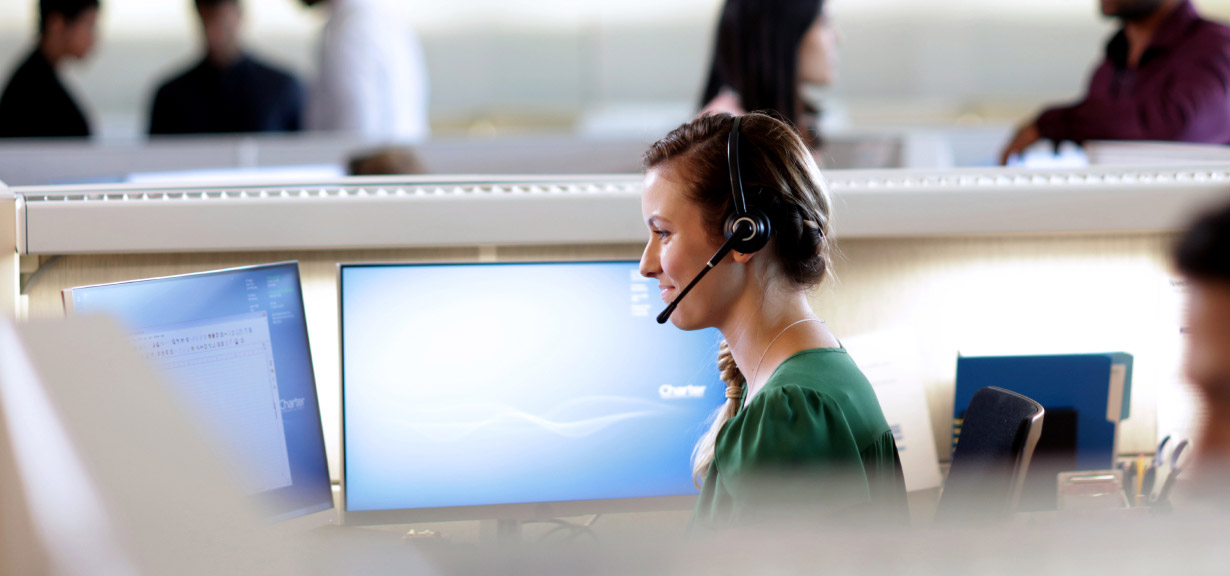 Customer Activation - Provisioning [$18.00/hr]
Columbus, Ohio
About Us
As thorough problem solvers, our Spectrum PAC (Provisioning & Activation Center) Coordinators work diligently to ensure our customers are able to successfully activate their Spectrum Internet and Voice services. They connect people in ways that really matter. Fully paid training and supportive leaders help new Coordinators get comfortable with the tools, programs, and techniques that put them on the path to success. Coming from diverse backgrounds and levels of experience, what unites us is a shared goal to create positive experiences for our customers.
About the Job
Full Time
Entry and Experienced
Career Progression
Success Profile
What does it take to be a successful PAC Coordinator at Spectrum?
Detail Oriented
Problem Solver
Flexible
Communicator
Efficient
Persistent
What's Trending
Connecting You To Comprehensive Benefits

We have plans to suit every individual and family.
Perks
Spectrum wants to help you get more out of life and take care of things outside the office to make life a little easier. We provide:
Healthcare

Health Insurance (Medical/Prescription Drug, Dental and Vision).

Paid Holidays

Personal days, Vacation and Sick Time.

Access Discounted Company Services

You have the chance to use company services at little to no cost where available.

Education Reimbursement

We provide reimbursement up to $5250 per calendar year for approved eligible courses.

Retirement Savings/401k

Our company will provide a 100% match for every dollar you contribute, up to 6% of your eligible pay.

Life and Disability Insurance

Basic Life and Accidental Death and Dismemberment (AD&D) Insurance of two times your pay.
Responsibilities
Date posted 11/17/2021
Requisition Number: 292258BR
Columbus, Ohio
Area of Interest: Customer Operations, Customer Service, Provisioning
Position Type: Full Time
JOB SUMMARY
The PAC Coordinator I is responsible for resolving residential and simple commercial order exceptions. Responsibilities include analysis and resolution which require customer contact to resolve the failure, provisioning updates, Local Number Portability (LNP) exception handling, updates to E911 records and internal escalations from Repair and Customer Service teams. The PAC Coordinator I must provide exceptional customer service with strong attention to details.
MAJOR DUTIES AND RESPONSIBILITIES
Actively and consistently support all efforts to simplify and enhance the customer experience.
Monitor and resolve exception tasks from the billing and provisioning systems for all residential and commercial order activity, including new connects, reconnects, service changes and disconnects.
Process inbound and outbound customer calls related to order exceptions, such as TPV failures and LNP errors, which prevent orders from flowing properly. Research, resolve and reschedule orders as needed. Contact the customer or authorized contact to resolve the failure in accordance with company and regulatory requirements. Perform all customer contacts within established service and performance guidelines.
Responsible for handling exceptions related to LNP orders. Port in exceptions require obtaining, tracking, and submitting service orders to the donating ILEC/CLEC via an LSR (Local Service Request) and to NPAC (Number Portability Administration Centers) via a SOA (Service Order Administration) LNP Subscription request. Submit all relevant information needed to port in and activate a customer's current telephone number and service, including all of the relevant customer account and directory information. Port out exceptions require obtaining, tracking, and responding to service orders received from the ILEC/CLEC via an LSR. Update SOA subscription requests with all relevant information needed to port out and disconnect a customer's current telephone number and service within FCC regulated timeframes.
Resolve provisioning exceptions by researching issue and updating network elements for telephone and internet work orders via various switch and provisioning related tools.
Resolve E911 database exceptions and errors. Verify customer address is MSAG compliant by using customer billing system MSAG tables, Intrado database, mapping tools or customer contact. Update the records for any address data element requiring changes to resolve exception. Manage address exceptions and changes, new connects, supplements, suspensions, and disconnects to ensure E911 records are updated accordingly.
Process escalations from various internal teams to resolve customer service issues stemming from porting, provisioning or 911 related items.
Identify and escalate exceptions that are not easily resolved with the goal of avoiding customer order delays.
Proactively identify opportunities for processing and/or procedural improvements.
Perform other duties as requested by supervisor.
REQUIRED QUALIFICATIONSSkills/Abilities and Knowledge
Ability to read, write, speak and understand English
Ability to prioritize and organize effectively
Ability to use personal computer & software applications
Ability to work independently in group environment
Ability to effectively address/resolve customer complaints and issues
Ability to work while seated for prolonged periods of time, taking back-to-back calls
Ability to communicate orally and in writing in a clear and straightforward and professional manner.
Good/Excellent knowledge of all three lines of business (Cable, HIS, Telephone)
Knowledge of general accounting & billing procedures
Knowledge of office procedures and Company policies
Knowledge of service troubleshooting
Knowledge of residential product information, packaging, pricing and current offers
Education
High School Diploma or equivalent
Related Work Experience Number of Years
Customer service experience 2+
PREFERRED QUALIFICATIONSSkills/Abilities and Knowledge
Ability to maintain confidentiality
Ability to solve problems while working under pressure
Knowledge of the cable industry - products and services
WORKING CONDITIONS
This is an in office position (not remote).
Office environment
Flexible work schedule may be required
EOE
Charter Communications is an Equal Opportunity Employer - Minority/Female/Veteran/Disability
CSD185
292258
292258BR
FCC Unit: 13538
Business Unit: Customer Operations
Controlling Establishment ID: Provision & Act Ctr
CSD185
Our Commitment During COVID-19
Your health and safety is important to us, as such we're using virtual recruiting tools to safely meet with qualified candidates. We are working in the office, following CDC guidelines.
Get to Know Us
Charter Communications is known in the United States by our Spectrum brands, including: Spectrum Networks, Spectrum Enterprise and Spectrum Reach. When you join us, you're joining a strong community of more than 95,000 individuals working together to serve more than 31 million customers in 41 states.
Watch this video to learn more.
Who You Are Matters Here
We're committed to growing a workforce that reflects our communities, and providing equal opportunities for employment and advancement.
Learn about our inclusive culture.
Apply Now
Apply Later