Store Associate - ALA MOANA
Honolulu, Hawaii
Can you promote and sell products and services with a positive, can-do attitude in a retail store environment? Are you able to meet and exceed sales goals and customer experience objectives? If you answered YES to these questions, the Spectrum Retail Sales Associate role may be the career opportunity for you. Spectrum is looking for top achievers in retail sales. Spectrum has 750 stores across the country, providing many growth opportunities within Spectrum for more than 3,500 associates.
Full Time
Job Level: Entry and Experienced
Travel: Yes (occasional)
Success Profile
What makes a successful Spectrum Retail Sales Associate?
Check out the top traits we're looking for and see if you have the right mix. Additional related traits are listed below.
Results-Driven 10
Persuasive 9
Goal-Oriented 8
Personable 8
Problem Solver 7
Adaptable 7
Traits are on a scale of
0
to
10
Addtional Traits
Competitive
Confident
Detail-Oriented
Enthusiastic
Team Player
Trustworthy
Quote
I love working for Spectrum because of the customers I help and meet on a daily basis. I like the feeling of getting people connected with our services so they are connected with their family and friends. I like having a genuine and neighborly conversation with the customers, so I can find out what their needs are. I build rapport with the customers so they feel confident in getting our services or coming back to me for concerns or questions they might have. I love my job and what I do each and every day for our customers. Every day is not the same which makes the job fun and exciting.

Joey Espinsoza, Store Specialist
Rewards
Spectrum wants to help you get more out of life and take care of things outside the office to make life a little easier. We provide:
Healthcare

Medical/Prescription Drug, Dental and Vision

Paid Time Off

Paid vacation, sick time and holidays/personal days

Retirement Savings/401k

We will provide a 100% match for every dollar you contribute, up to 6% of your eligible pay

Paid Training

Earn while you learn. Full compensation for time spent building your knowledge base.

Company Perks

You have the chance to use company services at little to no cost where available.

Education Assistance

We recognize that development through education is an integral part of personal and professional growth and encourage our employees to continue striving
Responsibilities
Date posted 10/14/2019
Requisition Number: 251183BR
Location: United States - Hawaii - Honolulu
Area of Interest: Customer Service, Mobile, Retail, Sales
Position Type: Full Time
Full-Time. Located in Ala Moana Center.

JOB SUMMARY
Promotes and sells Spectrum products and services with a positive, can do attitude. Meets or exceeds sales goals and customer experience objectives. Actively and consistently supports all efforts to simplify and enhance the customer experience by effective customer coordination, including the welcome and wait time process.

MAJOR DUTIES AND RESPONSIBILITIES (ESSENTIAL FUNCTIONS)
Actively and consistently support all efforts to simplify and enhance the customer experience

Identify opportunities to generate sales by consistently applying the Customer Interaction Process (CIP).

Deliver product and service solutions by providing education and support on Spectrum products and services. Place orders and schedule appointments.

Maintain strong knowledge of all products, pricing plans, promotions and service features for Charter, as well as our competitors.

Educate and engage customers through product demonstrations.

Provide prompt and courteous customer service.

Respond to customer issues according to established Company policies.

Troubleshoot, diagnose and resolve customer inquires.

Accurately enter all required information into the system and complete all necessary paperwork to support sales activities in a manner consistent with quality control guidelines.

Perform customer payment functions consistent with all cash handling policies and procedures.

Process billing adjustments on customer accounts.

Complete all aspects of opening and closing the store in accordance with established procedures.

Receive, issue and track customer equipment and assist with inventory maintenance.

Maintain store appearance and provide a consistently professional and welcoming atmosphere for customers.

Consistently demonstrate adherence to all the Company and Store policies and procedures.

Complete required training and demonstrate associated skills and competencies.

Support team members as necessary.

Perform other duties as assigned by management.

Regular attendance required.


REQUIRED QUALIFICATIONS
Skills/Abilities and Knowledge
Ability to read, write and speak the English language to communicate with employees, customers, suppliers, in person, on the phone and by written communications in a clear, straight forward, and professional manner.
Possess a self-motivated, competitive spirit and desire to exceed sales goals.
Carry a positive and professional demeanor.
Detailed oriented and a good problem solver.
Flexibility to work in multiple locations.
Basic math skills.
Knowledge and ability to use computer and software applications.
Accurately handle payment transactions.
Handle multiple tasks in a fast-paced team environment.
Prioritize, organize effectively and work independently.

PREFERRED QUALIFICATIONS
Skills/Abilities and Knowledge
Knowledge of latest technology and devices.

EDUCATION
High School Diploma or equivalent.

RELATED WORK EXPERIENCE Number of Years
Sales Experience 1-3
Customer Service experience 1-3

WORKING CONDITIONS
Retail environment.
Exposure to moderate noise level.
Work scheduled shift hours and overtime as needed.
Ability to handle a physically demanding job. lifting up to 35 lbs.
Ability to stand for prolonged periods of time.
Required to wear a uniform.

Hours: To be determined.

The Spectrum brands (including Spectrum Networks, Spectrum Enterprise and Spectrum Reach) are powered and innovated by Charter Communications. Charter Communications reaffirms its commitment to providing equal opportunities for employment and advancement to qualified employees and applicants. Individuals will be considered for positions for which they meet the minimum qualifications and are able to perform without regard to race, color, gender, age, religion, disability, national origin, veteran status, sexual orientation, gender identity, or any other basis protected by federal, state or local laws.
FCC Unit: 13534
Business Unit: Marketing
Apply Now
Text Us to Learn More
Apply Later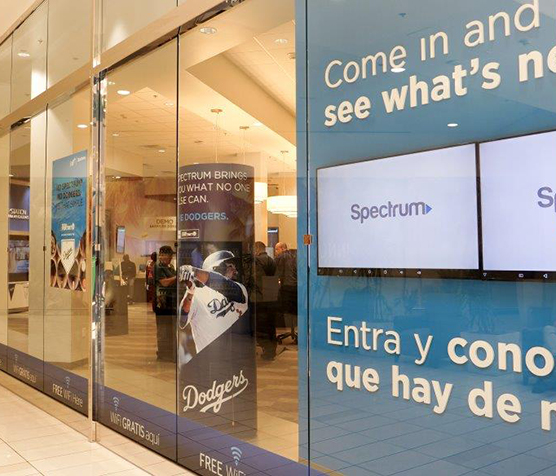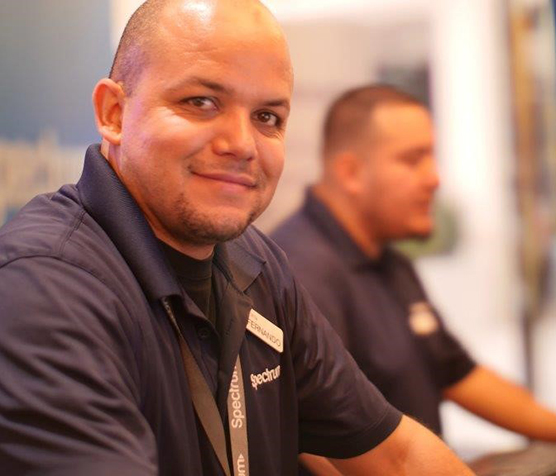 Connect with us
Stay in the loop about everything that's going on at Spectrum. Get information about local openings and hiring events delivered right to your inbox. You can even upload your resume so we can match you with new opportunities.