Sr Internal Auditor - IT
St Louis, Missouri
At Spectrum, Corporate Finance is a strong, interconnected network of specialists, including Accounting, Tax, Treasury, Internal Audit, Financial Analysis, and Business Planning. We support the needs of a multibillion-dollar business and provide essential resources to the many thousands of employees who rely on us for our accuracy and efficiency. We anticipate the needs of a growing company and customer base, delivering effective solutions and making a measurable difference. Are you prepared to scale? Get ready to think forward with Spectrum.
Full Time
Job Level: Experienced
Career Progression
Company Perks
Success Profile
What makes you successful in Corporate Finance?
Check out our top traits to see if you have the right mix.
Analytical
Communicator
Leadership
Goal Oriented
Problem Solver
Results-Driven
Hear from Our Team
From the start I could tell there was really strong support from Finance leadership. I've been here for almost five months and not one close has been the same. There are always things that make the work interesting and not repetitive. Everyone on the team is extremely helpful, from my manager and co-workers all the way to the group VP. Brandon, Senior Finance Associate
When I started working three years ago, I noticed right away that there were several opportunities for me to learn and grow within the business! The leadership in our department focuses on giving us the time and resources we need to be successful in our jobs, and consistently provides new ways to help us learn more about Accounts Payable as a whole. With the support of both my co-workers and my management team, I have been able to thrive within my position and feel connected within the Charter community. Nicolle, Sr. Accounts Payable Specialist
I have the benefit of working for a team that consistently invests in and supports its people. As a direct testament to that, all of our Directors and most Managers are the result of internal promotions. I love working for internal audit because it provides a unique exposure to many different people and areas of the company. Whether it is developing audit plans, brainstorming with the team or presenting to Management - I enjoy and grow from what I do and the people who I do it with. Shannon, Senior Director, Internal Audit Services
Trending
THIS IS SPECTRUM

Learn about our 95,000 employees, products and services, and advertising solutions offered to 30 million customers in 41 states.
Rewards
Spectrum wants to help you get more out of life, take care of what you need to outside the office and make things a little easier. We provide:
Work-Life Balance

We strive to keep regular hours and an emphasis on life outside the office

Professional Development

We support continuing education for personal and professional development, including tuition reimbursement and sponsored learning opportunities

Paid Time Off

Paid vacation, sick time, personal days, and holidays

Discounted Services

Access company services at little to no cost, where available

Retirement Savings Plans

100% match for every dollar you contribute, up to 6% of your eligible pay; Retirement Accumulation Plan for roles below Director level

Health Benefits, Life Insurance, and Disability

Health Insurance (Medical, Prescription, Dental and Vision), Basic Life and Accidental Death and Dismemberment (AD&D) Insurance of two times your pay
Responsibilities
Date posted 09/18/2020
Requisition Number: 267866BR
Location: United States - Missouri - St Louis
Area of Interest: Finance and Accounting
Position Type: Full Time
COMPANY OVERVIEW
Charter Communications is America's fastest growing TV, internet and voice company. We're committed to integrating the highest quality service with superior entertainment and communications products. Charter is at the intersection of technology and entertainment, facilitating essential communications that connect 24 million residential and business customers in 41 states. Our commitment to serving customers and exceeding their expectations is the bedrock of Charter's business strategy and it's the philosophy that guides our 90,000 employees.

JOB SUMMARY
Responsible for executing high quality audits and risk management over the IT infrastructure, applications, and processes. Responsible for delivering high quality internal audit results under the direction of IT Audit Managers and Directors, including planning, performing IT risk assessments, identifying controls, and developing and executing test plans to assess effectiveness of controls over financial reporting in conjunction with the company's Sarbanes-Oxley compliance program. Key focus areas include performing on-site tests of internal controls as required to help management determine whether controls are designed and operating effectively to sustain compliance with Sarbanes-Oxley Section 404, interacting with various levels of management to communicate results, and assisting management in establishing remediation plans.

The primary focus of the audit department is to assess risk and evaluate internal controls over various financial and operational internal controls as well as compliance with certain corporate policies. In addition, the department supports management requests and special investigations, as needed.

ESSENTIAL FUNCTIONS OF THE POSITION
• Executes IT risk assessments and audits associated with the company's Sarbanes-Oxley compliance process
• Executes specific projects established in the annual audit plan, develops scope and objectives of IT audits while ensuring alignment with audit standards, guidelines, and best practices
• Executes projects as needed related to IT General Controls (ITGC), Payment Card Industry, Data Privacy, and other laws and regulations governing the corporation
• Develops audit objectives, scope, audit plan, and procedures
• Prepares audit summaries and reviews audit results with senior IT management providing observations and conclusions as well as identifies and communicates control gaps and evaluates management action plans and related reporting
• Keeps abreast of relevant business developments and evolving IT risk areas
• Contributes ideas and opinions to the internal audit team by assisting financial/operational auditors in applying IT audit principles and concepts, identifies the relevant automated controls to include in the audit scope, designs audit programs/procedures to assess their adequacy, and documents the impact of strengths or weaknesses to current audit procedures/objectives
• Develops and maintains effective relationships within the team and individuals throughout the organization
• Performs other duties as required
• Contributes ideas and opinions to the internal audit team
• Develops and maintains effective relationships within the team and individuals throughout the organization
The above statements are intended as general examples of the duties of this position and are not all-inclusive for the position. Other reasonable duties may be assigned by the supervisor.

PREFERRED QUALIFICATIONS
Skills/Abilities and Knowledge
• Ability to communicate and align well with key stakeholders
• Ability to cultivate channels of communication (both written and verbal) to effectively influence at all levels of the organization
• Ability to define effective audit plans and effectively coach experienced IT auditors
• Strong understanding of business processes, financial reporting and information technology audit and control frameworks such as SOX, COBIT, ITIL, and PCI
• Strong leadership skills in the areas of leading through influence, relationship building and strategy development and execution
• Strong knowledge of risk assessment and familiarity with tools and techniques used to provide control and monitoring mechanisms
• Solid knowledge of IT audit methodologies and control frameworks of IT platforms, processes, systems and controls, including areas such as network security, logical access and change management controls at an infrastructure and application level, databases and systems maintenance
• Knowledge of cable television products and services

Education
Bachelor's degree in Information Technology, Business, Accounting, or Finance

Related Work Experience
• Experience in IT audit or public accounting (3-4 years)
• Big 4 experience ideal
• Experience with various technologies, including networks, platforms, and applications

Certifications and/or Licenses
• CISA certificate preferred
• CPA, CIA, CISSP, and/or MBA desirable

Working Conditions
• Office environment
• Required travel 25-30%

The health and safety of our employees and candidates is very important to us. Spectrum has adopted virtual mobile recruiting tools that allow us to continue meeting new candidates. We look forward to "virtually" meeting you.


The Spectrum brands (including Spectrum Networks, Spectrum Enterprise and Spectrum Reach) are powered and innovated by Charter Communications. Charter Communications reaffirms its commitment to providing equal opportunities for employment and advancement to qualified employees and applicants. Individuals will be considered for positions for which they meet the minimum qualifications and are able to perform without regard to race, color, gender, age, religion, disability, national origin, veteran status, sexual orientation, gender identity, or any other basis protected by federal, state or local laws.
FCC Unit: HQ452
Business Unit: Corporate -CCL - CORPL
FAU370
Apply Now
Apply Later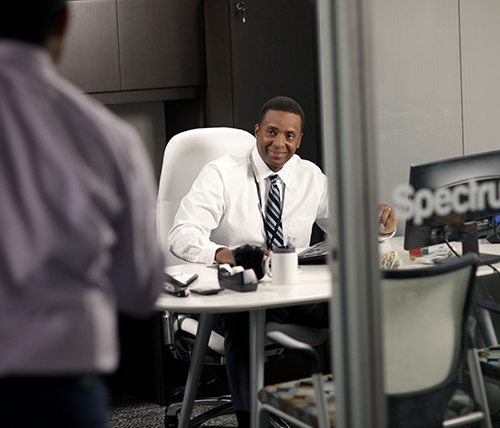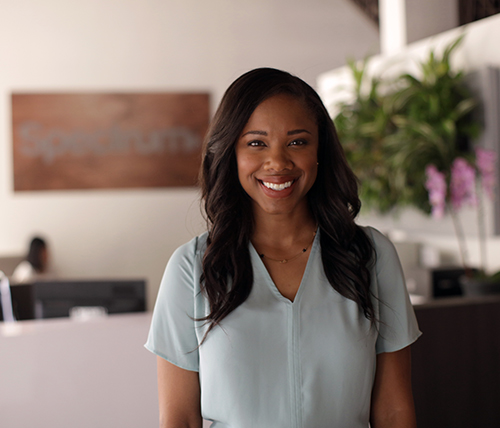 Connect with us
Stay in the loop about everything that's going on at Spectrum. Get information about local openings and hiring events delivered right to your inbox. You can even upload your resume so we can match you with new opportunities.