Spectrum's Accessibility Team is Helping People Experience the World as They Choose
Have you ever wondered how products are created, and how they can be made more accessible to people with disabilities? At Spectrum, one of our considerations in product development is ensuring our customers have equal access to participate in and experience society through our products and services. Spectrum's Accessibility Center of Excellence team plays an important role in this.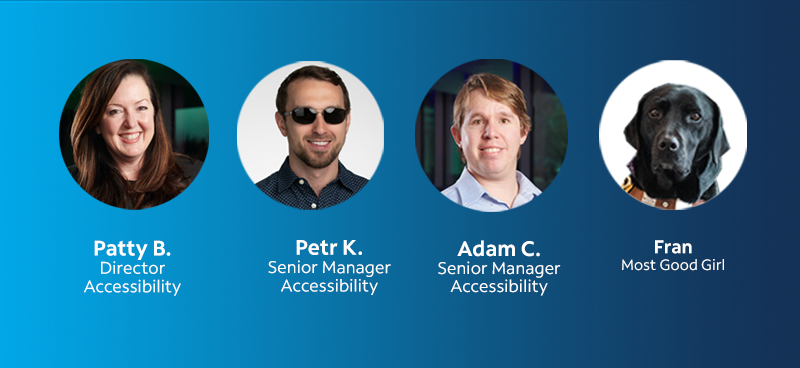 They work tirelessly to create universal and accessible experiences – and they understand how essential it is to create seamless integration across Spectrum products and services, including assistive apps. At our company, the team strives to embed accessibility into all phases of product and service development, from deployment to sales to marketing and customer support.
The Faces Behind Accessibility at Spectrum
For Patty B., Director of Accessibility, her team's mission is to help create an inclusive environment in the workplace and the marketplace. "The goal," she says, "is normalization."
Their team works to enable Spectrum's customers and employees to be engaged, productive, and included by providing equal access to experience the world as they choose. For many, this commitment is rooted in personal experience: many members of the Accessibility team are native users of assistive technology or have disabilities themselves.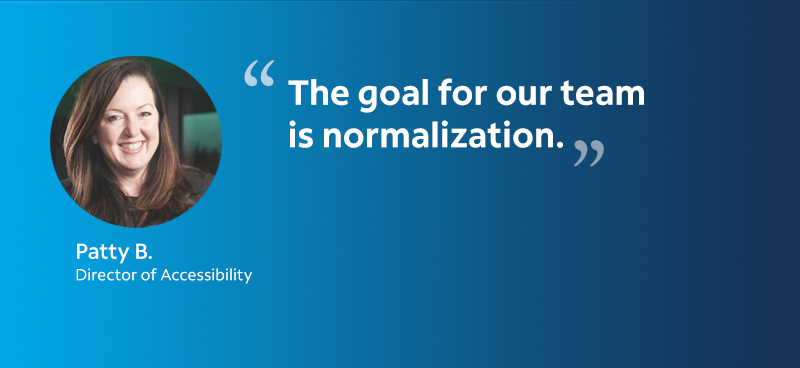 An integral part of this team is Fran Tastic, Adam C.'s guide dog. With a Spectrum employee badge at the ready, Fran is a fixture in the office every day and our workplace canine celebrity. Fran's at Adam's side as he champions technology as a way to bridge gaps in accessibility.
Adam is a Senior Manager on the Accessibility Team, and got into the accessibility field by way of computer science. He credits this to his love for technology, but acknowledges that generally, a lot of technology isn't accessible. He set out to change that.
"Technology enables so much," said Adam. "I went into the computer science field because I wanted to use technology to improve people's lives and make everyone able to access the world."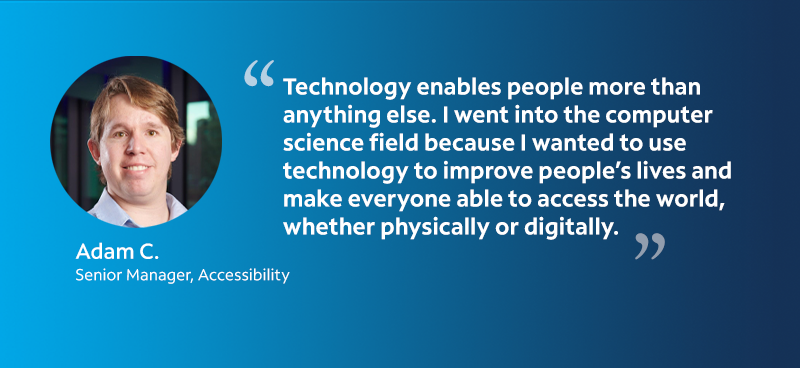 At Spectrum, Adam and his team have the potential to reach millions of people. Research shows that within Spectrum's 41 state footprint serving 93 million customers, 1 in 8 people live with a disability.
Closing the Gaps
A large part of the team's mission is to make Spectrum's tools and apps more inclusive. Whether it's for employees or customers, their team tests and identifies accessibility issues, and works with developers and the community to address them.
Petr K., Senior Manager on the Accessibility Team, specializes in engaging with the community. He meets with disability community partners, advocacy groups, and customers to highlight Spectrum's accessibility efforts.
"It's one thing to do the work we're doing, it's another thing when the community knows the work we're doing," said Petr. "It's crucial to have awareness both ways. Taking community feedback to our engineers and product developers really helps make our products and services more accessible."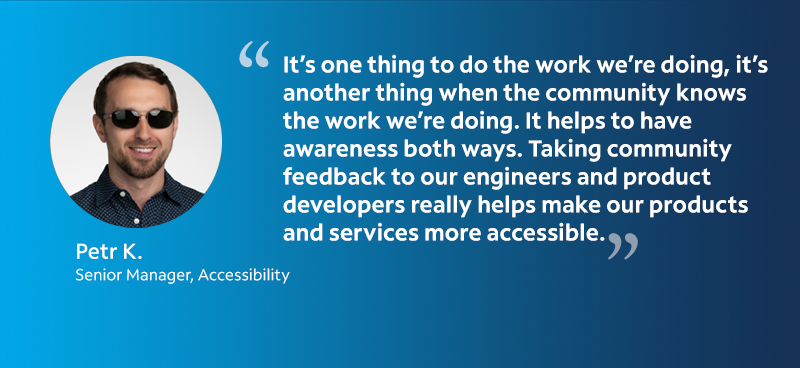 By working to make internal tools more accessible and creating an environment that supports individuals of all abilities, the goal for the team, and Charter, is to create a place where someone with a disability can create a lasting career. And, by making external products and services more accessible, the goal is to enable everyone to enjoy entertainment and connectivity.
When community and innovation come together, we're better able to meet the needs of our customers and our employees.
Equal Access to Entertainment
Spectrum's Accessibility Team leads projects in partnership with our User Experience (UX) and Research Teams to optimize the customer experience of people with disabilities. For example, when the team realized there was a need for audio descriptions and closed captioning for on-demand content, they built a tool to meet that need.
"Spectrum Access was a big push for us," said Patty. An external app, Spectrum Access adds audio descriptions to video content and is free to everyone.
"We decided to make the app available for free," said Petr. "So, no logins or authentication are required. All you have to do is download it on your phone, sync your movie or TV show, and enjoy."
Whether Spectrum content or not, the app can be synced with anything in the app's library, making entertainment more accessible for customers that have hearing or vision impairments.
Our Mission
On the Accessibility team, there's talent across the board – ranging from marketing, training and compliance, to user experience and technology – all working together to help make entertainment, connectivity and employment more accessible.
"Making the world more accessible can be challenging, but it's the right thing to do," said Adam. "Our mission here is to improve lives."
To learn more about Spectrum Accessibility, click here.
Tell us what you think about this story.