Tell stories that connect communities.
We are all storytellers, creating the content our audiences count on. Supported by our nationwide network and the latest technology, we're delivering an experience that is truly hyperlocal and bringing our content to life in new ways. Across more than 30 local news and regional sports networks, Spectrum Networks is shedding light on compelling narratives that impact our viewers' lives. It starts with empowering each and every one of our storytellers to bring their own unique perspectives. That's how we're giving our audiences a powerful connection to their states, cities and neighborhoods.
From 24-hour local news, to in-depth sport analysis, the teams at Spectrum Networks are breaking new ground in TV - and their careers. Go behind the scenes and see what's happening at our studios across the nation.
Spectrum presents: Inside Spectrum Networks
Spectrum Networks consists of more than 30 news, sports and local channels nationwide.
Michael B. - Executive Vice President, Spectrum Networks: We're in major markets across the country and our goal is to be the number one news brand in every single one of those markets.
Karen M. - Executive Producer, Spectrum News: There's a lot of comradery and support for each other.
Ashleigh C. - Master Control Operator, SportsNet: I feel like every time I talk about it, everyone's like, "You sound like you love your job."
Paul O. - Business Analyst, Spectrum Networks: At Spectrum Networks allows you the opportunity to succeed and also reach your potential.
Tamani W. - Anchor/Reporter, Spectrum News Albany: You could absolutely achieve everything that you want to achieve here at Spectrum Networks. I don't think that I am an exception. I definitely think I'm the rule. [on-air] "Live at noon, four fires in Troy are now deemed suspicious."
Spectrum News Albany is one of Spectrum Networks' 24-hour local news channels
Speaker 6: [on-air] This is Spectrum News at noon.
Tamani W.: [on-air] "Welcome to Weekend Buzz." I really love engaging with the community because they're the reason that we're here. We matter to people and it's nice to be able to build that relationship with them.
Karen M.: We are constantly looking to help serve our community. We're the only 24 hour local station.
Speaker 7: [on-air inaudible] "...another big loss."
Spectrum Networks' sports properties include SportsNet and SportsNet LA
Speaker 8: [on-air inaudible] "...being able to handle the ball and make shots."
Dan F. - Sr Vice President & General Manager, Spectrum Sports: We get to work with some of the most iconic franchises in all of sports with the Los Angeles Lakers and the Dodgers and the Galaxy and the Sparks.
Ashleigh C.: If you love sports, you love sports television. This place, Spectrum Networks, would be the best place.
Dan F.: We're actually looking to grow you to be part of our team.
Michael B.: We actually have quite a few people who've been with the company for more than 20 years, and what's really gratifying to see a number of them start as interns.
Tamani W.: I was at the very bottom level and now I'm an anchor reporter. And I host a show.
Paul O.: I started here as one of the first interns actually. I was very lucky to have people who really believed in me.
Michael B.: Nobody's in the position that we have. And so we're ready to seize it, but what we really need are the talented people who recognize that and are willing to kind of go on that journey with us.
Exclusive local programming. Live Events. In-Depth Shows.
Apply Now: jobs.spectrum.com/networks
Content, Media & News Teams
Explore our teams and find the right one that can help you share stories you believe in and keep customers connected to the news that matters most. With newsrooms across the country - from New York to California - there's a place for you with us.
VIEW ALL MEDIA ROLES
Discover the paths we've taken
With so many possibilities, there's no one way to shape a career with us. Take a look at how just a few of our people have done it.
News Director
Vice President
Group Vice President of News & Local Programming
"Spectrum Networks encourages us to tell compelling stories that are essential to our communities. Our inclusive workplace gives us the freedom to cultivate ideas and grow our careers."

Bernie H., Group Vice President of News & Local Programming
Multi-Media Journalist Hudson Valley
Multi-Media Journalist Ohio
Manager Digital Content Partnerships
"The best thing about working at Spectrum News is the continuous opportunities for growth and energetic team members, not to mention being a part of a stellar news organization."

Orie G., Manager Digital Content Partnerships
Story spotlight
We're focused on sharing stories that resonate with our audiences. Here are just a few of our recent reports.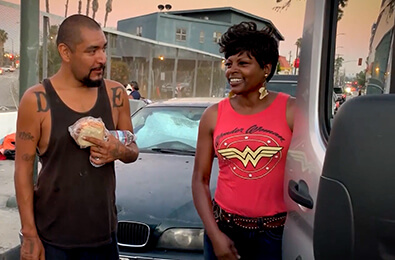 Homeless in Hollywood
Reporter Itay Hod spent a full 24 hours in a Los Angeles tent city to shed light on the realities and struggles facing those living on the streets.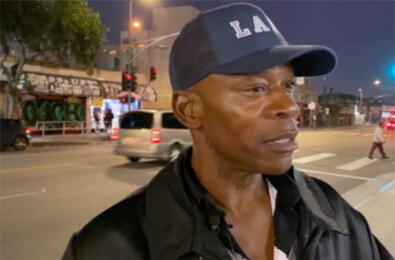 LA's Bravest
Brunell profiled Mango, a volunteer who helps Los Angeles firefighters by directing traffic, helping with maintenance and more.
Connect to more
You know what you want to do. Now, see how we help you do it. Learn about our benefits and company culture and get some tips on how to take the next step in your career.