We invest in you.
Working at Spectrum is more than a job, it's an opportunity to build a long and successful career. That's why we believe in offering a comprehensive compensation and benefits package that rewards employees for their contributions to our success, supports all aspects of their well-being, and delivers real value at every stage of life. We don't just say it, we live it.
Earn Your Degree for Free
Over 300 tuition-free programs from more than 30 colleges & universities

With our education benefit, powered by Guild, employees can choose from a catalog of tuition-free associates degrees, bachelor's degrees, certificate and boot camp programs. They can also get reimbursed up to $10,000 a year for a graduate degree or other degrees outside of the catalog. Plus, there's no waiting period for new hires.
Minimum starting rate for hourly roles
$20/hr
Exceptional work deserves unbeatable rewards. We offer competitive starting wages, with significant opportunities to increase your earnings based on your role. All hourly roles have a starting wage of at least $20 an hour. Our entry-level sales roles have various starting hourly wages, and many are eligible for commissions and incentives based on sales performance. All salaried employees are eligible for an incentive plan.
"Spectrum has opened new doors for me. I've jumped at every opportunity I've had to learn, grow, and further my career here."

Aaron, Senior Director, Inside Plant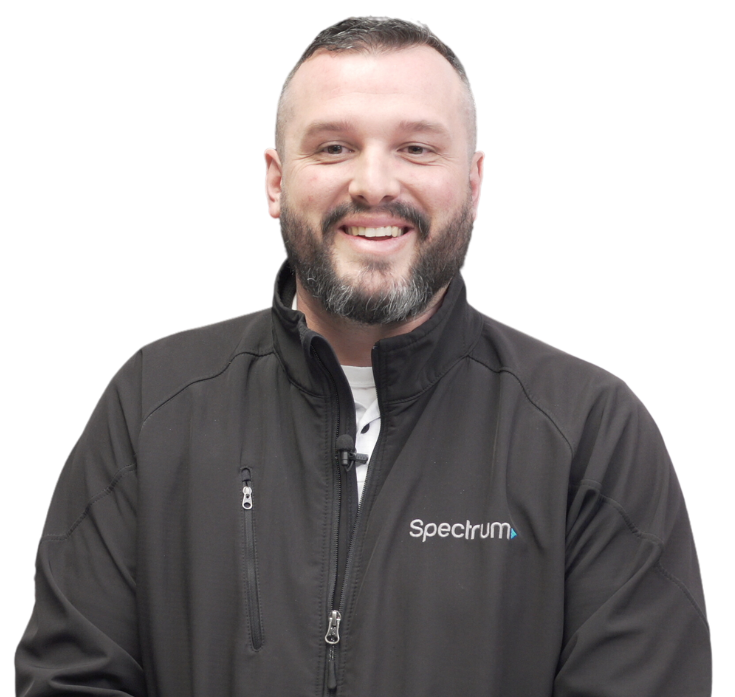 Connectivity Perks
You have access to free and discounted Spectrum services including TV, Voice, Internet and Spectrum Mobile™ services vary based on where you live.
Grow with Spectrum
We're committed to investing in our employees through on-the-job training and a dedicated focus on career development, so you can have confidence that day one is truly just the beginning.
Parental Leave
By providing four weeks of paid parental leave and additional paid time away under Short-Term Disability, we help you balance the needs of your family and your career.
Connecting You to More*

TV Select Package with premium channels like HBO and Starz

Spectrum Internet Plus with equipment included

One free home phone line with optional international calling

Deep discounts on Spectrum Mobile™ on top of an already amazing deal
*The connectivity services outlined above are available to employees who live in a Charter service area. Employees who live outside of a service area are eligible to receive Spectrum TV Essentials, certain online premium video services and deep discounts on Spectrum Mobile™.
Retirement Plans
For every $1 employees put into their 401(k), we put in $1 (up to 6% of pay). On top of that, we put 3% of pay into an additional retirement plan for most employees.
Family Planning and Support
We cover 100% of adoption and surrogacy expenses up to $15,000, and you have access to programs that offer family planning benefits, including cycle-based fertility treatments.
Voluntary Legal Plan
Our employees have access to help with will preparation, estate planning, traffic tickets, debt and credit issues, identity theft, family legal matters, buying a home and more.
"Having a company like Spectrum that backs you up and supports you on such a beautiful journey really shows that they are invested in us as humans"

Javier F., Director, Customer Service
Frequently asked questions
Everyone's needs are different. Below, see some of the common questions people have asked about how our coverage can help them.
We offer three national medical options, plus Kaiser in some areas. Each year we work hard to manage the rising costs of health care by evaluating our plans and absorbing as much of the cost as we can. Plus, if you enroll in one of the national medical options, we put up to $1,500 into a health care account to help you cover eligible expenses.
We also offer two dental options (one with orthodontia), vision coverage and a variety of programs designed to help you stay healthy and get the care you need.
The company matches employee 401(k) contributions up to 6% when the employee contributes on a before tax or Roth after-tax basis (up to IRS allowable limits). Plus, most employees are eligible for an additional 3% company contribution through our Retirement Accumulation Plan (RAP). This unique offering takes your retirement savings to the next level. Together with the 3% company contribution to the RAP, when you contribute 6% of eligible pay or more to the 401(k), you'll receive the maximum 6% company match, for a total of 9% of eligible pay in company contributions per year.
Live Well, our 24/7/365 employee assistance program, provides live confidential counseling at no cost. Triage support is available to help connect employees with services to manage everyday challenges and find support for emotional well-being, stress, anxiety, depression, and more.
The Voluntary Legal Plan helps you with will preparation, estate planning, traffic tickets, debt and credit issues, family legal matters, buying a home and more.
In addition to benefits offered to all of our employees, Charter offers family building benefits options for our LGBTQ employees and comprehensive health benefits to our transgender employees to maximize their physical and emotional well-being.