Black History Month at Spectrum
This February, we will be recognizing Black History Month by sharing the perspectives of some of our Black employees on the importance of this month. Please join us this February by following along on our social media and our Life at Spectrum blog.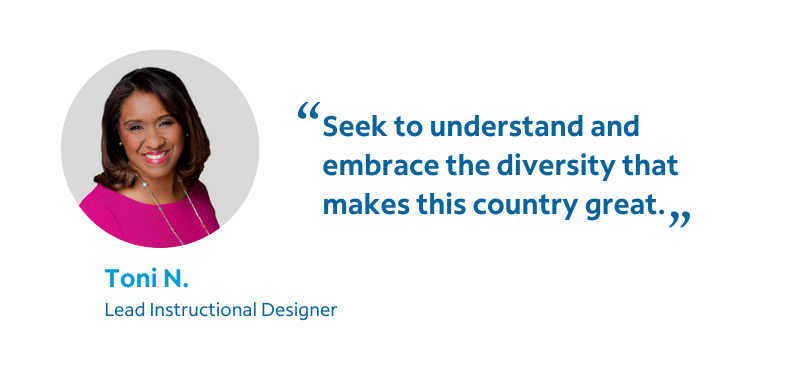 What does black history month mean to you?
Black history month is the time I reflect on the many accomplishments and contributions black people and those of the African diaspora have made to this country and around the world. When I was in grade school my parents had me write book reports on notable black Americans such as Marian Anderson, Frederick Douglas and other Americans who impacted US History.
When I expressed interest in a particular topic, my parents would encourage me to research a black person who made history. For example, since I ran track and field, I remember reading the autobiography of Jesse Owens. I learned how he overcame many obstacles while representing the U.S. in the 1936 Olympic Games during which he won four gold medals.
I also grew up watching Roots, sitcoms like The Cosby Show about the daily life of a black middle-class family living in New York, and A Different World which highlighted the experience of attending historical black colleges (HBCUs) through its depiction of a fictional historical black college, Hillman College.
As an adult, I focus on observing and celebrating current events of how black people contribute to all aspects of our American culture including politics, sciences, technology, and the corporate world.
What advice do you have on celebrating Black History Month all year long?
Black History can be celebrated throughout the year in a variety ways.
Find museums in your area that focus on the black experience.
The National Museum of African American History and Culture in Washington DC is an excellent museum dedicated to preserving the history of African Americans.
The Alvin Ailey American Dance Theater is a modern dance company focused on celebrating the African American heritage through dance. See the Alvin Ailey American Dance theater website for tour dates.
Read a book about notable African Americans or written by an African American.
Thurgood Marshall: An American Revolutionary
The Immortal Life of Henrietta Lacks
Kindred by Octavia Butler
The Hate You Give by Angie Thomas
Invisible Man by Ralph Ellison
Immerse yourself in the black experience through TV and movies. PBS has special programming during Black History Month, series such as Blackish and Queen Sugar and movies.
Malcolm X
Hidden Figures
Fences
Selma
The Great Debaters
Black Panther
The Best Man or The Best Many Holiday
Harriet
Patronize a black owned business such as a restaurant, store, or online business.
Dr. Martin Luther King once said, "We may have all come on different ships, but we're in the same boat now."
Since we are on the same boat, why not seek to understand and embrace the diversity that makes this country great.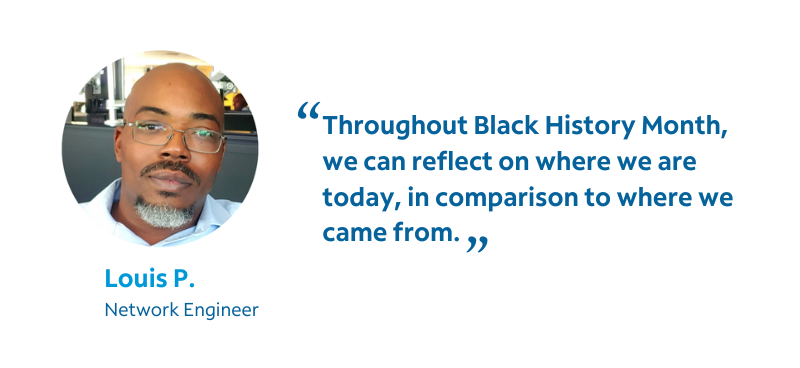 What does Black History Month mean to you?
The meaning of Black History Month to me is a time to celebrate the positive impact and the contributions that we have given to the world. It's also a time that our pride isn't judged, and we can reflect on where we are today, in comparison to where we came from.
What advice do you have on celebrating Black History Month all year long?
I think it would be a good idea to recognize people that have made huge contributions to our world year round.
What does Black History Month mean to you?
Black History Month is a time when we can give recognition to black pioneers for their achievements, contributions, and innovations to America. It is a moment to give credit where credit has been due for a long time. Black History is history still in the making as the black community continues to accomplish new feats. This is why it is vital that we continue to take the time to celebrate Black History at every opportunity that we can.
What advice do you have on celebrating Black History Month all year long?
Black History is part of American History. It should be celebrated all year long on other occasions like Martin Luther King Day. Even though Black History Month is the shortest month of the year, the celebrations go far beyond February 28th.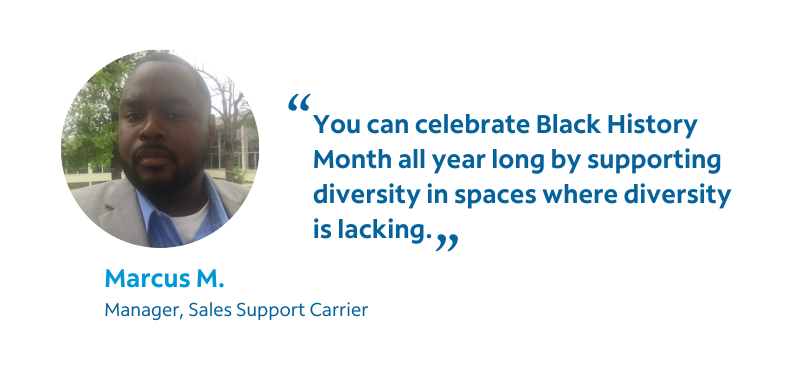 What does Black History Month mean to you?
Black History Month means a great deal to me. It means honoring our pioneers who led the way with lasting legacies for future generations to follow. It means continued education for me and honoring the contributions of our Black leaders and community activists. Also, continuing to support the advancement of the Black community by donating resources, time, and effort for our underserved communities all year long.
What advice do you have on celebrating Black History Month all year long?
Take time to learn about noteworthy African American figures and their contributions to our country. When you are looking at charities for your donations, consider donating to charities which support anti-racism equity and equality such as the Black Youth Project, Reconstruction, Inc., and Amistad Law Project. Continue to support diversity in spaces where diversity is lacking.
We aim to foster an inclusive culture and workplace where each and every person is empowered to create a dynamic and lasting career. No matter your background, identity, or beliefs, we welcome you to explore a career with us.