Celebrating Colleen Judson: 40 Years of Growth and Gratitude
If there is anyone at Spectrum who can tell you how unexpected doors can open and that opportunities for growth exist—it's Colleen Judson. Serving as Group Vice President of Human Resources for the Field Operations business unit, Colleen's career journey began in 1982.
"I wanted to be a secretary," she shares. "I wanted to work full time, work hard, and live on my own." Colleen worked part-time doing administrative work while finishing high school at an organization that provided services to New Milford Cable Vision. She then became a full-time employee for New Milford Cable Vision, a company of approximately 40 employees yet to be acquired by what is now Spectrum. Her first role was as a customer service representative. On the front lines of customer service, she gained a strong foundation for what would become a rewarding 40-year career.
"It was hard work but I learned a lot," Colleen said of her years in customer service. "Picking up the phone and taking calls from our customers, not knowing whether I would be handling a billing question, selling a service, or dispatching a technician … I learned so much operationally by servicing our customers."
Company leadership took notice of her work ethic and willingness to learn. In 1987, Colleen's career dream came true when she was "plucked" one day while on the job. "An executive assistant role supporting the Company president became available," she recalls. "And, remember, I had always wanted to be a secretary."
Little did she know her dream job would be a stepping stone.
Today, Colleen leads all aspects of HR for Field Operations, a business unit with a workforce of more than 30,000 employees. Here, she works side-by-side with other business leaders to align the Field Operations' HR strategy with broader corporate objectives, including workforce planning, process improvement and standardization, performance management, and employee development.
Field Operations: All in a Day's Work
From field technicians to maintenance to construction, Field Operations delivers the power of Spectrum's network to 32 million customers across its 41-state footprint. This team keeps communities connected 24/7 by installing, maintaining, and troubleshooting to optimize performance and reliability. But more than anything, Colleen wants people to know that joining Spectrum is more than just a job.
As Spectrum provided opportunities for her to grow and advance, Field Operations provides hands-on training to ensure employees have the knowledge and skills to become experts in their field. Dynamic growth opportunities enable them to build their careers at their own pace from technician to supervisor, manager, or director.
Being Open-minded to Opportunity
While Colleen attributes her career growth to several factors, one common theme emerges—the importance of being open-minded.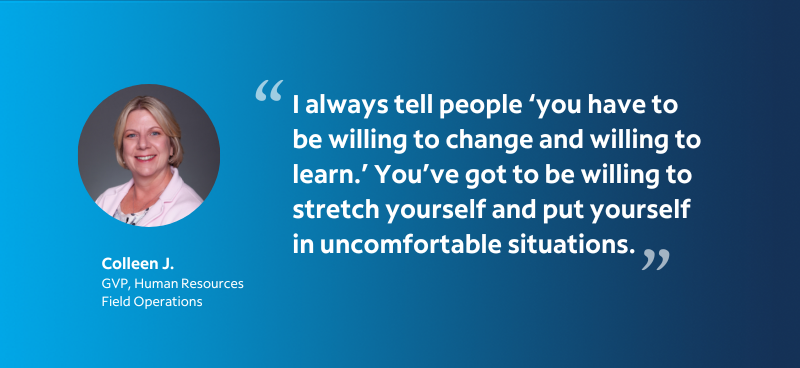 "I always tell people 'you have to be willing to change and willing to learn,'" Colleen advises. "'You've got to be willing to stretch yourself and put yourself in uncomfortable situations.' To me, doors opened because of the leaders I worked for, the many learnings I received from all of them, and by working hard. Nothing was handed to me. I always worked hard."
In addition, the relationships she developed with various leaders, provided the pathway for her future growth. "Every leader that I've worked for was willing to teach me and educate me," Colleen reflects. "I am grateful to all the leaders who took the time to teach me along the way."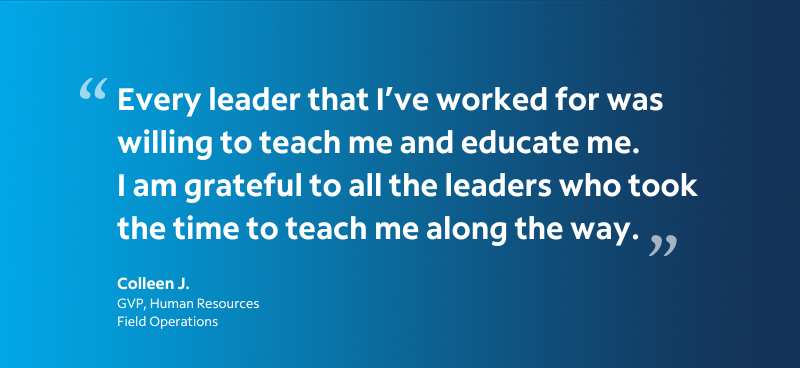 Being open and willing to learn from others opened doors for Colleen. Ones she didn't even know could be possible. This is especially true when it comes to working in HR which she discovered by "happenstance." Once again, being open-minded and willing to do what it takes, Colleen saw an opportunity and began administering payroll in addition to her executive assistant duties. In doing so, she found a passion that would become her future.
When a former executive told her of the expected growth within Field Operations, Colleen was intrigued. He said he needed to have one dedicated HR leader overseeing the line of business and asked if she'd be interested. "It took me 30 seconds to say 'yes.'"
Breaking Barriers and Shattering Ceilings
While Colleen didn't necessarily set out to shatter glass ceilings or break down barriers, she recognizes that she works in a male-dominated industry. "Every boss I've had was male except one," she admits. "I want more women in the business. I want them to know you can be successful too." The possibilities and opportunities are seemingly endless.
While she never thought that she would stay here for 40 years, Colleen never really thought of leaving the Company either. "I just love the business, the Company's mission, and the people that I work with. And there have been many different people," she says. "It never occurred to me to look for another job."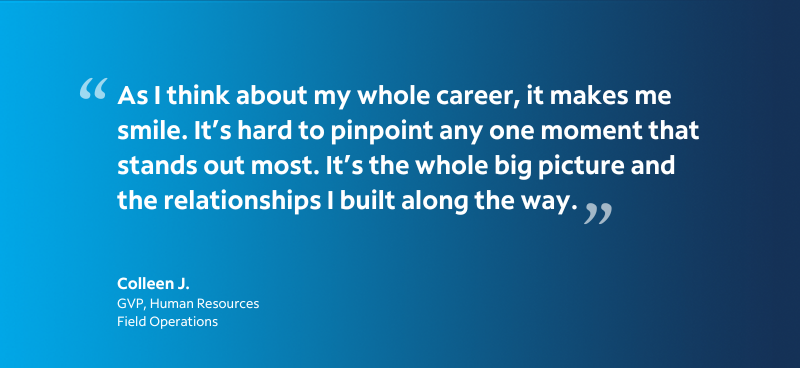 "As I think about my whole career, it makes me smile," she says. "It's hard to pinpoint any one moment that stands out most. It's the whole big picture and the relationships I built along the way."