From Spectrum Intern to Product Strategy Analyst: This is Davin's Story
Davin B. is one of Spectrum's newest Product Strategy Analysts. His career at Spectrum started with a summer internship and recently evolved into a full-time position. Davin's experience is just one example of how you can launch a career at Spectrum.
As our 2022 summer interns are wrapping up their internships, we spoke with Davin to learn more about his evolution from intern to full-time employee. Read the full conversation below.
Q: We know you recently completed your internship at Spectrum and were hired full-time for your current role. First of all, congratulations. We know that has to be so exciting. Secondly, tell us about that whole process and what it's been like for you.
A: Thank you! It's so exciting. I mean, I interned here during the 2021 Summer Internship for 3 months, then I was lucky enough to get the opportunity to intern part-time through the school year. Getting to continue my internship after the summer program was great because I was able to stay connected with the team and continue learning from those around me.
As my internship progressed, I started having more conversations with my manager about going full-time. Before I knew it, I was starting as a Product Strategy Analyst.
Q: Would you mind telling us about your current position?
A: In my current role as a Product Strategy Analyst on the Video Product Team, I use data analytics to help influence our business strategy with the goal of getting our video products into more homes. I'm doing things like analyzing the performance of our video products, comparing our performance to competitors, and then looking for ways we can adjust and improve our competitiveness.
For example, some of the projects I work on include reporting on our Out-of-Home viewership to understand how our customers use Spectrum video products on-the-go, as well as competitively auditing the events we broadcast to help inform our decision-making when it comes to delivering sporting events to our customers.
If I had to summarize my team quickly, I would say we focus on assessing our own, and others', video products by analyzing viewership and engagement. We then use that to drive our video product strategy.
It's really exciting.
Q: Think back to when you were starting your internship in summer 2021. How does it feel to look back on that experience now that you've been brought on full-time?
It's really rewarding and fulfilling. I came in knowing almost nothing about video and the industry, so what I've been able to pick up on is incredible.
I've had the opportunity to learn and grow from my managers and my team during my internship and now I'm able to do the same in a more permanent, expanded role as a full-time employee. The best words that come to mind are rewarding and fulfilling.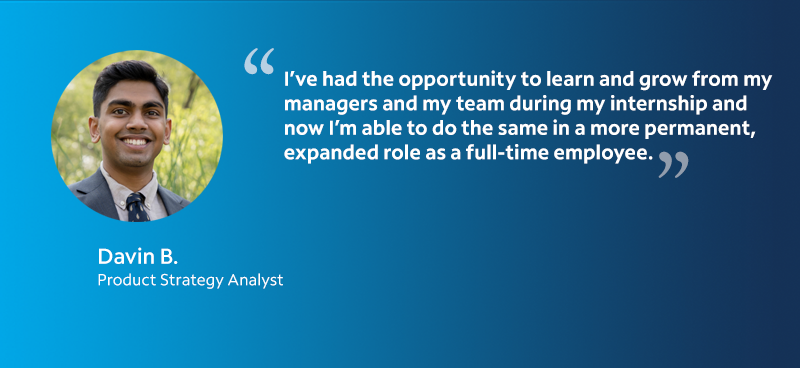 Q: What about your internship experience at Spectrum made you want to start a career here?
What made me really want to be hired full-time after my internship were the people and the company culture. The culture at Spectrum is focused around being inclusive and working with great people, but also supporting employees' goals and areas of interest. Leaders and managers want you to grow and I think that's important, especially when starting a career.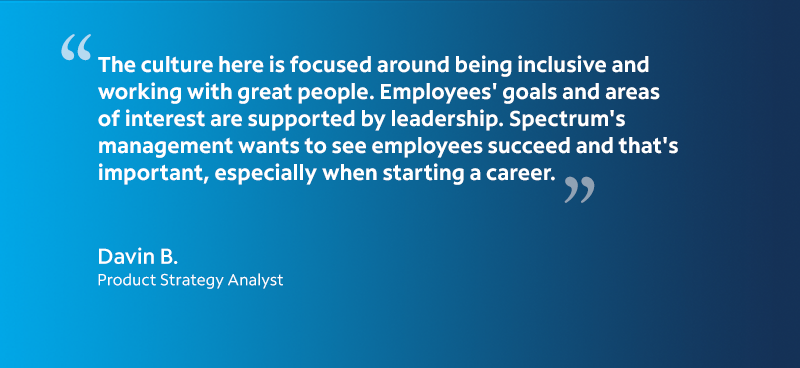 For example, I noticed when I had the opportunity to speak with my managers about a skill I wanted to develop or an area of interest in the video realm, they would go out of their way to help me. They would work with me to develop that skill or give me work that was associated with the area of interest I mentioned. It was so helpful and involved.
Q: What excites you the most about beginning your career at Spectrum?
What excites me the most is coming into a team and organization I already know, but also knowing that Spectrum is really going to support my growth. At the end of the day, everyone I'm working with makes it clear they want me to succeed. My career here is just beginning and I already feel supported and equipped with the resources I need to succeed.
Q: What are some challenges you've faced in the transition process from college student to professional?
First and foremost, my education is very different from the role I'm in. I went to school for mechanical engineering. However, I think there are skills that transfer across career paths and education types.
A challenge for me was communicating this to my managers and letting them know, "here are the areas where there might be a gap in understanding and here are the areas where skills will transfer." It helped them ease the transition for me.
Q: What advice do you have for current interns at Spectrum that are interested in a full-time career here?
My advice to anyone interning at Spectrum right now is to use the resources at your disposal, especially the people. Meet as many people as you can and learn about their experiences. It's a great networking opportunity.
For example, during our Hackathon Project, I prioritized interviewing people instead of relying solely on research and I think it helped me frame my understanding of the industry.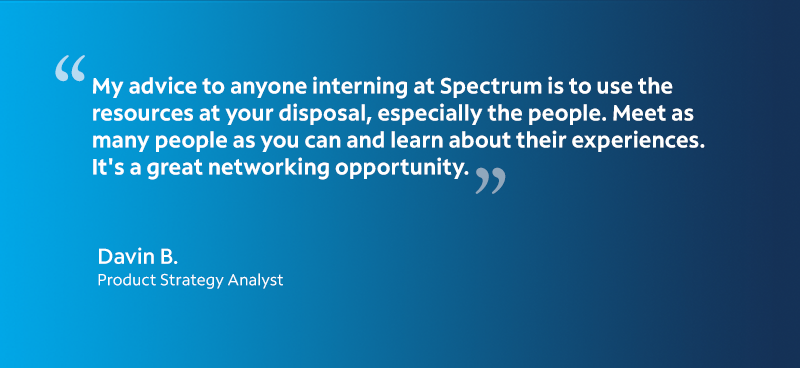 Q: That's incredibly helpful advice for our current and future interns! Now, enough about work. Tell us a little about you outside of Spectrum.
This might be the hardest question yet!
I would say I'm pretty easy-going. I love to spend time with my family and friends. I really enjoy watching and playing soccer, which might have something to do with my interest in working with Spectrum's video delivery of the sport. Besides that, I would say I really enjoy the outdoors and traveling.
Q: Davin, we've really enjoyed learning more about you, your career journey thus far, and your goals for the future. Before we finish up, in your own words, why should someone choose to work at Spectrum?
I would say that working at Spectrum gives you tons of room to grow. There is a lot of opportunity to work with different teams and different people to see how our whole organization comes together to deliver for our customers. There's so much to learn and so many people to teach you. As long as you show that you're hard working and you want to grow in your career, people will work with you to support your goals.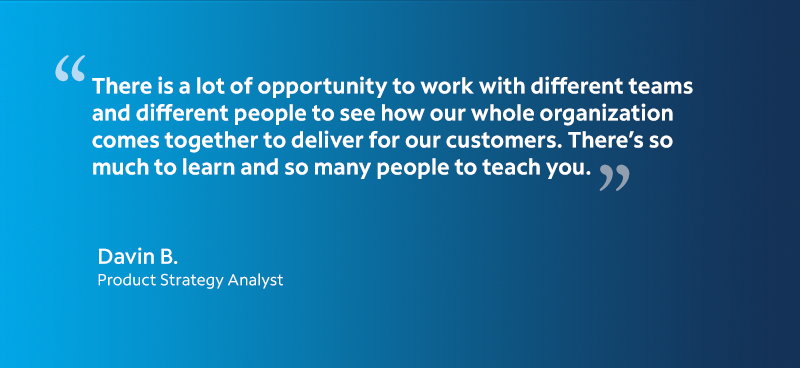 Did you enjoy hearing about Davin's journey from internship to full-time? If so, learn more about our internship program and early career roles here.

Tell us what you think about this story: https://bit.ly/3H99lhS