This is an excerpt from an article that was originally posted on BuiltIn. Read the full article here.
More Than an Assembly Line: Building Ownership on Your Engineering Team
What does a culture of ownership mean to your team?
I think of culture as the set of shared values, goals and practices that characterize a team of engineers. However, the textbook definition of ownership doesn't quite capture the spirit of what it means to truly own something in the context of our work. I think of ownership as an obligation to recognize the responsibility, accountability and duty that comes with my team's work.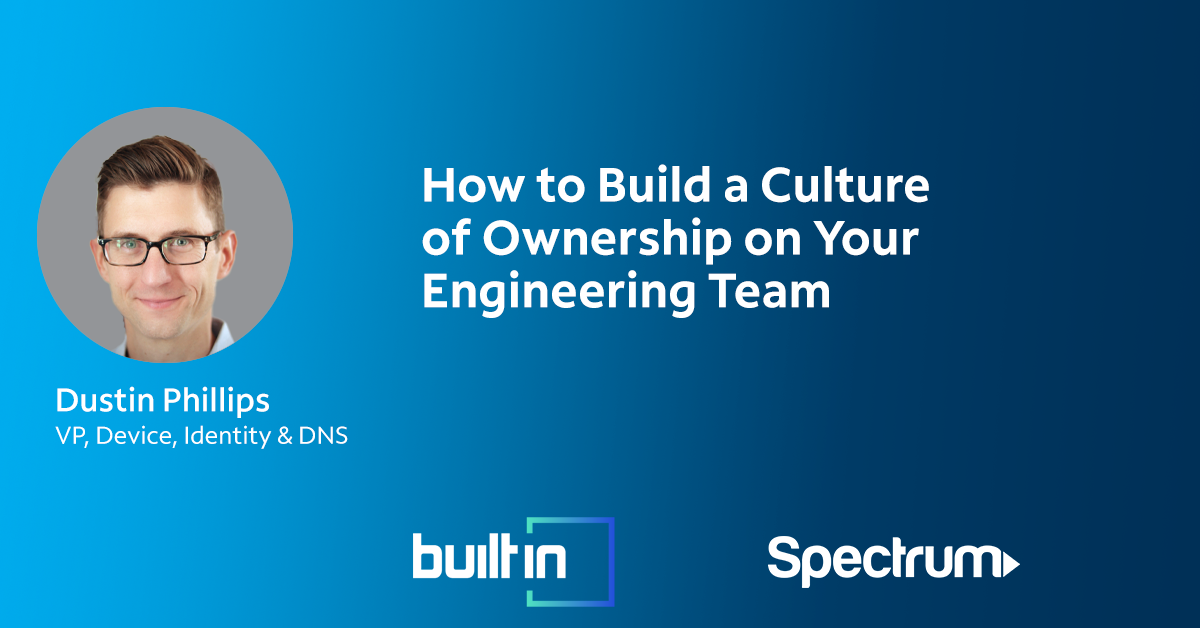 To us, owning something means being proactive in its maintenance. We cannot wait for someone else in the company to act on something we own. We cannot sit idle while something fails on our watch, expecting someone else to jump in. We do not allow something to fail despite being aware of potential weaknesses or fault spots in a particular application or platform. We take pride in that ownership mentality and use it as a measurement of success within the team.
What are the essential behaviors for a leader looking to exemplify and spread a culture of ownership across a team of engineers?
I rely on sound decision making, asking questions, trust, acknowledging that everyone is human, learning from mistakes and leaving room for laughter. I try to stay out of the way as much as possible, yet always be present in case I'm needed. My team needs to believe that they are supported, and it's my duty to prove that they are.
My framework is building the latitude, attitude and aptitude for each team member to make sound decisions on their own. While giving independence for that decision making, I try to instill in my team the mentality that we must understand something to own the project. To understand, we need to ask questions.
For myself, I remember that everyone on my team has a purpose. People tend to operate with good intentions, and I do not allow myself to forget that. Mistakes happen and the best response is to focus on what could have prevented it and how to prevent it going forward. The mistake is not the failure — the failure is not learning from the mistake.
Beyond that, I find humor in everything. Connecting more than 32 million customers to the things and people they love is serious business, but balancing the gravity of our work with levity is needed so that my team doesn't become overwhelmed by their duties.
My framework is building the latitude, attitude and aptitude for each team member to make sound decisions on their own."
What was your biggest challenge in spreading a culture of ownership when you first became a leader, and how did you overcome it?
I moved into people leadership eleven years ago after having been an individual contributor for about the same amount of time, and I took a familiar path of transitioning into the leadership of my peers.
Aside from the general awkwardness that can be present when you are managing former peers, what was a true challenge was giving my team the space to solve problems in the way that works best for them and not necessarily advocating for the way that I would have solved it as an individual contributor.
This goes together with simply letting go of some individual contributor day-to-day duties, which is required to afford time to focus on leading and is also paramount to initiating that framework of latitude-attitude-aptitude. It's important to remember that giving people latitude allows for freedom. It all starts there.
About Dustin Phillips
In his role of Vice President of Device, Identity, and DNS, Dustin Phillips leads the team responsible for championing the operations and reliability of the Spectrum data, WiFi, voice, and video services across the business – including subscriber-facing DNS and identity platforms. In his role, Dustin also collaborates with vendors and other business units to drive continuous improvements to the customer experience regarding all home and business IP-based services.
Dustin began his career with Spectrum in 1999 in customer support, where he served in a customer-facing role supporting the broadband internet back-office for the Carolinas and Virginia. After his time in customer support, he quickly moved on to engineering and continued advancing his career for 23 more years. Dustin is originally from Greenville, SC, but his career with Spectrum has afforded him the opportunity to live in St. Louis, MO and, currently, Denver, CO. Outside of work, Dustin enjoys spending time with his wife and two young sons as well as pursuing his hobbies of piano, road-cycling, and gardening – and technology, of course.
Tell us what you think about this story: https://bit.ly/3H99lhS