2 Leaders Share Their Best Tips on How to Embrace (Smart) Risks in Your Career
In today's world, it's not uncommon for fear to prevent us from taking risks in the workplace, like applying for a new job, taking on a challenging project, or asking for more responsibility. In a recent partnership with Fairygodboss, a career community for women, three women leaders at Spectrum shared their experiences taking risks throughout their careers in a webinar "How to Embrace (Smart) Risks in Your Career."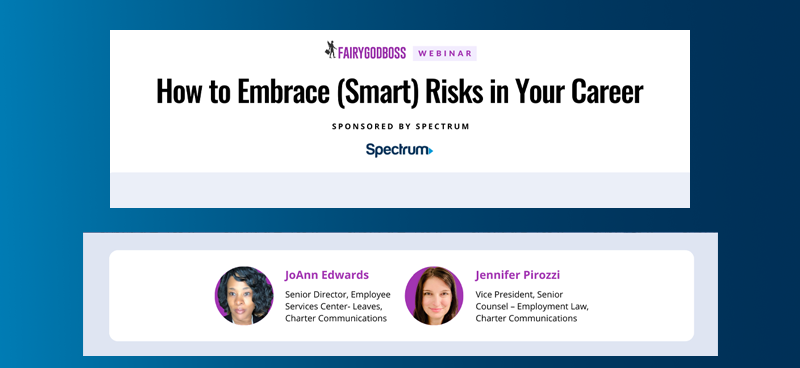 Read the tips below from Spectrum leaders JoAnn Edwards (Senior Director, Employment Services Center) and Jennifer Pirozzi (Vice President, Senior Counsel - Employment Law).
Tip #1: Be Courageous
Your brain will try to convince you to play it safe. It will tell you that you can't succeed or that you shouldn't try something new. But most exciting opportunities – those big leaps forward – aren't going to happen unless you take risks.
For Jennifer, she shared how she contemplated a decision for several years before moving forward. Prior to joining Spectrum, Jennifer worked for a law firm and while she enjoyed litigation and working with multiple clients, she sensed that she was ready to work for an organization where she could develop deeper relationships and make meaningful changes in a company's practices.
"I was apprehensive about leaving the law firm I was working for," said Jennifer. "Looking back, I wish I would have made the leap sooner. The growth and development my career has experienced because of the risk I took has been monumental."
While those big leaps forward provide the opportunity to grow, how do you gauge them to see if they're worth taking?
Tip #2: Ask Questions
The women shared how to know if it is time to make a leap. JoAnn said, "When you're ready for a change, the pull you feel inside stays with you. It doesn't go away and will ultimately move you to action."
From there, you have to ask yourself questions like:
Will this risk grow my career?
Will it result in long-term impact?
Will it move the organization forward?
If the answers to those questions are yes, the risk is probably worth taking.
Tip #3: Create a Plan
It's a great feeling when you make a smart risk and it works out. While it's worth celebrating, it's also worth noting that managing the success is necessary.
If you're in this situation, JoAnn emphasizes the importance of planning:
Keep your big picture goal in mind
Ask the right questions
Anticipate potential outcomes and how to react
Confide in trusted colleagues
Stay present and centered with your career and where you want it to go
Tip #4: Give Yourself Grace
Despite your best efforts and intentions, there will be times when a risk doesn't pan out. These situations can be disheartening.
When Jennifer thinks about the risks that haven't been successful in her career, she said it was so easy to get down on herself. Because of this, she stressed that it's important to remember to be kind to yourself and give yourself grace.
To learn more about careers at Spectrum, click here.
Tell us what you think about this story: https://bit.ly/3H99lhS