Spectrum Executive Shares Advice at Fairygodboss's 2022 Inspiration Summit
On April 13th, Spectrum was honored to participate in Fairygodboss' second-annual Inspiration Summit designed to educate, uplift, and inspire women to achieve their career goals. By providing free resources, networking opportunities, and a safe and inclusive environment, Fairygodboss members are empowered to create dynamic and meaningful careers.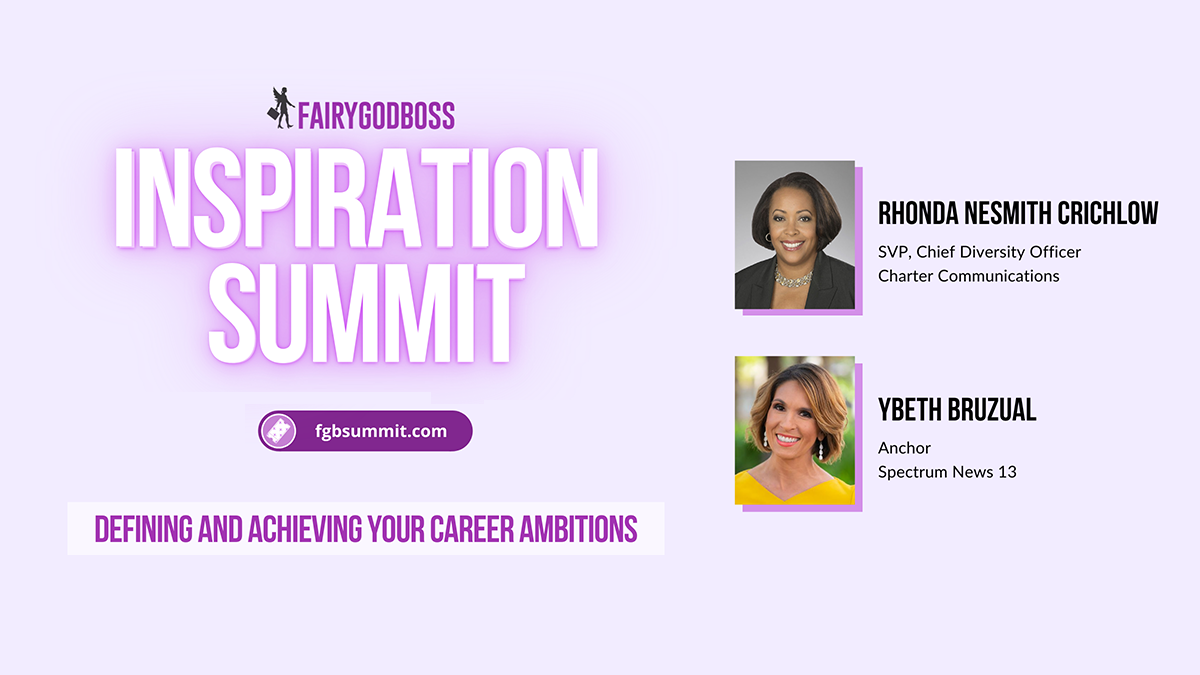 The theme of this year's summit was "Lifting as We Climb." To kick off the Summit, our very own Rhonda Crichlow (SVP, Chief Diversity Officer) participated in a panel discussion on "Defining and Achieving Your Career Ambitions," which was moderated by Ybeth Bruzual, Anchor at Spectrum News 13 – Orlando.
As Spectrum's Chief Diversity Officer, Rhonda is passionate about creating inclusive environments where all employees can grow and thrive. At Spectrum, this means ensuring diversity and inclusion is at the forefront of how we operate across our 41 state footprint while also informing how we engage more than 32 million+ customers and 93,000 employees.
Through personal anecdotes and actionable tips, Rhonda and Ybeth had an authentic discussion about career success while demonstrating the many different opportunities available at Spectrum.
Balancing Career and Life
The need for women to come together, inspire one another and share experiences is more important than ever.
At Spectrum, we align with Fairygodboss' mission to help women achieve their career goals – and recognize that a network of support is crucial. We do this by offering a variety of career paths and mentorship opportunities, as well as an inclusive workplace. This is further supported by our five Business Resource Groups, exceptional benefits, and more.
The Importance of Inclusive Leadership
At Spectrum, we are dedicated to creating equitable environments for growth and opportunity to enable representation across leadership. This starts with ensuring everyone has the tools they need to thrive.
Reflecting on a leader's role in doing so, Rhonda said, "Leadership is really multifaceted. There isn't a one size fits all approach that you can apply across all employees to drive a certain result. It's important to understand what individuals need – then make sure you provide them with that support."
How Mentorship and Finding Your Voice can Help you Grow
Take advantage of the resources your organization offers for your advancement and development, including opportunities to establish a mentor-mentee relationship. Rhonda shared her tips on maximizing this avenue for growth:
"Be very clear about what you want out of a mentoring relationship. Ensure that the individual you're approaching is, in fact, the best person to help you. And develop networks with individuals who don't share your common experience so that you get different perspectives that can help you."
Inspiration Summit 2022: Lifting as We Climb
Interested in exploring a career in a supportive and inclusive environment? Explore our open roles today.
Tell us what you think about this story: https://bit.ly/3H99lhS