Enterprise Leader Reveals What It Takes to Be a 'Wonder Woman'
Joella Wind, Group Vice President, Sales Operations and Enablement for Spectrum Enterprise, has been honored by Multichannel News as one of its "Wonder Women of New York." The annual award recognizes "exceptional women in media who have attained leadership roles and continue to blaze the trail for the next generation of women leaders in the industry."
"It's quite an honor," Joella said about the award. "It's nice to be acknowledged for 30 years of a career where I've seen lots of great accomplishments, lots of failures, and have had the opportunity to work with some incredible sales professionals and leaders. I've been incredibly fortunate."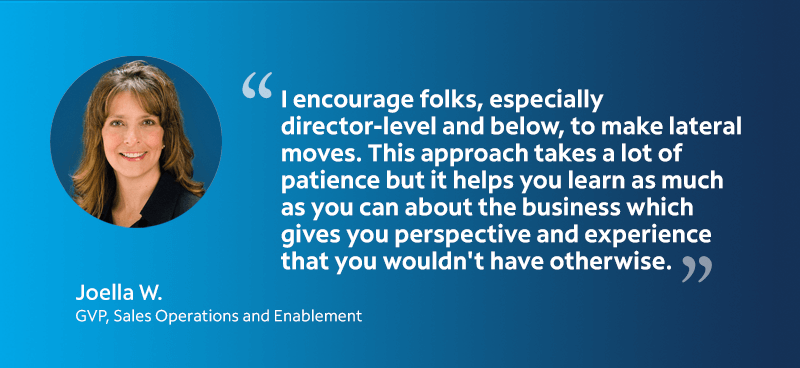 Joella has spent almost 20 years with Spectrum, starting in 2003 when she joined then Time Warner Cable to lead its Business Services Team in East Syracuse, New York. She led several additional teams over the years and, after the 2016 Charter-Time Warner Cable merger, took over the Custom Solutions team at Spectrum Enterprise. She now leads the 350-member Sales Operations and Enablement organization within Spectrum Enterprise, a role that encompasses Sales Operations, Sales Enablement, Sales Analytics, Sales Planning, and Event and Field Marketing.
Joella shared with us some valuable lessons she's learned in her award-winning career.
Make Lateral Moves
Rather than continuously chasing high-level promotions, Joella focused her early career on making lateral moves, taking similar positions and roles with different business units.
"I encourage folks, especially director-level and below, to try to take laterals and learn as much as they can about businesses," she said. "Because it makes you more attractive in a more general leadership role later on in your career. You have that perspective and you can bring that to the table. It increases your business acumen."
Joella's lateral moves sent her to multiple departments – including operations, sales, marketing and product – which well-positioned her for greater leadership responsibilities.
"I took quite a few lateral positions in order to learn the business and to get new experience, new perspective, widen the network of people that I knew," she said. "Then in the next role, you might have a challenge that you can easily reach back to people you knew before, and they can often help you."
Joella admits her "go lateral" approach takes a lot of patience. "Some folks just want to take off so quickly," she said, remembering how earlier in her career, she applied for four promotional opportunities. She was turned down for each.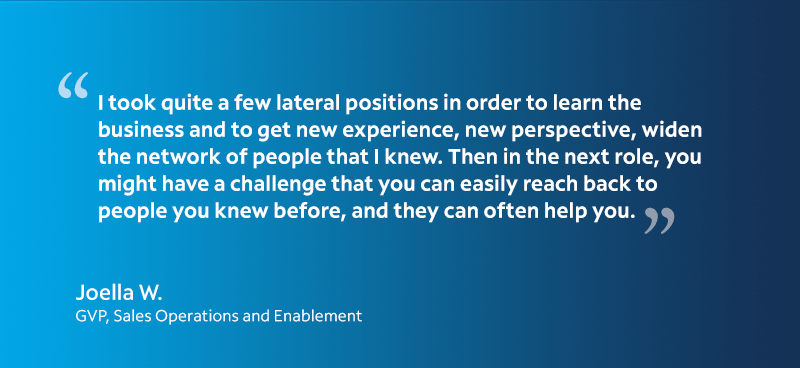 "But let me tell you," she said, "there was a good reason why every time. It wasn't the right time."
Now, she credits those multiple lateral roles across several departments as being key to making her the leader she is today. "It paid off time and time again," she said.
Mentorship
Multicultural News credits its "Wonder Women" with "blazing a trail for others." One way Joella does that is through mentoring. She's been active in Spectrum Enterprise's Women's Leadership Development Initiative, where she helped set up a formal mentor matching program.
"It gave women leaders exposure to senior leaders in this organization that they might not normally work with," Joella said.
She also mentors students at her alma mater, the University of Rochester. "It's invigorating," she said. "I don't spend a lot of time with them – maybe an hour or two a month. And I'm jazzed afterward. I always want to help. And I always want to help the younger generation."
She is quick to point out that the mentor-mentee relationship is a two-way street, with her seeking guidance in addition to providing it.
"I ask her questions about the different tools they use and how they go about finding jobs, and what are the career counselors telling you these days, what's important," Joella said about a current 18-year-old mentee of hers. "Just to stay in tune with the younger generation and what they're thinking about and how they're thinking about it."
Deliver the goods
"It's always been about being results-oriented," Joella said about her success at Spectrum. "I come to work pretty serious. I'm very committed to it in terms of what's expected. And when I look over especially the early part of my career, when I delivered, people almost seemed surprised. A common reaction was, 'Wow! Here's an objective and you went out and you achieved it.' I'm focused on getting results."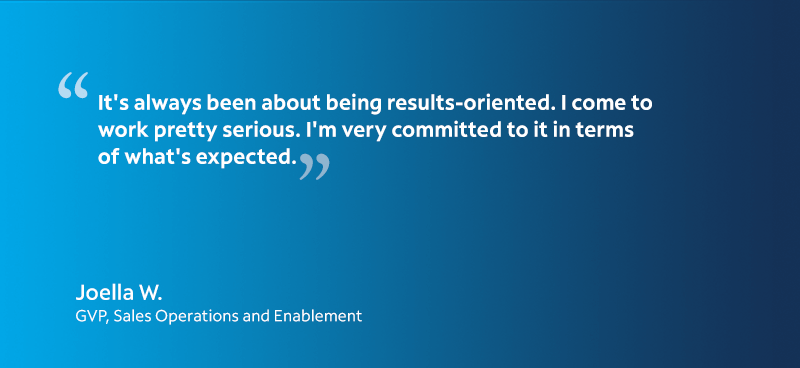 The results of her hard work was a trip to New York City's Ziegfeld Ballroom on March 24th, where she was celebrated at a luncheon along with her fellow newly-minted "Wonder Women."
"Such acknowledgment gives you goosebumps a little bit and it's a little daunting," she said. "It's about being a good role model also in terms of what you bring to the table and how you show up for others."
Tell us what you think about this story.