Inspiring Teams Through Connection, Authenticity and Experience: Our Conversation with Julie Unruh
Ever wondered how content from providers like Disney or NBCU end up in your cable package? Meet Julie Unruh, Senior Vice President of Programming Finance, Analytics and Operations. She spends her day analyzing costs and providing insights that inform Spectrum's strategy for which partners we include in our offering.
Julie's 18 year career at Spectrum is an impressive one – while her accomplishments are many, the one that really stood out in this interview is how she treats life like an adventure and forms relationships along the way. Read on to learn more about her career path, approach to leadership, and advice that has guided her throughout her career.
Q: We're so excited to learn more about you and your role, Julie. What is your current position at Spectrum and what are your primary responsibilities?
A: I'm excited too! In my current role as the SVP of Programming Finance, Analytics and Operations, my team supports the content arms of Spectrum with all things finance and analytics.
One of the teams we primarily support is the Programming Acquisition team. Programming Acquisition negotiates deals with major programming groups like Disney or NBCU. My team helps inform decisions on what content we're spending money on through the analysis of costs and viewership data to better understand the value of content.
My team also provides support from an operational level. These are very complicated agreements that have to be implemented across the organization. While it's a very involved process, I really enjoy working with so many different teams and parts of the company.
Another team we work with is the Original Content team. During the acquisition of original content, we negotiate for the rights to shows. My team provides support from a modeling and analytics standpoint to help the Original Content team understand what we're getting for the spend. Our conversations are centered on questions like, "does our content connect with our customers?" and "is this content serving our customers' needs?" It's so important for us to understand the value we're getting by providing that content.
We also work with the Spectrum News team to understand how our customers engage with our exclusive local news content. Additionally, we work with them on strategic initiatives such as the rollout of the Spectrum News App. The goal is to help unlock value to drive the business forward.
Q: It sounds like an exciting opportunity to work with so many of our teams to understand the diverse needs of our customers. Thanks for walking us through your current role. What position did you start in here at Spectrum?
A: I have been with Spectrum for 18 years. Before I joined, Spectrum was actually a client of mine. I was doing revenue assurance work for Spectrum and was able to build a dynamic relationship over time. Spectrum ended up creating a Revenue Assurance organization and asked me to come lead it as an employee. It was a really exciting opportunity for me because I was getting to help build something that didn't exist. This role was very heavy on finance, data, and analytics and making sense of that data to drive the business forward. I worked with different parts of the business because I was dealing with all aspects of the revenue life cycle. It was actually a similar role to what I'm doing now, but on the revenue side of the business versus the programming side.
Q: It's incredible that you've been with Spectrum for almost twenty years! We know you've led many teams throughout your time here. How do you inspire the teams you've led and the people you've managed?
A: It really is amazing to look back at my career with Spectrum.
When it comes to being a leader, I always try to lead with empathy, especially during the challenging times. I like to think of myself as a relationship driven leader. For me, if I'm able to connect with my employees, it's easier to inspire them if that connection exists.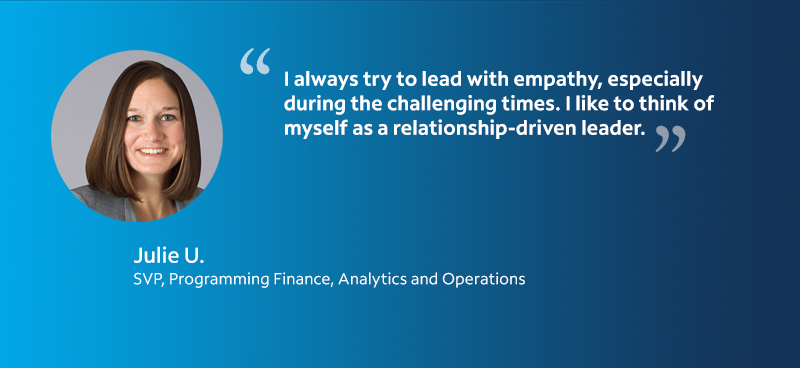 One of my favorite things to do is a "walk and talk" with a team member. We go for a twenty minute walk outside so we can get out of the office environment. It's a great connection tool and helps us learn about each other more authentically. These walk and talks inspire me and I hope my employees feel inspired and excited to go on and do great things in their careers and for the company.
In my experience, a key to success is to surround yourself with great people. Energy is contagious so surround yourself with people who are jazzed about what they are doing.
Q: What makes you excited about the work you're doing?
A: We work in an industry that has been changing so fast. Every day is something new. It could be a merger and acquisition, a new streaming service, or more ways people are consuming content. It's so exciting to be part of something that is changing and being part of shaping what the future looks like.
Q: When you think back on your career, what is the best piece of advice you've received? Or advice that has acted as a "North Star" for you?
A: Hmm, that's a great question. I'm lucky to have had so many great leadership examples.
Something that almost immediately popped in my mind was a piece of advice one of my first bosses said. He told me that my job as a leader is to teach my team everything I know so that I will effectively work myself out of a job. Give them the space they need to work with that knowledge and get out of the way. From there, I will be able to think of my own next steps for my career.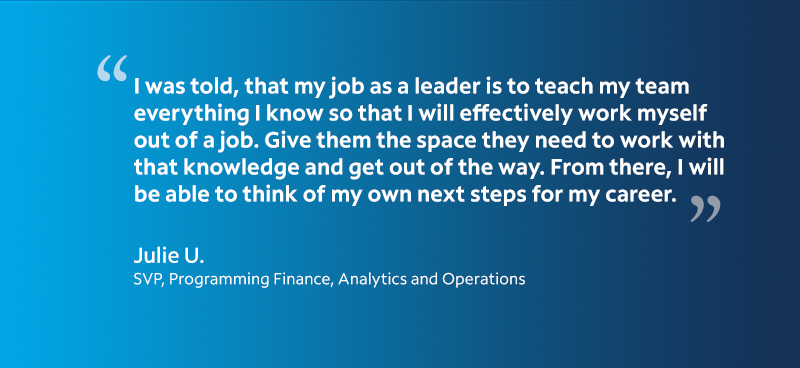 Another approach I take to life is something my husband talks about often. He always says "life is an adventure" and this has been a theme in our lives. It was a big decision when Spectrum offered me the opportunity to move from Colorado to Connecticut so I could move into a role based out of headquarters. My family and I were in what we thought was our forever home and we were happy with our lifestyle. But, we took the approach of life being an adventure and made the move to Stamford.
It's important to put yourself out there and always remind yourself, "If it doesn't work out, something else will." It helps keep life exciting and keeps your journey changing.
Q: Those are two great pieces of advice! What career advice would you give?
A: For me, I would say networking. It's so important to have a network of people beyond the group you work in. It does two things:
The more people you know and learn from will expand your breadth of knowledge about the company.
These connections will help you as you navigate through your career.
A diverse network offers multiple avenues to explore within the company. The more people you know, the more opportunity is available.
Q: We know that you are a graduate from the Betsy Magness Leadership Institute which offers a leadership development program for senior-level women. Can you tell us more about your experience?
A: I could talk for hours about the Betsy Magness Leadership Institute. It is such a phenomenal program that Women in Cable Telecommunications (WICT) put together. It was an amazing opportunity to be part of a group of 25 women who have similar backgrounds as mine. It really helps to be with other women that understand what it's like to navigate through the telecommunications industry.
I was a graduate of the program seven years ago and I still meet with my small group. We're the best of friends and can lean on each other. This program gives you a life-long network that provides great learnings from a leadership perspective. You also learn a lot about yourself. It was a transformational experience for me and I highly recommend it for anyone looking to further their career.
Q: Leadership is clearly an important value to you. Can you tell us more about your experience helping develop professionals who are still early in their careers?
A: When I was more junior in my career, there were people who took me under their wing. Those people helped me grow and I think back to their support and advice, even now. I love being able to take my experience and use it to help others as they are navigating their career path.
Q: That's wonderful to hear. Can you tell us about your favorite part of working for Spectrum?
A: Hands down, it's the people. I have had the opportunity to work with and learn from some really talented people here. In my role, I have great exposure to some of our senior leaders and being able to learn from them and incorporating what I learn into my own role has been so valuable and enabled my continued growth and education.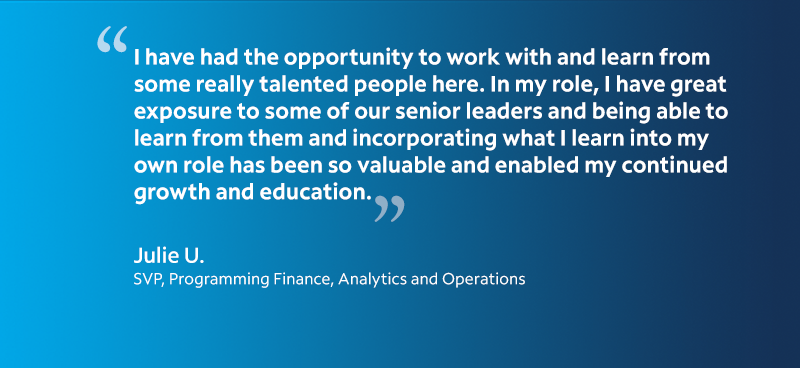 Since I'm surrounded by so many knowledgeable and talented peers, I never feel that my journey at Spectrum plateaus. I'm continuing my adventure here and continuing to learn something new every day.
Q: Julie, this has been a wonderful discussion. Before we wrap up, in your own words, why should someone choose to work for Spectrum?
A: It has been such a fun conversation! I would remind people that Spectrum is a Fortune 100 company that is connecting people to services that are needed in our technology-first society in addition to connecting customers to the content they want to consume.
As a Spectrum employee, you are part of an industry that continues to experience tremendous growth and change. There are great people here and endless opportunities to learn and grow.
Working for Spectrum is an adventure you don't want to miss.
Did Julie's story inspire you? If so, we welcome you to explore our open roles today.

Tell us what you think about this story: https://bit.ly/3H99lhS