Looking for Leadership Advice? This Director Shares Her Best Tips and Personal Experiences
When Kat K. moved to the U.S. from Scotland, she knew she was taking a massive career leap. "I left a highly respected apprentice program in the U.K. and followed some family members, who had a vacation rental business in Florida," she said. "I had no college degree, no local references and limited support around me. At times, I thought I had thrown all my education away."
Kat started working for Spectrum while in Florida, drawn by the company's excellent benefits, starting pay and opportunity for advancement. Today, she is a Director of Field Operations with Spectrum in the Raleigh-Durham, N.C. market, where she oversees a team of managers and field technicians dedicated to supporting the company's customers with its state-of-the-art broadband connectivity products.
Looking back now, Kat said moving to the U.S. is the career move she's the most proud of. Since joining Spectrum seven years ago, she has been promoted multiple times and received her bachelor's degree. She credited the support of Spectrum's leaders, who encouraged her to pursue her education and take courses directly related to her career aspirations, while providing her with opportunities to grow her skills professionally.
Based on the expertise she has gained in her current role, as well as her previous leadership experience in both field operations and engineering, Kat sat down with Fairygodboss to discuss her career journey, her best advice for leadership and tips for managing a team. The below conversation has been edited for length.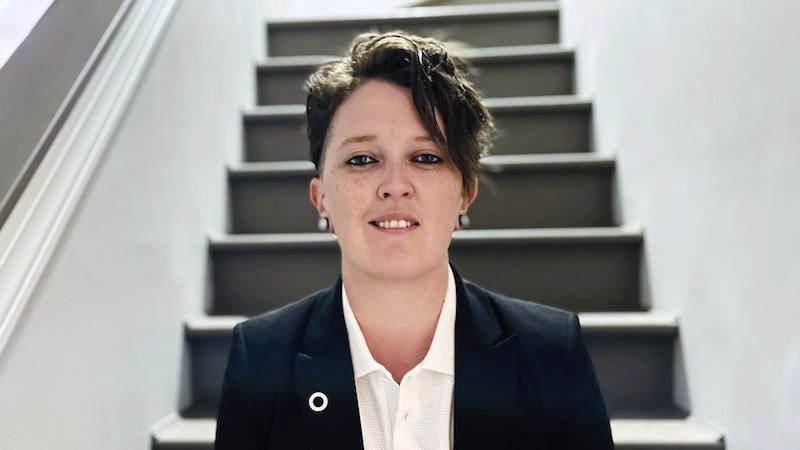 Let's start at the beginning of your career journey. Can you identify anything you said or did that earmarked you as someone ready for advancement?
As a newly-hired technician with Spectrum, I had a three-month training course that was graded as we progressed along the curriculum. I graduated with a perfect score, which was unheard of at the time. That really put me on the map as someone who could balance cable theory and technical skills. After that, I went on to win several medals at the "Cable Games" — an event where your proficiency in field tasks are graded and timed. "Cable Jeopardy" is my favorite sport.
How did Spectrum help you land your current role?
They provided a self-progression framework that deepened my technical knowledge. This training helped me reach the supervisor level, where there is a robust leadership development program. There are credits from the program that also help with attaining a college degree, which really helped me advance my career. Spectrum is a supporter of Women in Cable Telecommunications (WICT), and they nominated me to be the 2019 Nomi M. Bergman Fellowship recipient. This honor came with access to an executive development series that was hugely influential in my pursuit of a director role.
You mentioned a few leadership/career development programs that Spectrum provided? How did these set you up for success as a leader?
These programs really focus on the soft skills of leadership, specifically how to transition from an individual contributor to being a team leader. Lately, I'm focused on moving from that to being a leader of leaders. These classes provided me with networking opportunities across different functional areas, which also developed my understanding of the business. This program has been hugely influential on not only my leadership, but the whole field operations business unit. This is absolutely indicative of the company culture and their investment in leadership.
How did you transition into leading a fully formed team?
I inherited a fully formed team as their new leader. I was lucky enough to have excellent support from my HR partners who organized an orientation session with my direct reports. Part of this exercise utilized an anonymous whiteboard where they would write out their reservations, hopes and questions about me. Through subsequent open conversations, we helped set the tone for my transition into the new role.
For the first few weeks, I observed everyone individually and on a group level, identifying their roles, strengths and weaknesses. If there was an immediate opportunity for an increase in morale or a quick win for them, I would highlight it. This helped build our rapport. Then, I worked on positioning my team to excel at their strengths and improve on their weaknesses.
Overall, I really had to come in inquisitive but not overbearing to give myself the time to assess everyone individually and as part of their peer group — this makes a potentially difficult transition both productive and rewarding.
How has your day-to-day work changed since you went into leadership? What about your overall approach to work?
I believe that anyone who comes from a technical role into leadership has to make a conscious transition from a "fixer" to a "facilitator." My day-to-day life has moved from very hands-on to more of a support function. I focus on how I can equip my team to strive for excellence and remove any barriers to their success.
However, my overall approach to work remains largely the same. I have a daily cadence that incrementally pushes my team closer to our goals. As a technician, this structure helped me have a methodical troubleshooting process; as a director, the same structure aligns my whole organization to work towards the same goal.
What is your No. 1 piece of advice for other women who are moving into or want to move into leadership?
Be beyond reproach. Particularly if you are working in a male-dominated field, there will always be noise surrounding your promotion into leadership. The best way to silence that is by your results.
Moving on to your relationship with your direct reports, how would you describe your leadership style? How do you develop your team?
My leadership style is enthusiastic, focused, collaborative and dedicated. I like to form a clear vision with my team on the goals we are trying to achieve. Then, I seek their feedback on what they believe is realistic. Setting unachievable expectations can be so detrimental to your team. It's my job as their leader to go after the circumstances causing the delta between the two and see about knocking them down.
Development is extremely close to my heart, since I have had the full support of so many of my leaders to reach this point in my career. Early on, I would ask everyone reporting to me where they would like to go long term. One of the best parts of my job is finding opportunities to get them the experience that will get them where they want to go and letting them know that they have my full support in their journey.
What's one strategy you've used when managing an individual or team that you think has been particularly effective?
It didn't come easily to me, but I have found great benefit in celebrating interim successes on the road to meeting a milestone. I'm originally from Scotland, where we have a saying, "Many a mickle makes a muckle," which means, "Many small things make a large thing." It's easy to be daunted by goals that seem insurmountable, so acknowledging the progress of an individual or a team is hugely effective in both morale and keeping momentum.
How do you ensure that your team has work-life balance?
I'm a big believer in encouraging my team to disconnect during their down time. There's an old saying: "You can't do a good job if a job is all you do." Field operations is a 24/7 business, so building a peer support system that allows them to do this is a priority of mine. Within this system, there has to be inherent flexibility in their work that allows them to take care of their family obligations. As their direct supervisor, I am the face of company culture for my reports, and I ensure that I highlight all the opportunities for this that we have available to remove any stigma around using them.
At work, I try to be as transparent as I can by stepping in to assist with heavy workloads or nearing deadlines and encouraging autonomy over their own teams.
What's the No. 1 thing you hope your team is getting out of working with you?
Hopefully the confidence to really forge their own path. You can be yourself and still drive performance while building relationships with your peers and reports. Not only will you get more job satisfaction, but you will stand out from the pack. Authenticity is vital for a leader; your team will pull for you more if they believe in you and your vision.
On a more personal note, who is the most influential person in your professional life and why?
The Chairman and CEO of Spectrum started out as a cable technician. How can that not be influential? Every time I feel challenged by the next level that pushes me to know it's achievable.
Ultimately, what has led you to stay at Spectrum?
Loyalty, opportunity and satisfaction. The company has been so loyal to me, allowing me to participate in countless programs and classes. In turn, I am loyal in using those lessons to further our business. There are so many opportunities that I still hope to be considered for. The combination of these, plus the unwavering support from all the members of my department, really makes me enjoy my job.
This article was originally posted on Fairygodboss.
Tell us what you think about this story: https://bit.ly/3H99lhS