How This Technician Keeps People and Communities Connected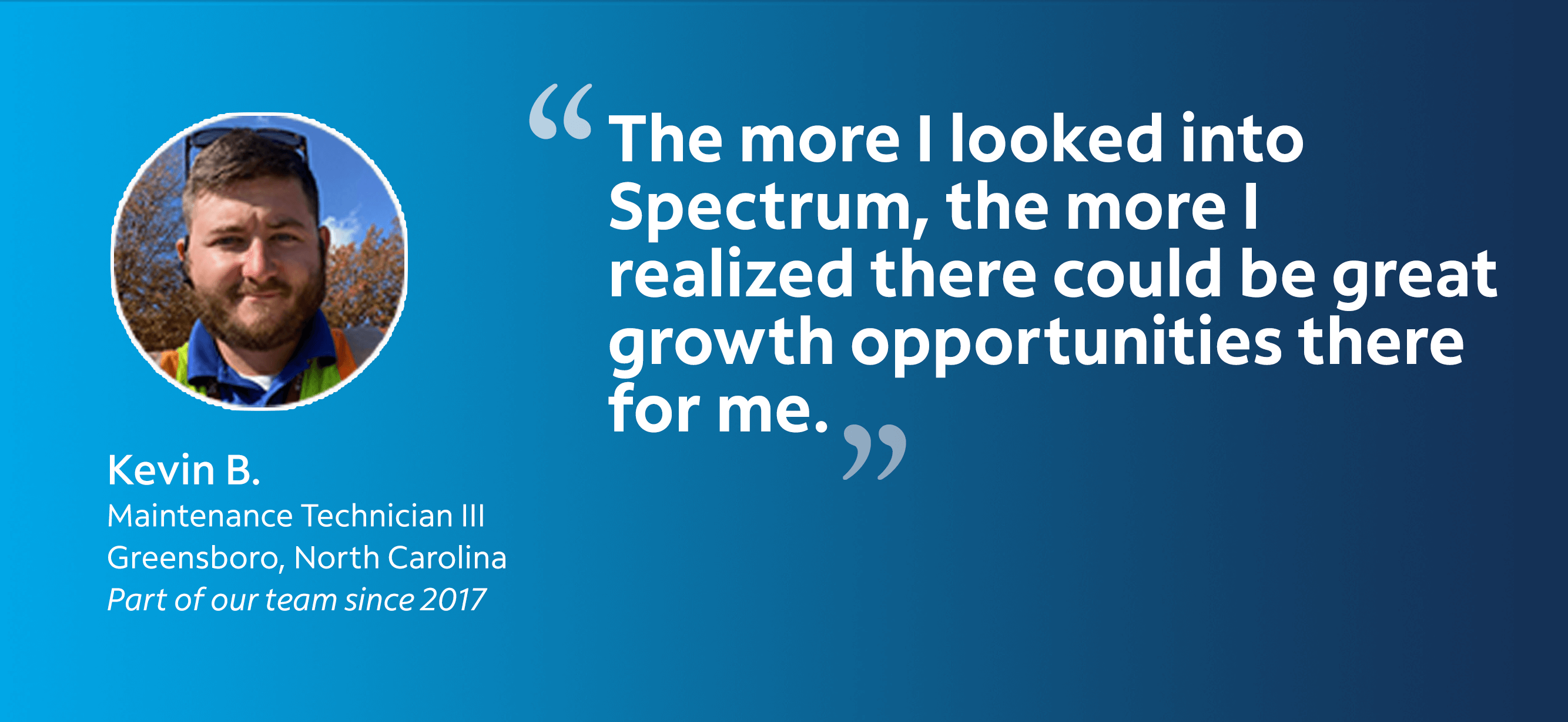 In 2017, I was a Spectrum customer and one evening experienced an issue with my service. I asked my neighbor, who was a Spectrum technician, if he could help me out. As we worked together, I asked him about his job and what a typical day was like for him. At the time, I was working as the general manager of a sandwich shop and was tired of being inside the same four walls every day.
The idea of having a change of scenery and working somewhere different sounded appealing. The more I looked into Spectrum, the more I realized there could be great growth opportunities there for me.
After applying as a Field Technician I, I attended training classes and received a Spectrum work van. Throughout my training, I was told, "You move up based on your work; you promote yourself." After hearing that, I knew I could take this opportunity and run with it.
As a field tech, I provide in-person support to customers in their homes and businesses. I worked hard and took the courses I needed to move up. By 2019, I was a Field Tech IV and soon learned about a position on the Maintenance team. Maintenance Technicians work on HFC and fiber-only plant to optimize network performance and resolve impairments and outages. I surrounded myself with other maintenance technicians, asking questions and learning how the main lines work. When the position opened, I interviewed and got the job.
In my new role as a maintenance technician, I once again started taking courses. Today, I am a Maintenance Tech III, the highest level offered. Eventually, I'd like to move into a supervisory role and help other people grow their careers.
Helping Where and When It's Needed Most
In this day and age, one of the most important aspects of people's lives is the internet. What if the internet isn't working? People could be losing money in their business, or their child may be unable to connect to their education. I've seen nursing home residents cry because their TV is not working and that's their connection to the outside world.
When you repair a 93-year-old woman's cable, and she gets emotional because she's so happy she can watch her favorite shows, that's a rewarding feeling. That's why I do what I do. That's why Spectrum is here; we truly help people stay connected to who and what matters most to them.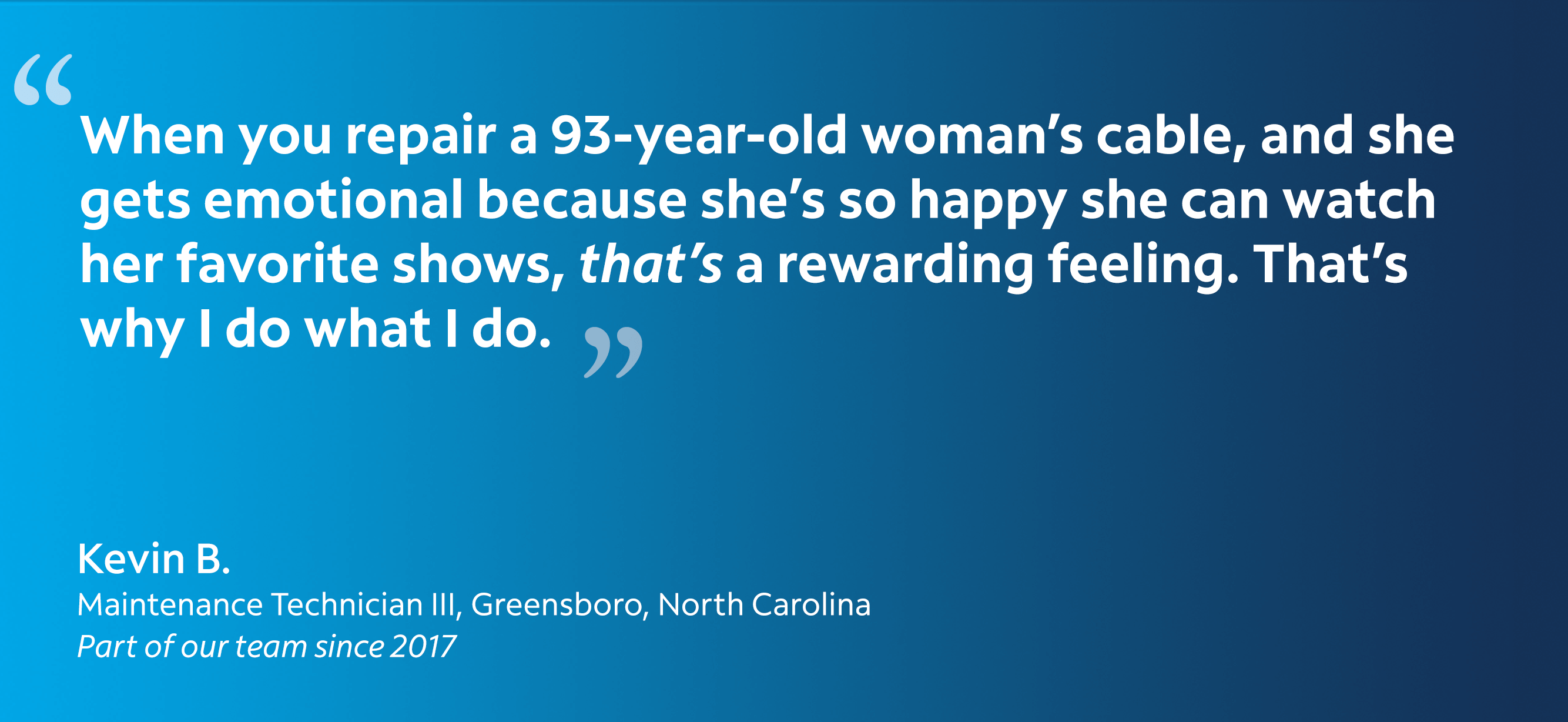 When natural disasters like hurricanes and tornadoes happen, Spectrum provides the opportunity to help areas and communities rebuild. In October 2021, I traveled to Louisiana to help out after the destruction caused by Hurricane Ida. To me, this was an opportunity to not only make a difference in people's lives, but also to experience how Spectrum operates in different markets around the country.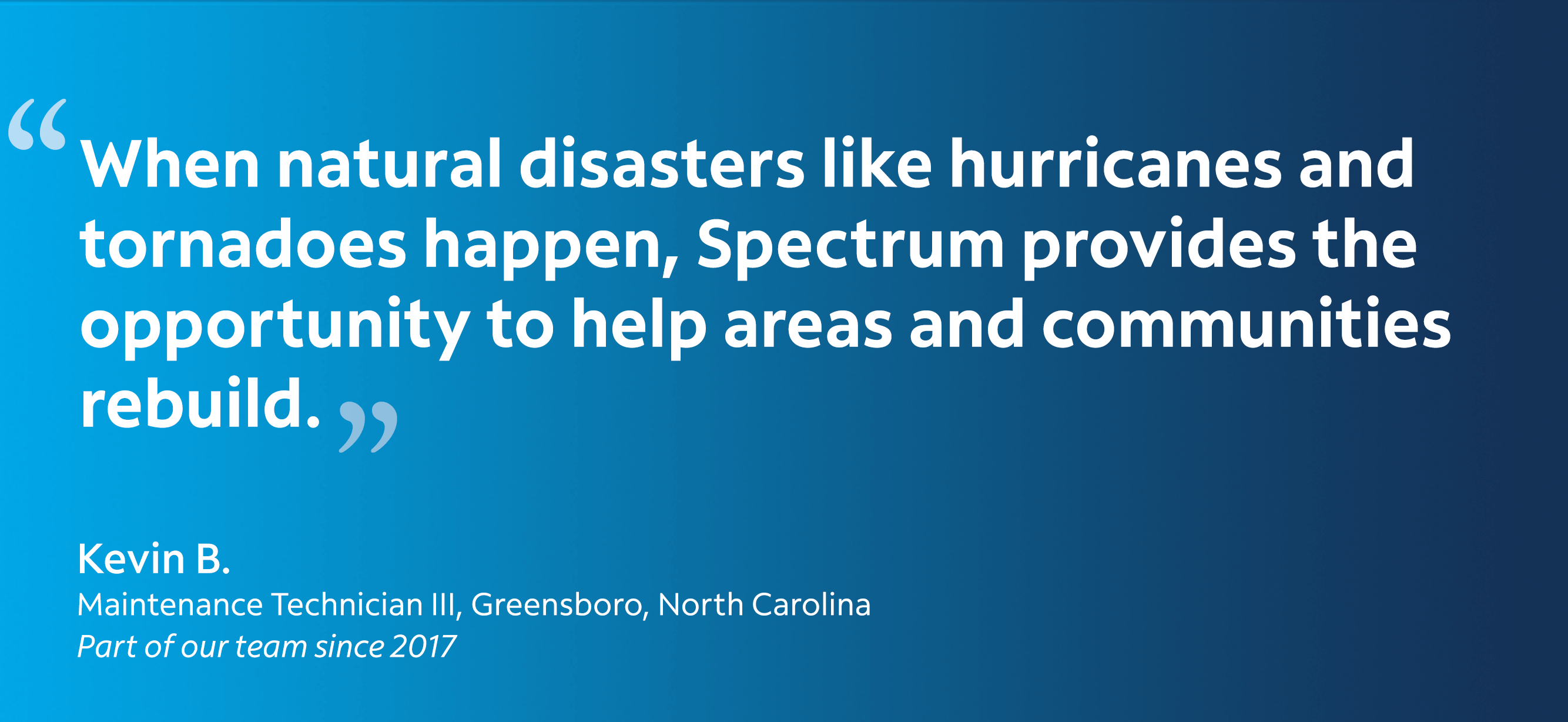 Support Inside and Outside of Work
Being a maintenance technician, I spend much of my week working independently —on the ground and on the move, repairing or upgrading our network and expanding services. It's good to know I can pick up the phone and call someone if I have any questions. If I ever need anything, I know my team has my back. And if they need something, they know I'll be there for them. I have a great supervisor, too. Whether its 8 a.m. or 3 a.m., if I call him, he'll answer. It's rare to need something in the middle of the night, but he's there for me, no questions asked.
I have fantastic leaders, opportunities for growth, and a lot of what Spectrum provides me carries over into my personal life. I am very fortunate that my wife can stay home with our infant daughter. Because of Spectrum, we have the opportunity to make a great living and provide the life that we want for our family.
Tell us what you think about this story: https://bit.ly/3H99lhS