From Summer Intern to Senior Director

In June, the 2022 summer interns arrived and began their Spectrum career journeys. As a former intern, Khanspasha F., senior director of organizational effectiveness, couldn't help but see a bit of herself in each of the interns on the team. After all, it wasn't that long ago she walked through Spectrum's doors for the first time, enthusiastic yet unaware of what was to come.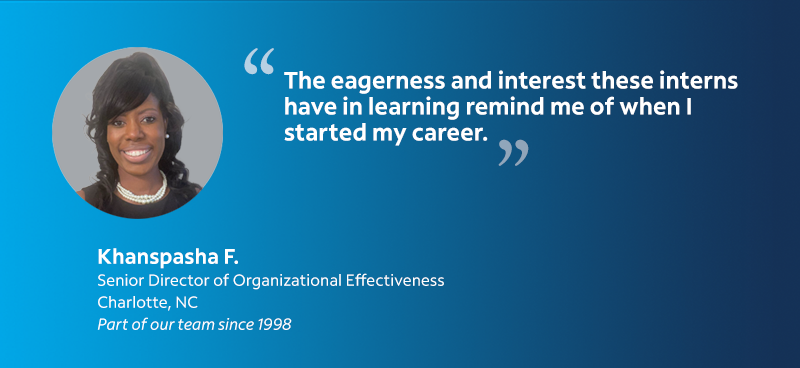 "The eagerness and interest these interns have in learning reminds me of when I started my career," Khanspasha shares as she reflects back. Twenty-four years after what she thought would be a "cool summer job," Khanspasha's enthusiasm hasn't waned. Nor has her gratitude and appreciation for the many opportunities and growth along the way.
Khanspasha obtained her high school diploma, then shortly after pursued her Associate's, Bachelor's and MBA degrees, all while working at Spectrum. She found great value in Spectrum's tuition reimbursement program as she pursued her MBA. Khanspasha remains focused on continuous learning for herself and mentoring others. She strives to create strong connections while developing the next generation of leaders.
Seizing Every Opportunity to Learn the Business
After a short stint at McDonald's, while still in high school, Khanspasha joined Spectrum as an intern. Like so many teenagers, she did not know what her future would hold. Was this just a "cool" internship? Or was it the start of something more? Regardless, she was committed and seized every opportunity to make the most out of her experience. She formed relationships with her peers and learned as much as she could about the business and its products.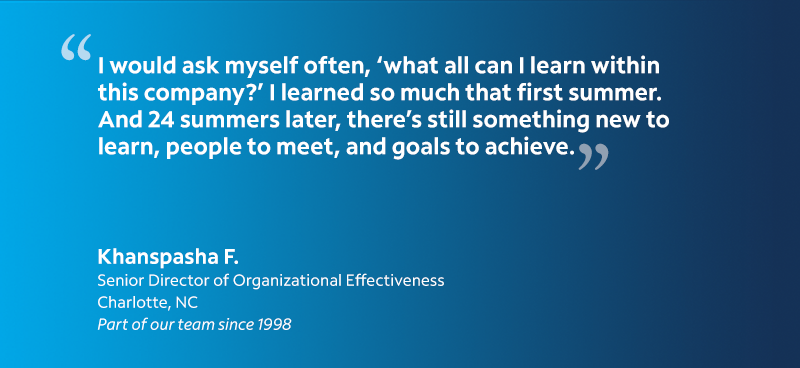 "I would ask myself often, 'what all can I learn within this company?' I learned so much that first summer. And 24 summers later, there's still something new to learn, people to meet, and goals to achieve."
Discovering a Passion for Developing Others

Over the years, Khanspasha's career flourished at Spectrum. Her inner drive—coupled with the best career advice she ever received—empowered her to pursue new paths and own her opportunities.
That advice? "Do not get caught up in what feels like strikes against you. Focus on the skills you have and what you can bring to the table. You're young, talented, diverse and ready to hit a home run."
These simple, yet powerful words inspired Khanspasha to pursue different experiences within the business. Eventually, the path she created for herself led to a role that would change her career forever. In 2006, she became a trainer for customer care and discovered a true passion for learning and development.
Developing Spectrum's Future Leaders

That passion led to her current role when, in January 2022, she was named senior director of organizational effectiveness. In her role, Khanspasha oversees Spectrum's development planning process, Executive Development and Future Leaders Rotational programs—ensuring that others have access to professional development and career growth opportunities.
Additionally, Khanspasha serves as a consultant to help drive successful implementation of organizational effectiveness processes for both Customer Operations and Field Operations. Her previous work included support of learning and development for Spectrum's internship program, recently named one of WayUp's Top 100 internship programs. (Which of course is only fitting given where her career began!)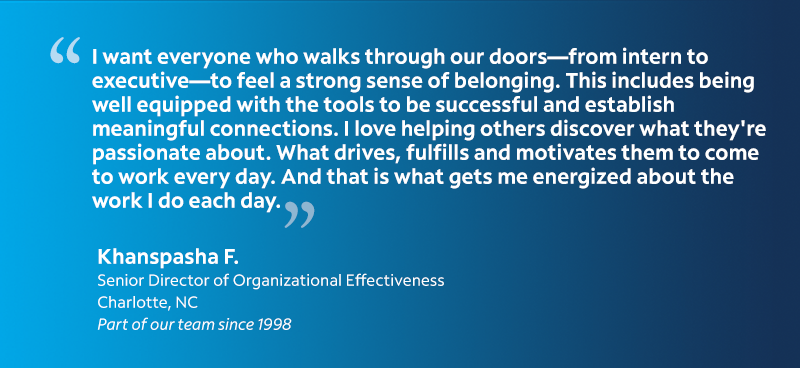 "I want everyone who walks through our doors—from intern to executive—to feel a strong sense of belonging. This includes being well equipped with the tools to be successful and establish meaningful connections," Khanspasha says. "I love helping others discover what they're passionate about. What drives, fulfills and motivates them to come to work every day. And that is what gets me energized about the work I do each day."

Tell us what you think about this story: https://bit.ly/3H99lhS