Dynamic Career Growth Across Network Operations
From coast to coast, Kristin Gulasy has spent the last seven years progressing her career with Spectrum. For Kristin, she credits a lot of her career growth here to the opportunity to interface with many groups across the organization as well as implementing strategic processes and programs.
Starting as the Vice President of New Products and Services with our Video Operations team to her newly created role as the Vice President of Strategic Process and Programs, Kristin has been able to develop a multi-faceted understanding of the business and how we operate.
Prior to starting at Spectrum, Kristin worked for another telecommunications company. Several of her peers left their positions at this organization for Spectrum and through them, she learned more about the work that was happening here.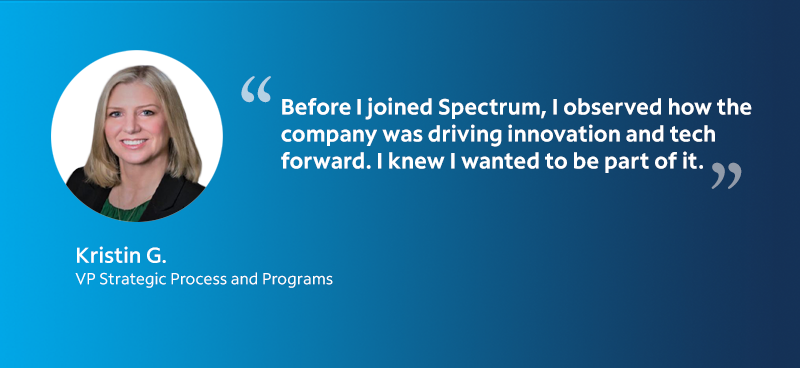 "Before I joined Spectrum, I observed how the company was driving innovation and tech forward," said Kristin. "I knew I wanted to be part of it."
Since joining Spectrum in 2015, Kristin's career growth hasn't slowed down. She has taken on a number of new roles and has had the opportunity to lead the kind of innovative projects that first attracted her to Spectrum.
Understanding Network Operations
Throughout Kristin's career at Spectrum, she has worked in Network Operations.
In her own words, Kristin describes Network Operations as the team that deploys technology solutions, infrastructure, and network connectivity, manages operating environments like data centers, and manages customer-facing applications, platforms, and services.
Collaboration with engineering and product and technology teams has defined a lot of her work.
"During my time at Spectrum, my teams and I have worked closely with both engineering and product and technology," said Kristin. "We take their designs and reference architectures for services, and figure out how to deploy and operationalize them in the real world."
Deployment is a pillar of the Network Operations Business Unit. Once a service or product is rolled out to either customers or across the organization, an entire support team is dedicated to monitoring the deployment to maintain quality measurements so outages are minimized and performance is maximized.
Monitoring is crucial because in the network environment, there is a constant flow of change. For example, there could be increases in subscribers and content or there's a new service update. With this flow of change, Kristin has to analyze capacity and performance to optimally manage network processes and procedures. With this dedicated level of monitoring, the goal is to pinpoint issues before customers or employees are impacted.
Cross-Collaboration and Efficiency
Kristin knew joining Spectrum would provide growth opportunities for her career. In 2015, she joined as Vice President of New Products and Services with our Video Operations team and moved to Denver, Colorado. In this role, she helped build and deploy Spectrum Guide, a new feature at that time.
Spectrum Guide was a better and modern way for customers to access their content through a new set-top box. Navigation and content curation made it easier for customers to interact with Spectrum services. Spectrum Guide was important to the user experience because it brought services to customers in a way that hadn't been available before.
For Kristin, the project was exciting because it touched every part of the company.
"It was a truly collaborative effort across so many teams such as product, marketing, engineering, field operations, and network operations," said Kristin. "Everyone had a stake and part to play in building this new feature and rolling it out to customers."
Preparing for the Spectrum Guide project required thorough learnings, trials, proofs, and concepts. After this phase, standing up the project began.
During the standup process, some of Kristin's responsibilities included building thirteen regional data centers, augmenting existing network environments, and standing up infrastructure in national data centers. From there, management of the project became very software driven which enabled flexibility and nimbleness.
Looking back, Kristin recalls that the Spectrum Guide rollout was an incredible time in her career and allowed her to see the breadth of her contributions.
Managing During the Pandemic
Right as the pandemic hit the United States, Kristin's career at Spectrum was evolving. She was stepping into a new role as Vice President of IP Video Operations.
This is the team that stood up the infrastructure and the launch of applications to support the Spectrum TV App. Some of the tasks involved launching new clients such as Roku and Apple TV and managing the Cloud DVR and Content Delivery Network (CDN). Plus, Kristin was getting to know her new team and figuring out how to best manage virtually.
Since it was during the pandemic, so many people were at home, taking advantage of streaming services and video. For the IP Video Operations team, a lot of the work while building out new infrastructure was around capacity.
Kristin knew they needed to stay ahead of the pandemic-induced capacity usage. Through insights and analytics, she could see when network and server thresholds were being reached which allowed her to determine when it was needed to expand the network and put processes in place to support capacity.
As the pandemic created a new working environment, Kristin commends her team for their professionalism and ability to keep moving forward amidst uncertain times.
"In addition to living in a pandemic and getting used to a new way of working and communicating, my team was managing very involved projects," said Kristin. "We were able to continue to move forward through any challenge because they are a great group of people who were able to stay motivated."
The Importance of Developing a Professional Network
In 2021, Kristin moved into the newly-created role of Vice President of Strategic Process and Programs. This position brought Kristin back to the east coast, to Spectrum's headquarters in Stamford, Connecticut.
In this role, Kristin is marrying her in-depth video experience with her newfound exposure to the connectivity side of the business.
One of the primary functions of this role is to help the Network Operations verticals stay connected to the larger, cross-functional, complex programs that are being worked on across the business unit. Her work is helping bridge communication horizontally across the verticals with a focus on process and programs.
For Kristin, this role is continuing to support her career growth at Spectrum because it's opening up a whole new side of the business that she hadn't been part of yet.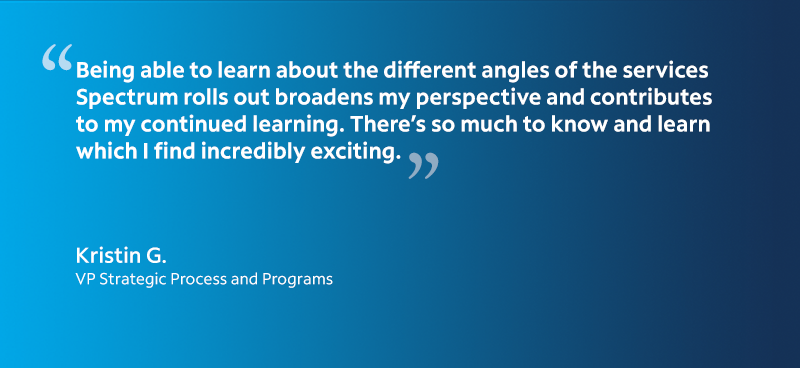 "Being able to learn about the different angles of the services Spectrum rolls out broadens my perspective and contributes to my continued learning," said Kristin. "There's so much to know and learn which I find incredibly exciting."
When asked to think about her career at Spectrum and what advice she would give regarding career growth, Kristin said always strive to have a wide and diverse circle of relationships.
She emphasized the importance of doing everything you can to build relationships with people outside of your day-to-day responsibilities. The different perspectives these people can provide will help you become better at your job and help you understand the business at a deeper level.
Kristin said, "Whenever I learn something from a leader or a group that I don't interface with regularly, I try to take what I learned and apply it to my work. This has been a huge contributor to the growth I've experienced at Spectrum."
If Kristin's career interested you in exploring open roles within our Network Operations business unit, we welcome you to apply today!

Tell us what you think about this story: https://bit.ly/3H99lhS