How Spectrum Helped Me Earn My Degree, Network, and Find a Career
Recently, I celebrated my 19th anniversary with Spectrum! Part of me still doesn't believe it. That this is my story. As I type these words, it feels surreal that I – a girl from Mexico City who moved to the United States with her family to chase the 'American Dream' – have achieved so much, thanks to Spectrum.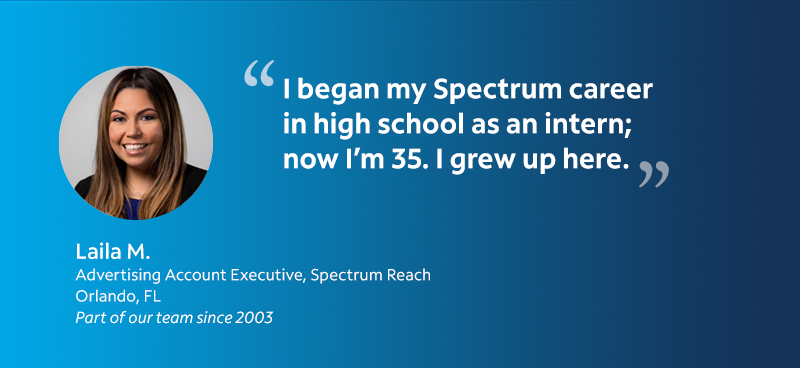 As I reflect on my experience over the last two decades with this amazing company, I feel so proud and blessed. Though, most of all, I feel thankful for the many people who gave me a chance, helped me grow, and took me under their wing. I've worked really hard. But, I also know I would not be where I am today if it weren't for the support and mentorship I've received along the way. I began my Spectrum career in high school as an intern; now I'm 35. I grew up here and am so appreciative of the many career opportunities provided to me over the last two decades.
From Intern to Full-time Employee
In 2003, I joined Spectrum as part of a joint partnership with the Emma Bowen Foundation, an organization that connects students of color in multi-year paid internships at leading media and tech companies. I interned at Spectrum for five summers, working in different departments and taking full advantage of this tremendous opportunity. The company has had a continued partnership with Emma Bowen. In 2022, Spectrum had five Emma Bowen students participating in our summer internship program.
After I graduated from the University of Central Florida and earned my Bachelor's in Radio & Television with a Minor in Film, I was offered a job Creative Services Specialist. I immediately accepted it and haven't looked back since. I often tell people that Spectrum didn't just give me a job. They helped me earn my college degree, encouraged me to build my network, and find a career path.
Mentors Helped Guide and Teach Me
Over the years, I've had many mentors take the time to guide and mold me. There are two in particular, I'd like to mention. First, Sandra Rice, then President of the Emma Bowen Foundation. She taught me so much and mentored me as I prepared for my first official interview after graduation. She shared everything — what to wear, how to interact with others in a corporate environment, how to follow up with the interview team… everything.
I never experienced that world before. She helped me find a sense of belonging and I've felt it ever since.
Then there was an encoder named David, who worked in ad sales, who helped me to learn the ins and outs of TV production, including editing and other aspects. Eventually, I learned enough that I started covering for him when he went on vacation or during the holidays, which showed the other managers the value I could bring to the department. Even though I was an intern, I was treated like a full-time employee. David and I still keep in touch 20 years later.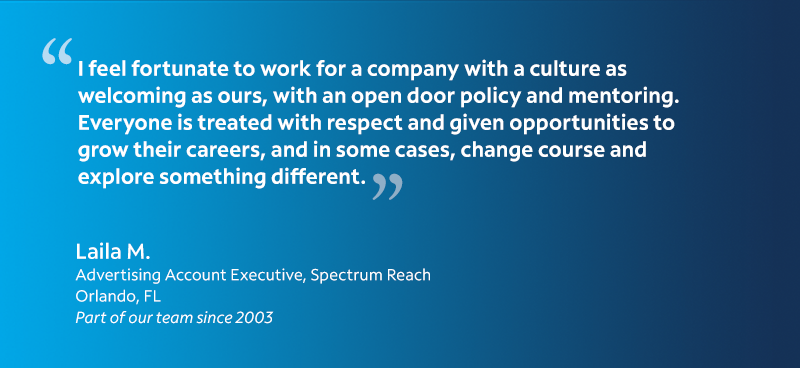 I feel fortunate to work for a company with a culture as welcoming as ours, with an open door policy and mentoring. Everyone is treated with respect and given opportunities to grow their careers, and in some cases, change course and explore something different.
This is what happened to me earlier this year. I took a leap of faith and made the move from creative to sales; it has turned out to be one of the best decisions I have ever made.
Helping Others Grow Their Businesses
Today, I am an account executive with Spectrum Reach. My main goal is to help small businesses grow through the power of advertising and marketing. It is gratifying to know that I'm helping small business owners. Spectrum offers connectivity products that can help their business – and change their lives.
In Mexico, small family businesses were a big part of my upbringing. I learned from a young age the value of a dollar. Now, being able to genuinely help small business owners – the ones who remind me of my own family – is one of the things that excite me most about coming to work every day.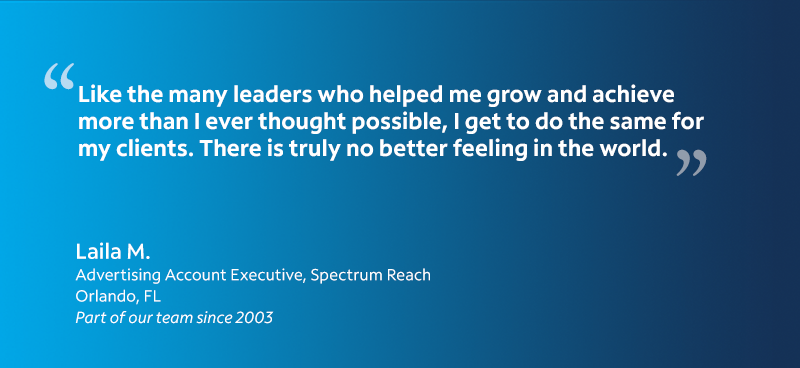 And the best part about working here? The growth that I have experienced internally, I now get to share that externally. Like the many leaders who helped me grow and achieve more than I ever thought possible, I get to do the same for my clients.
There is truly no better feeling in the world.

Tell us what you think about this story.