This is an excerpt from an article that was originally posted on BuiltIn. Read the full article here.
Tell us about your career journey. What were some of the defining moments that brought you to where you are today?
I began my career in the Air Force writing software for satellite tracking systems, and I was quickly put into a position where I was leading teams. Because of this, I was able to move into a leadership role as I transitioned into a civilian career.
A defining moment in my career was when I worked for a female vice president. She taught me how to be strong and respectfully stand my ground as a female executive surrounded by male peers. She also taught me the importance of persistence.
When I became a mother, I took on an individual contributor role as an architect and I learned that even as an individual contributor, I was drawn to leadership and leading teams. This was another defining career moment for me.
As I moved back onto a leadership path, I began leading large testing and program management teams. Recently, I've taken on a role doing something I was unfamiliar with. I'm now leading an agile transformation for our engineering organization and we are starting to see some real business benefits. This is very motivating for me to continue on this path.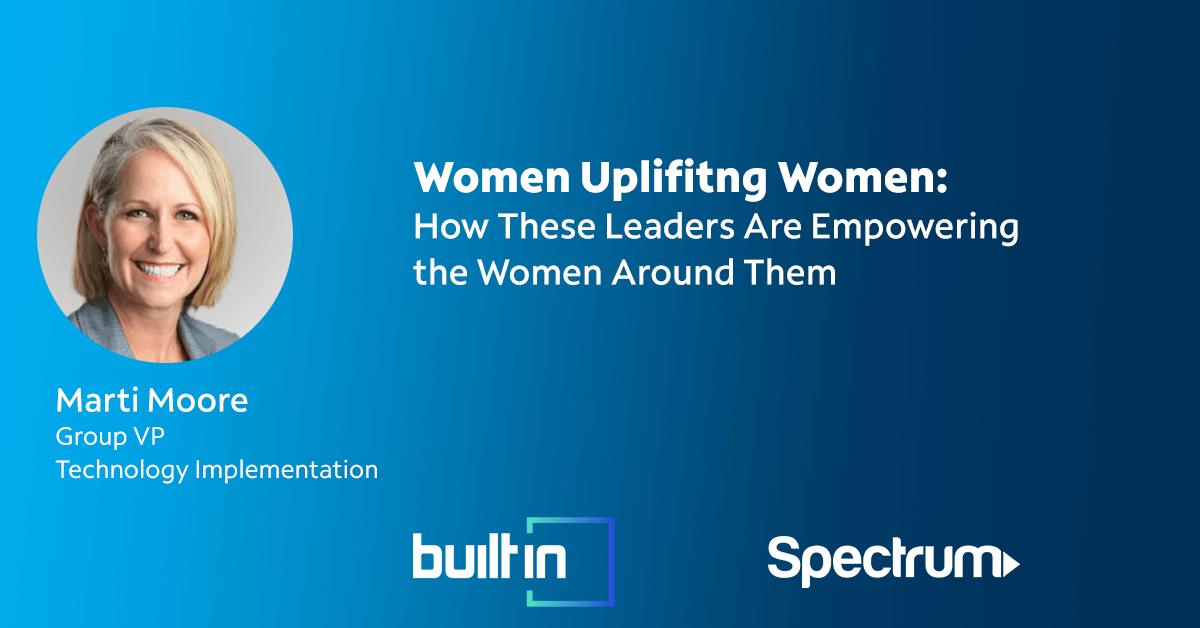 As a leader, what have you done to empower and uplift the women around you?
I have always been very conscious of the fact that women need to support each other. It's also important to recognize that women don't have to win at the expense of men.
For my female employees, I always meet with them one-on-one to help them with their challenges and give them guidance on how to advance their careers. I've fought hard for equity across the board and I have personally recommended women for promotions when they have shown that they are ready and qualified. I've been involved in many organizations that help women advance in their careers. I helped to lead the Women in Cable Telecom Rocky Mountain (WICT RM) mentoring program for eight years.
I'm always open to a conversation if one of my female colleagues needs some informal mentoring and I learn just as much from them as they learn from me.
"I have always been very conscious of the fact that women need to support each other."
More subtly, what behaviors do you think are important for leaders to model to their team members, particularly to women in more junior roles?
Leadership behaviors like encouraging collaboration, positive conflict resolution, making suggestions but not micro-managing, being fair, giving feedback and giving people opportunities to shine are all important for both women and men.
Behaviors are important, but they don't mean anything if a leader is mechanical. I always mentor leaders and set an example by leading from the heart, which is to say leading by listening, empathy and support. While we need to manage from the brain, we have to lead from the heart. I learned this when I was in the military. A team member will perform and do what a manager tells them to do, but a team member who is motivated by a true leader, one who leads from the heart, will do their absolute best to conquer any obstacle in front of them.
It's not about going through the motions and checking the box on leadership behaviors. It's about setting an example and specific goals, then showing that you care about the team's collective success. It's about showing that you are excited about the achievements the team can attain together.
About Marti Moore
In her role of Group Vice President, Technology Implementation, Marti Moore is responsible for leading an agile delivery transformation for the Engineering and Technology (E&T) department. She also leads the executive support function for the Office of the CTO. Her team works with the E&T groups to transform the engineering and software development functions using an agile methodology. Prior to this role Marti was responsible for integration testing and program management for complex engineering and IT programs.
Marti began her tenure with Spectrum in 2010 as Vice President, Web Strategy and Customer Experience, where she directed Spectrum's corporate web and mobile strategy. Prior to Spectrum, Marti held various management positions in the media and telecommunications industries. Most recently, she held the position of Vice President of Technology at Media News Group. Prior to that position, she held various leadership roles at Level3 Communications and Verizon.
Tell us what you think about this story: https://bit.ly/3H99lhS