Reporting on Everyday People Doing Extraordinary Things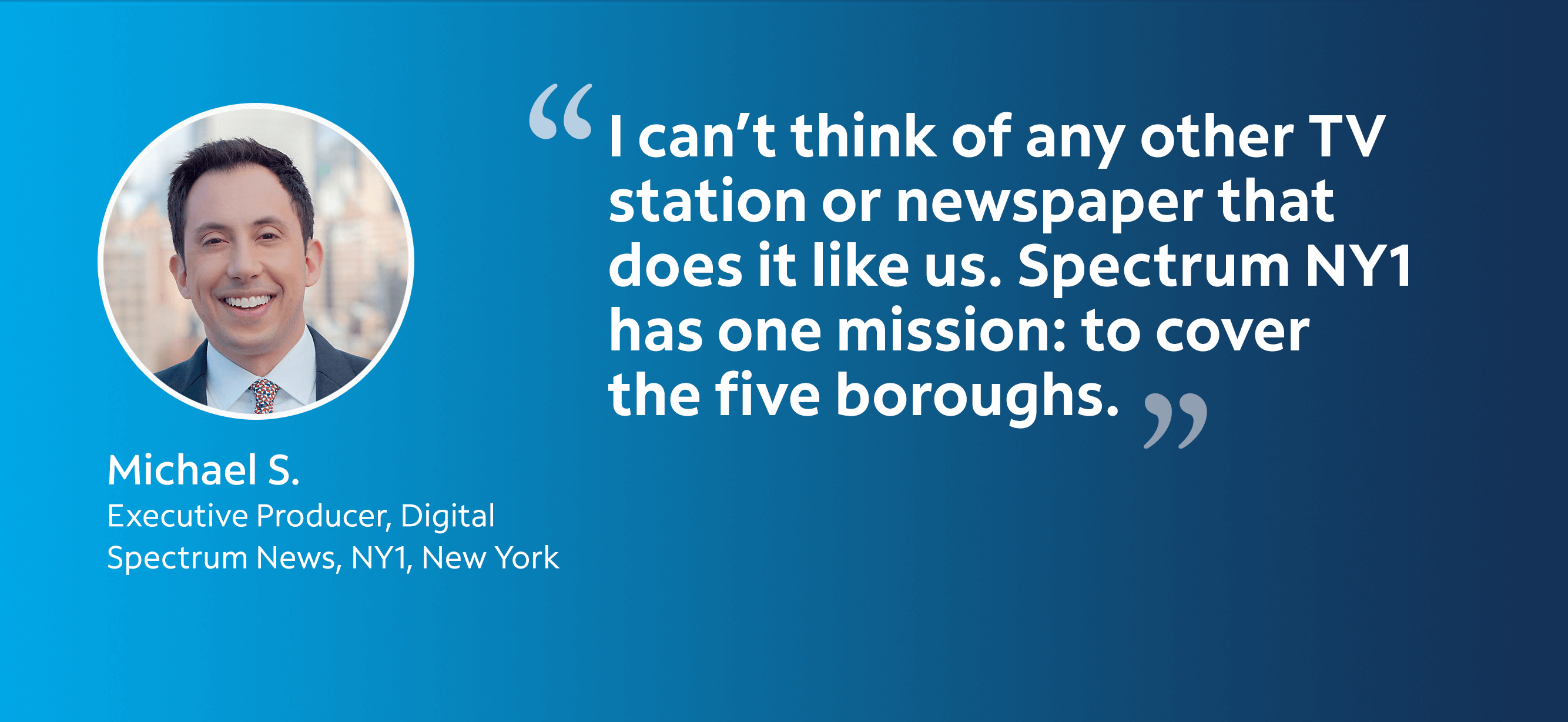 Michael S. is one of a small band of Spectrum employees who serve hundreds of thousands of people—every single day.
Michael is Executive Producer, Digital for Spectrum News, specifically NY1, that provides 24-hour hyperlocal news in the New York City area. The channel reaches 750,000 viewers each week. And the NY1 website and app supply timely Big Apple news, and feature material to hundreds of thousands of online and mobile users, across the city and around the world.
Spectrum's NY1 is vital to keeping residents of New York City and the five boroughs (Manhattan, Queens, the Bronx, Brooklyn, and Staten Island) aware of what's happening in their communities. "We're an invaluable service to the people of New York. We focus on issues important to New Yorkers," Michael explains.
"While other media report at a 40,000-foot level, we do it at the street level. We help people stay connected on policy proposals that will have an impact on them, and report on people doing extraordinary things in their neighborhoods."
Serving Hundreds of Thousands of Spectrum Customers Every Day
NY1's audience is often captivated by stories of their fellow New Yorkers making a difference in the community. "A few years ago, I did a story about the illnesses suffered by first responders after 9/11," Michael recalls. "Many developed cancers and other serious conditions because of their work at the site. I interviewed the widow of a detective who died after 9/11 – she started making quilts for others who had lost someone that day. It was a way for her to channel her grief into something positive and productive, and I was really moved to meet her.

"She started working with the NYPD to host annual 'quilt-offs' at police headquarters, where people bring their sewing machines and continue the tradition. I am inspired by people like that," Michael says, "taking unimaginable grief and doing something for other people. I still keep in touch with her."


No Two Days Are Ever the Same
One of the things that keeps this Emmy-winning producer engaged is that no two days are ever the same when you're reporting hyperlocal news on a city of eight million people. "This city is so interesting," Michael observes. "It's endlessly fascinating, with every imaginable ethnic group and country together in a small area. It's my job to find the stories that show how we're all connected."
"I can't think of any other TV station or newspaper that does it like us [Spectrum's NY1]. We have reporters covering every important beat in the City, and reporters dedicated to each borough, so we are neighborhood-based," he explains. "NY1 has one mission: to cover the five boroughs."
He also thrives on the variety his job brings. "A day can start out slow," Michael says, "Then a massive fire may break out, like what happened recently in the Bronx. You cover that big story, but also the many different stories that come from it, about the survivors and the impact on their neighborhood, the cause, and more."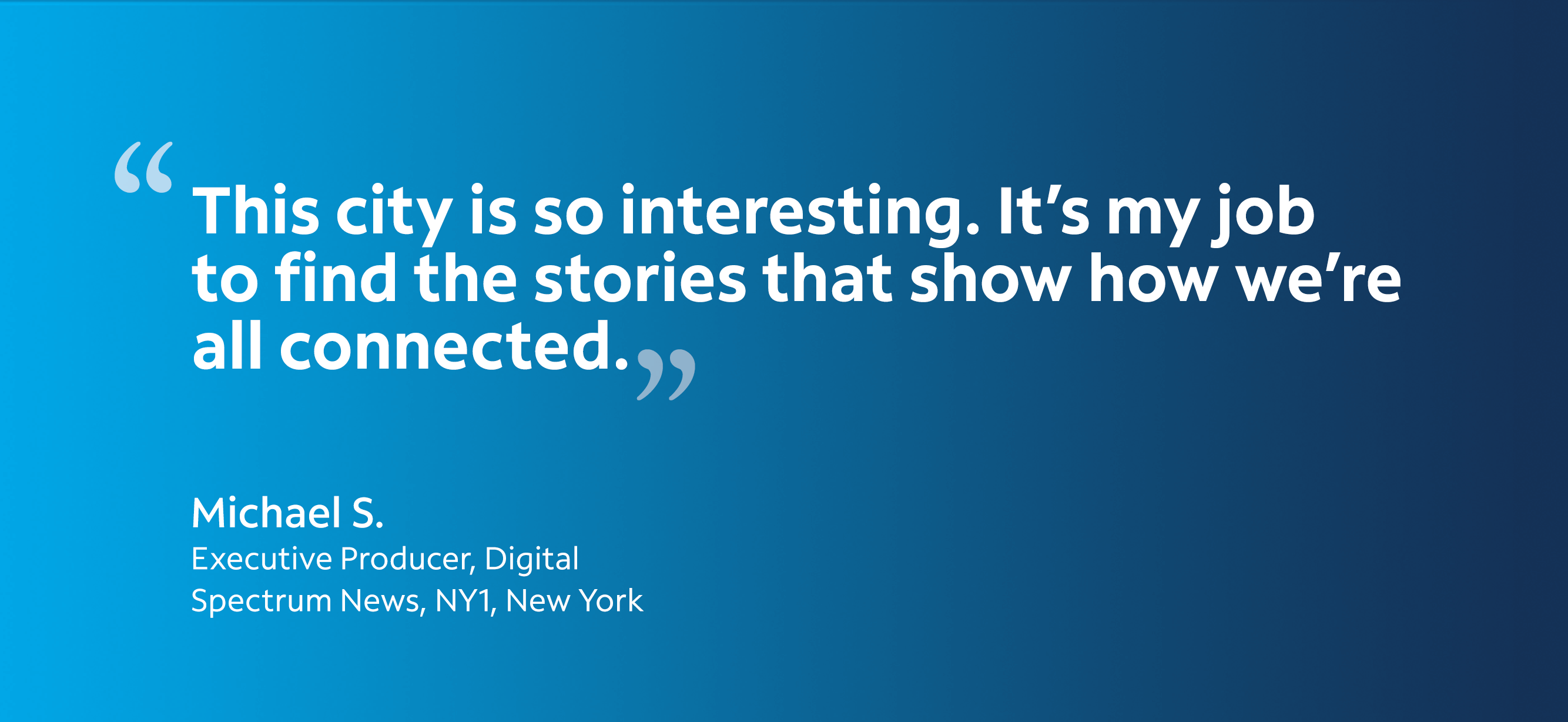 The Challenges of Covering a Changing World
Besides unpredictability, there are also many challenges in covering what is a constantly-changing world. Between politics and an ongoing pandemic to cover, Michael faces many of the same workplace situations as an executive producer as other business managers encounter.
"I took on my new role right before the pandemic," he remembers. "Managing staff and then suddenly having to work remotely, I had to keep in mind that – besides reporting the many stories going on in New York – my team was also living them. I have had to become an empathetic manager to be successful and help people feel supported through all aspects of their lives."

It helps that he gets support from his management at Spectrum News. "My boss is a great ally," he says. "She's always checking in and getting the time my team needs for themselves. Great to have someone above me who understands and wants the team to feel supported and take breaks for their own mental health. Makes me feel like I can do that for my team."
Finding Growth in Innovation
If there is one thing that remains constant for Michael, it's growth.
He started his broadcast journalism career with NY1 as an intern, and then as a reporter just before 9/11. He moved up to cover New York politics and the DC bureau for NY1. The new NY1 digital app was an opportunity for him to embrace digital growth for media, and he ran with it.
"Spectrum is investing a ton in our digital resources," he explains. "It's exciting to watch it catch on and become an integral part of the newsroom and people's lives. We're investing a lot in local news and in platforms where people are getting their news. Spectrum is such a forward-looking company – always looking forward to getting news out to people."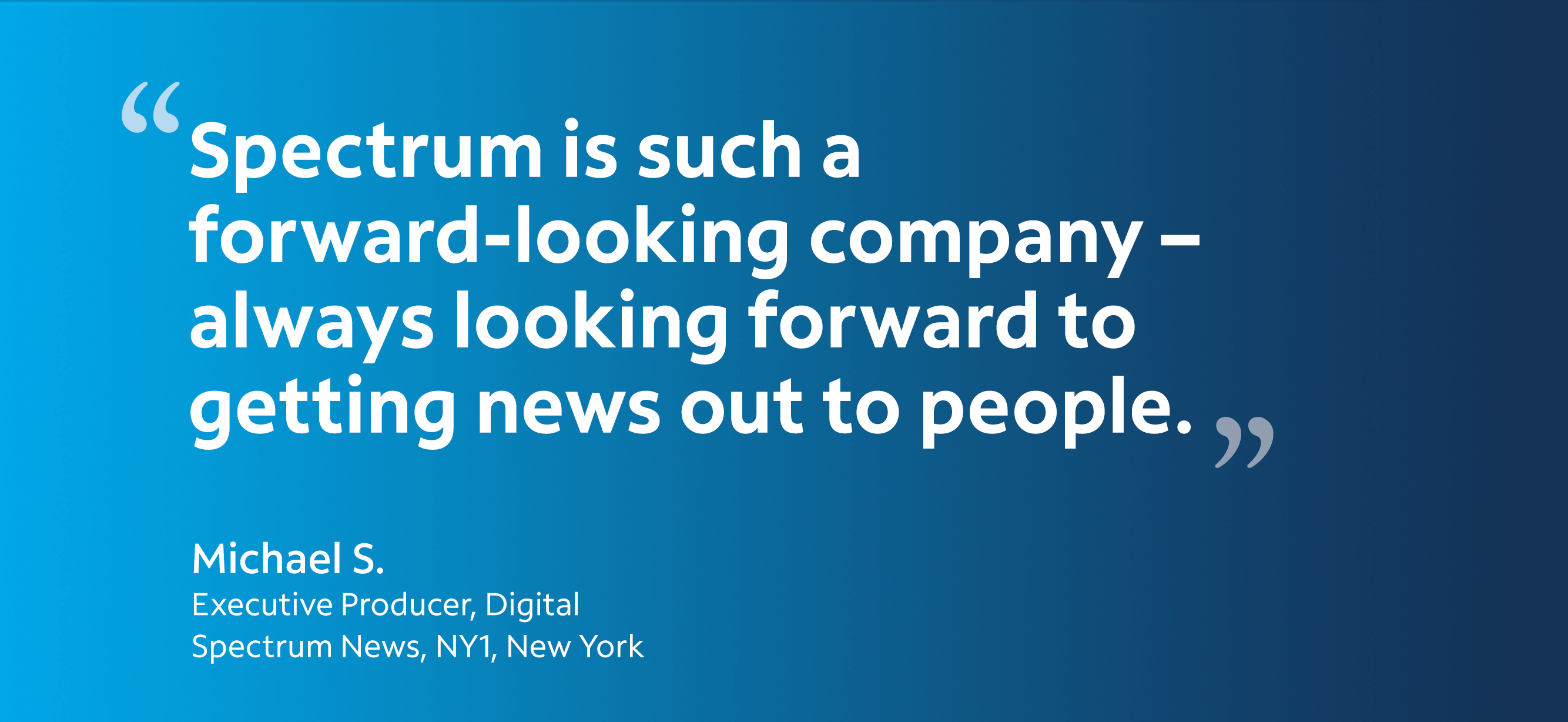 Keeping a Local Perspective
To cover a beat as varied and interesting as New York, one almost has to be a New Yorker. Michael lives in Chelsea, not far from the NY1 headquarters in an old Nabisco factory (home of the very first Oreo cookie). Like many locals, he's drawn to the mystique of the City: its restaurants and museums, Broadway shows and theater, as well as simply wandering Manhattan to experience its sights and sounds.
One of his favorite places is the unique High Line Park, which combines gardens, visual and performing arts, as well as restaurants. "The High Line gives you a great perspective of the City," Michael explains.
Which is high praise coming from someone whose job it is to provide a perspective on New York to its people.

Tell us what you think about this story