Spectrum Multicultural Hosts Judge Hatchett for a Conversation On 'Daring to Take Charge'
Throughout February, we recognized Black History Month at Spectrum in many ways, including sharing employee perspectives on the importance of the month and their advice on how to honor it all year long. To culminate our reflections and celebrations, our Spectrum Multicultural Business Resource Group (BRG) hosted a webinar featuring Judge Glenda Hatchett where she talked about Daring to Take Charge.
Judge Hatchett has many accomplishments, including completing a federal clerkship in the United States District Court, Northern District of Georgia, and spending nearly ten years at Delta Air Lines, where she was the airline's highest-ranking woman of color worldwide and a Senior Attorney.
Judge Hatchett has also presented leadership sessions for various corporations, she has keynoted several national conferences, moderated many forums, served as a guest faculty member at the University of Vanderbilt's Director's College, and served on the boards of three Fortune 500 companies.
Perhaps though, she is best known for her two-time Emmy nominated syndicated television show, The Verdict.
Black History Month is for Everyone
Judge Hatchett started the webinar by addressing her belief that Black History Month is for everyone.
"The more goodwill and understanding that can be generated, the better we all will be," said Judge Hatchett. "We need to learn to appreciate each other and recognize the gifts we all bring to the table. It leads to more powerful outcomes."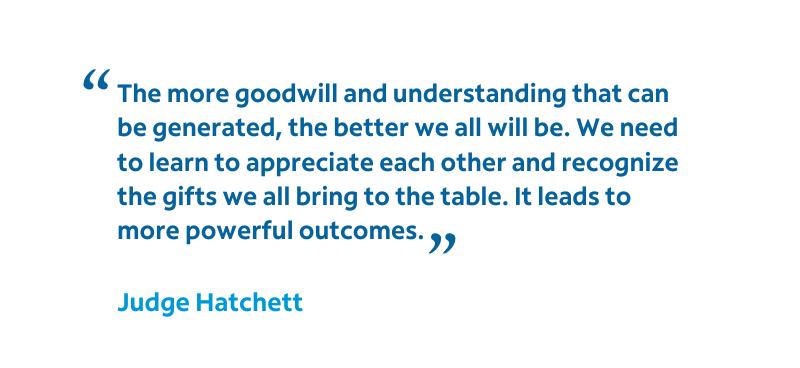 She summarized her thoughts on the importance of diversity, especially diversity in the workplace, by noting that when we are tapping into our gifts, we create a life of purpose.
The Intersection of Purpose and Passion
As an attendee of the webinar, Judge Hatchett's zeal for her work and inspiring others could be felt through the screen.
To feel her enthusiasm, even after a career that has spanned decades, demonstrates that creating a life you believe in, leads to great things.
"We have this wonderful gift of life, and we need to figure out how to live it with purpose," said Judge Hatchett.
While these words may be uplifting, how do you figure out how to live your life with purpose?
According to Judge Hatchett, do these three things:
Put yourself in situations where you are appreciated, not tolerated.
Do not let anyone else define who you are.
Find your spark. What are the things that keep you interested and committed? This is the intersection of purpose and passion.
For Judge Hatchett, one of her intersections of purpose and passion was the first time she was on the bench of juvenile court. She had an "aha" moment where she realized helping young kids was what she was being called to do.
As you reflect on Judge Hatchett's three steps on living a purposeful life, what do you feel called to do?
Dream With Your Eyes Wide Open
For a variety of reasons, many people end up not living out their dreams.
Judge Hatchett challenged the webinar attendees to "stretch further than you think you can reach." Meaning, go after the job promotion. Move to a new city. Explore a career path that is different than the one you are on. Think of it as daring to take charge of your life.
She asked, "What is one thing you've always wanted to do but haven't done it? And why haven't you done it?"
She stressed that there is no such thing as failure, as long as you're trying to get it right. While day-to-day life can cause us to lose sight, she reminded attendees to not lose track of their dreams.
Her advice on living an intentional life and working toward your dreams can be summed up with her four "golden rules:"
Be clear on who you are. You need to have a clear, internal moral compass.
Be authentic and be real with people.
Leaders never point, they lead by example.
Surround yourself with people who lift you up and empower you. But who will also keep you honest and accountable.
Follow these four golden rules and don't let fear lock you in. If you can do that, it'll be easy to remember that our reality defines our path and dictates our date with destiny. There is a dream with your name on it. And as Judge Hatchett's niece says, always remember to "dream with your eyes wide open."
If you enjoyed reading about Judge Hatchett's discussion with Spectrum Multicultural, we encourage you to read more about Spectrum's BRGs and how they help foster an environment of inclusion, where everyone feels empowered to dream with their eyes open. https://jobs.spectrum.com/inclusiveworkplace/