Mentorship, Sponsorship and Navigating Your Career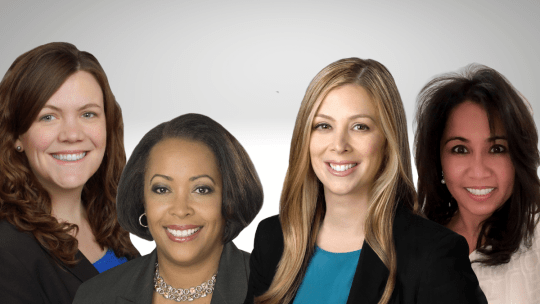 During our Fairygodboss Inspiration Summit, we heard from four senior executives from Charter Communications, Inc., a leading broadband connectivity company and cable operator known through its Spectrum brand. We dug deep into the topics of mentorship and sponsorship, as the women shared personal stories and offered tips for career advancement. Find highlights from the discussion below.
ON MENTORSHIP
There are mutual benefits to mentor/mentee relationships and both parties have been found to be more satisfied in their careers. According to Rhonda Crichlow, Senior Vice President & Chief Diversity Officer at Charter Communications, "While the benefits of mentorship and sponsorship are unmistakable, many women do not prioritize these relationships. Employees with mentors are six times more likely to have opportunities for advancement, 27% more likely to be put on stretch assignments and have an average of 25% higher pay."*
So how do you cultivate fruitful mentor relationships? To begin, choose an approach that works best for you. While some people are perfectly comfortable striking up informal conversations with strangers, others prefer to do research and reach out via email to people they are interested in talking to. Regardless of the approach, you should expand the number and types of people with whom you speak.
Once you've created that relationship, keep in touch with your mentor and don't limit your communication to requests for advice. Update them on your personal life, share podcasts or articles that are relevant to them, or simply ask how they are doing. That way, when you are in need of their guidance or help, it feels much more natural.
ON SPONSORSHIP
Mentors provide career-specific advice and guidance, while sponsors advocate for you in your career goals and objectives. They can be someone in your reporting chain or in a completely different part of the company. In short, sponsors can get your name into the right conversation at the right time and at the right level.
"My sponsor is my current boss at Charter," says Elizabeth Andrion, Senior Vice President, Regulatory Affairs. "Almost 20 years ago, I sent her a cold email introducing myself, and ever since then, she has advocated for my career advancement at every turn. When she was at the Federal Communications Commission, she hired me on two separate occasions and promoted me a third time. And, when she came to Charter, she hired me once again, this time to head up Federal Regulatory Affairs. She is a great sponsor not only for me, but for a lot of people with whom she has relationships."
Some sponsorship relationships develop naturally over time, while others require a more proactive approach. Jessica Fischer, Executive Vice President, Finance, says, "My advice for seeking a sponsor is to start with someone two rungs up and one ladder over. Someone outside of your direct reporting structure may offer a unique perspective as your manager advocates for your promotion, for example."
ADVANCING AT A LARGE COMPANY
Bigger companies present unique challenges for professionals who might find it daunting to navigate an intricate organizational culture and structure. "The larger the company, the more complex it is, but the more opportunities there are," says Alison Hellman, Senior Vice President, Content, Strategy & Marketing for Spectrum Networks. "My advice: be genuinely curious and ask a ton of questions. If you're listening intently, you might see areas where you can connect the dots, come up with solutions, and build a reputation as a strong performer."
Charter, which has 96,000 employees across 41 states, has a number of programs for employees to build relationships, develop their careers and contribute to a culture of inclusion. For example, the company offers five Business Resource Groups (BRGs) focused on disabilities, LGBTQ, multicultural communities, veterans and women, that provide mentorship programs and other career development opportunities.
"I love the mentor programs offered through Charter's BRGs," says Andrion who serves as a mentor through the mentorship program offered by Spectrum's Multicultural BRG. "I encourage everyone to participate. We go over things like communication strategies, career goals, and anything else a mentee wants to talk about. It's extremely rewarding for both the mentor and the mentee."
To gain more tips and insights from these senior leaders, watch the full discussion here.
This article was originally featured on Fairygodboss.