Two of Spectrum's Latest Inventors Offer Tips on Filing Patent Applications
Innovation is core to everything we do at Spectrum and our employees are the inventors at the forefront of that innovation. Spectrum just set a quarterly record for patents and applications since the program's inception. Patent applications are submitted by Spectrum inventors, both seasoned and new, across the entire organization. Their pioneering spirit continues to bring new innovations that lead to our growing patent portfolio and ultimately benefit our customers.
We recently observed World Intellectual Property Day, which raises awareness of how these kinds of innovations impact daily life. Intellectual property (IP) is an umbrella term for intangible creations of the human intellect. The four types of IP are patents, copyrights, trademarks and trade secrets. Intellectual property continues to encourage innovation. It rewards our employees, benefits our company, boosts the economy and generates new and improved products and services for our customers.
Have you ever considered filing a patent application? We caught up with two of our recently-named inventors to gather their tips and insight for any new potential inventors who are thinking about submitting an idea for a patent.
A relative newcomer on the patent scene, Wynn G., Director, Product Management, Enterprise Product & Strategy, said his patent idea came from a brainstorming session around unique features for the Spectrum WiFi product, specifically when combined with home security systems.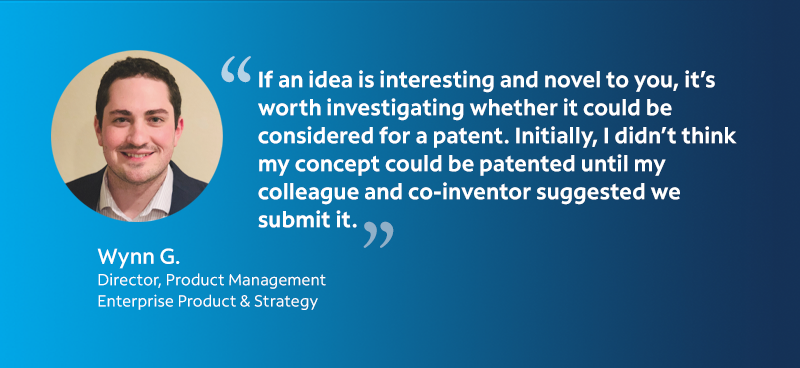 "If an idea is interesting and novel to you, it's worth investigating whether it could be considered for a patent," he said. "Initially, I didn't think my concept could be patented until my colleague and co-inventor suggested we submit it."
Saran K., Principal Wireless Engineer, Wireless Technology, said to ask yourself two key questions: "Is this idea novel and would it add value for Spectrum ? Is this solution practical? If not, how can we make it practical and useful?"
Answering those questions has served Saran well; he is a named inventor on 16 patents and more than 35 applications awaiting approval from the U.S. Patent Office.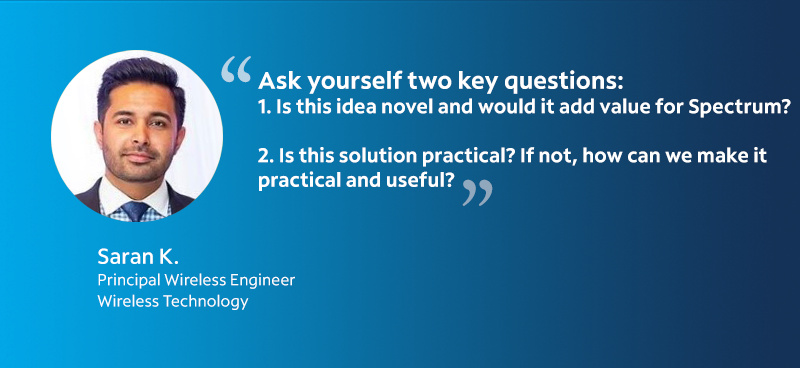 Spectrum continues to celebrate and reward our employees who come up with new patent ideas throughout their patent journey. They are also featured on patent walls in corporate locations, in videos and articles, during recognition events, and on our Inventor Showcase.
Are you an innovator? Explore open roles today. https://jobs.spectrum.com/