From NY to NC—Project Manager, Patrice, Shares Her Career Journey
Here on the Spectrum Careers team, we enjoy every opportunity we have to meet with employees from all across the company. Learning how our colleagues thrive inside Spectrum is motivating and exciting to share with readers, like you.
In this interview, we shine a light on the strong connection Patrice P. has with Spectrum. Patrice, who just celebrated her 12th work anniversary, shares reflections on her career growth and supportive team.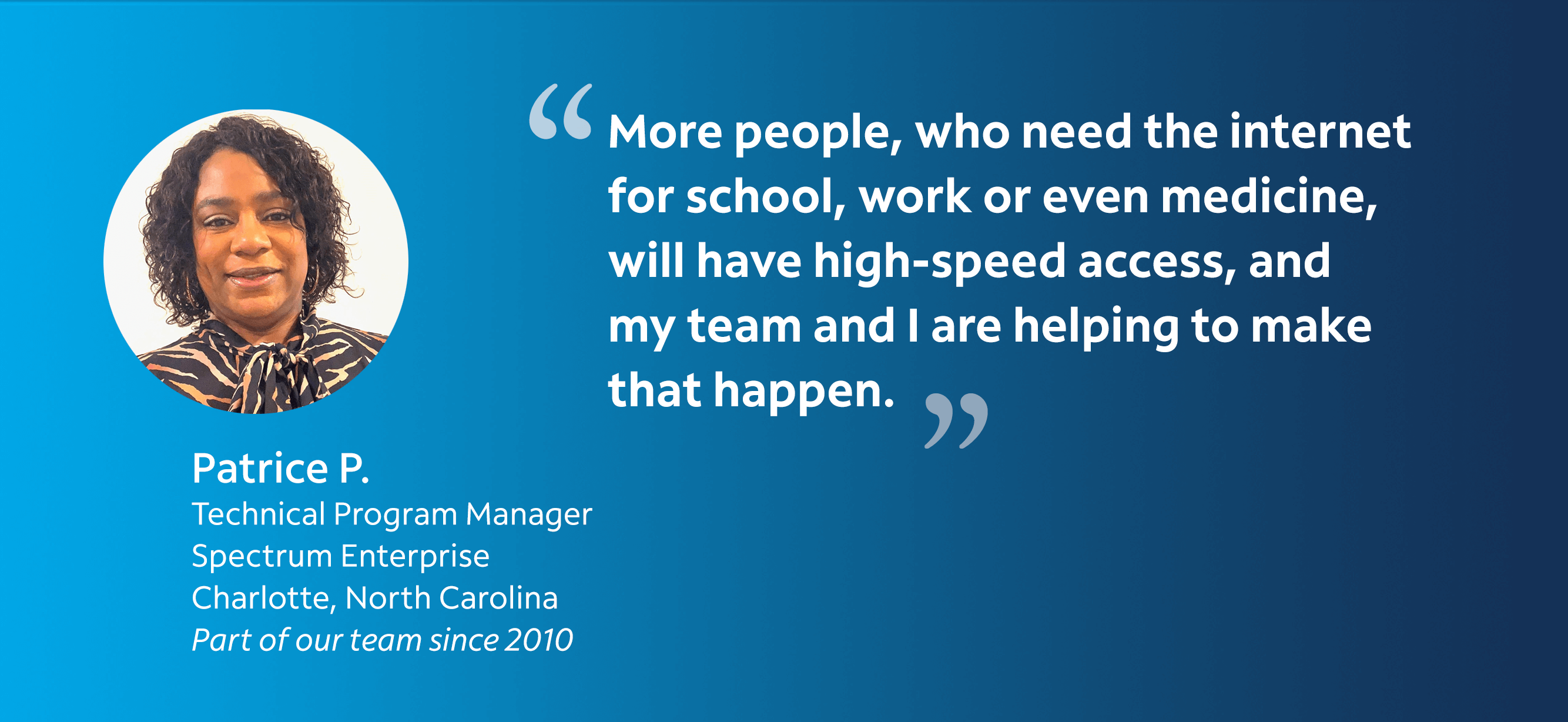 Tell us about your career journey so far with Spectrum.
In 2010, I started my career at Spectrum as a project manager for commercial installs, specifically for customers ordering fiber or dedicated internet service. Then I moved over to engineering, where we deal with cell tower customers. After that, I was in the engineering project management office where I supported the commercial team (now Spectrum Enterprise).

About five years ago, I moved to Inside Plant, or ISP, and have loved every minute of it. This is where technology meets customer support. ISP connects the headends, hubs and networking facilities to enable smooth, continuous data flow.
As a project manager for ISP, I report to the regional vice president for North Carolina and South Carolina. We're responsible for everything related to our network, before it goes out to the plant, to provide services to our customers. All of the networking equipment, huge routers and switches that enable us to provide internet, voice and video to our customers—all of that equipment is in our hubs.
We also support the Spectrum Enterprise engineering group and their initiatives to install and/or upgrade the network devices to provide greater bandwidth to our business customers.
Every time I've moved positions with the company, I always take the opportunity to learn more about the business. The more I learn, the more I want to know. When I go out in the field, look at the hub and see all the equipment, I understand how it's all connected.
My goal is to knock down as many roadblocks as I can so that our team and the company can be successful in whatever initiatives we're undertaking.
What excites you about working at Spectrum?
There are two major projects that I'm working on right now. They excite me because of what they mean for our customers. We're working on an endeavor for Spectrum Enterprise to provide greater bandwidth for large, business customers. That will be extremely impactful, not only for the customers, but also for their thousands of customers. The fact that we're doing that excites me day to day.
Another project involves a federally-funded program called Rural Digital Opportunity Fund (RDOF). We're delivering gigabit-speed Spectrum internet, mobile, TV and voice services to more underserved, rural communities.
This excites me because more people, who need the internet for school, work or even medicine, will have high-speed access, and my team and I at Spectrum are helping to make that happen.
What can you tell us about your team?
I'm always amazed by the things my ISP team will do to make something work, especially when they think outside of the box. We have to hit certain service objectives, and our team—when faced with roadblocks—figures it out. We solve problems in ways that may not be written in any kind of a process manual, but we always get it done.
Most importantly, I treat my team like family—they know I'm going to take care of them.
I remind them of the bigger picture of a project and what it is that they do for others. Often, anything that I can do to take something off their plate, I'm willing to do. I take new managers under my wing because I know some of the trials and tribulations they're going to face. I want them to be successful. That's the kind of personal relationship I have with the team.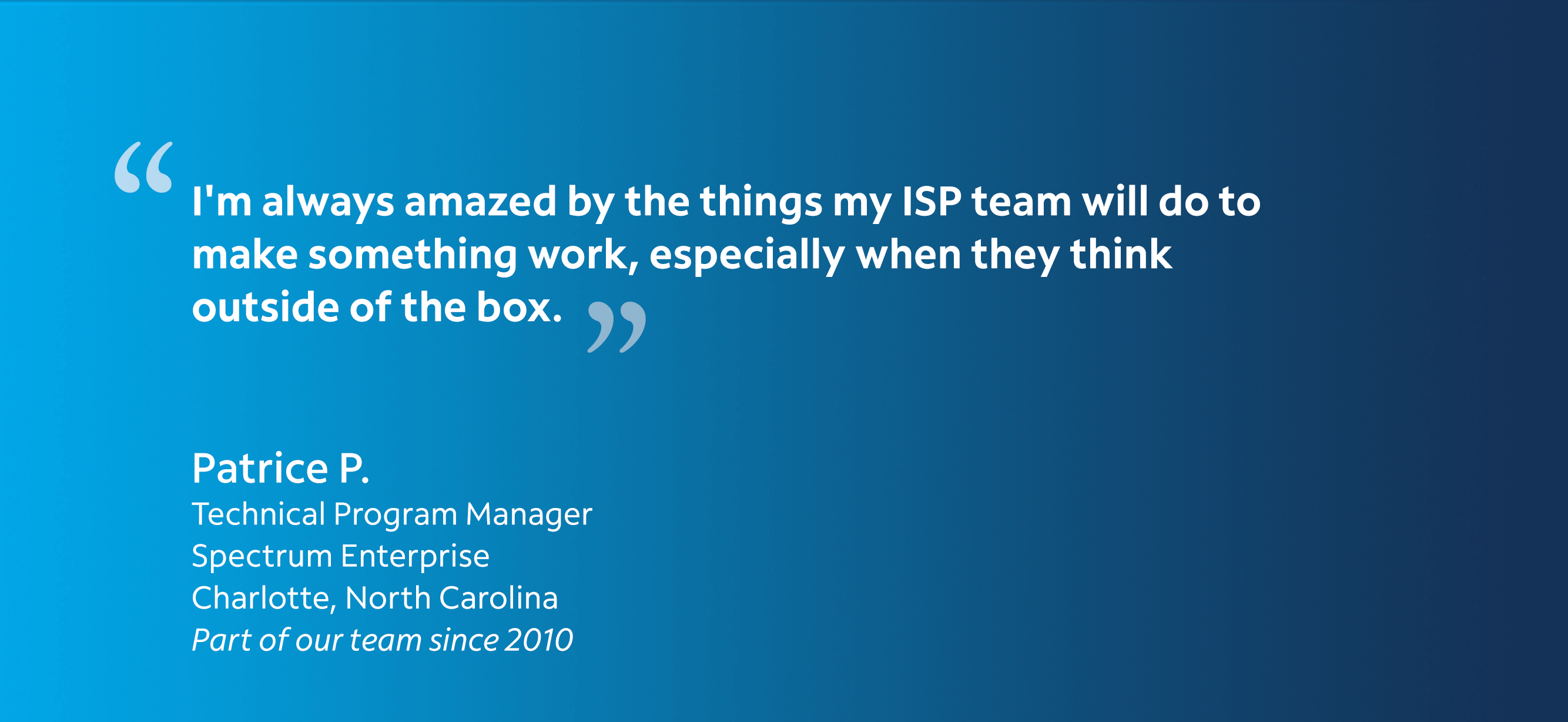 How does working at Spectrum help you to grow professionally?
This month is my 12-year anniversary. I began my career in New York in project management and I've stayed with the company, moving from one opportunity to another in project management. As opportunities arose, I moved into other departments and eventually transferred to the Spectrum office in Charlotte, North Carolina.
Working at Spectrum has helped me grow because I now understand more of the business. It's taught me to look at how what I do impacts the company. I value my early days because I was customer-facing. I know what customers want and how they feel. So when we're working on projects that I know are going to impact customers, I'm thinking about the customer experience because I have an understanding of it.
How does working at Spectrum make you feel?
Working to support my team at Spectrum makes me feel appreciated. The team says they appreciate what I do because they know I care. I can't physically help install or connect anything in our hubs, but I care, that's just who I am at my core. I believe in Spectrum, but my team makes it all worthwhile for me.
A few of my previous team members have told me they attribute their success to what I poured into them when they were my direct reports. This is one of my greatest accomplishments -- positively impacting people in our organization.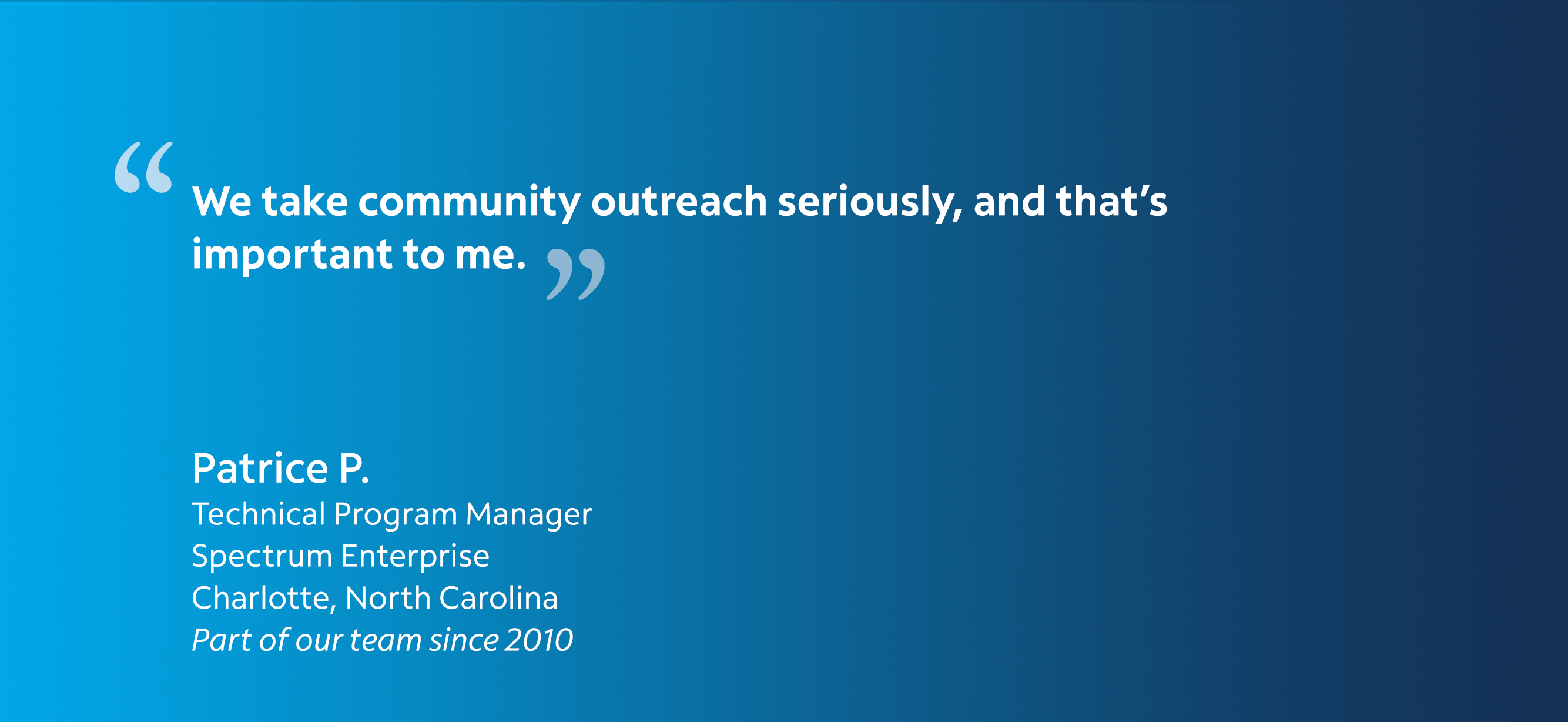 When you're not working, how do you like to spend your time?
I love to golf and take lessons with a PGA professional. It's worth it because he undoubtedly fixed my swing. Now I want to go more often. Before I would go to the course with friends of mine and we wouldn't keep score. But now, I'm excited that I'm getting closer to making par or birdies.
If I can do something to affect change, I'm going to do it, whether it's in golf or in life. The same for others in my life—if there's something I can do to help them affect change, I'm willing to do it.
There are volunteer opportunities through the company that come up and whenever they do, I always sign up. We give money and services to schools and outreach organizations that provide vocational career training and repair homes in underserved communities. We take community outreach seriously, and that's important to me.
It makes me feel good about Spectrum, that we care about the community.
We heard you recently accepted a new position within a different business unit. What is the role and what are you most looking forward to?
A co-worker told me about the Technical Program Manager position within Spectrum Enterprise and thought I'd be a good fit for it. This role will require me to use all of the tools in my toolbox—leadership, knowledge of the business, motivation, and inspiration to achieve a common goal. I am very excited and looking forward to a new challenge.

Tell us what you think about this story.