Empowering Engineering Teams Through Respect, Ownership and Learning
Valued, appreciated, respected and heard. Four simple words, yet so powerful when it comes to being a manager and people leader. Working at Spectrum makes me feel valued and appreciated because I have great leadership that supports me in my career. Just as my leaders support me, my goal is to empower my teams through respect and trust so that they, too, can grow meaningful careers with Spectrum.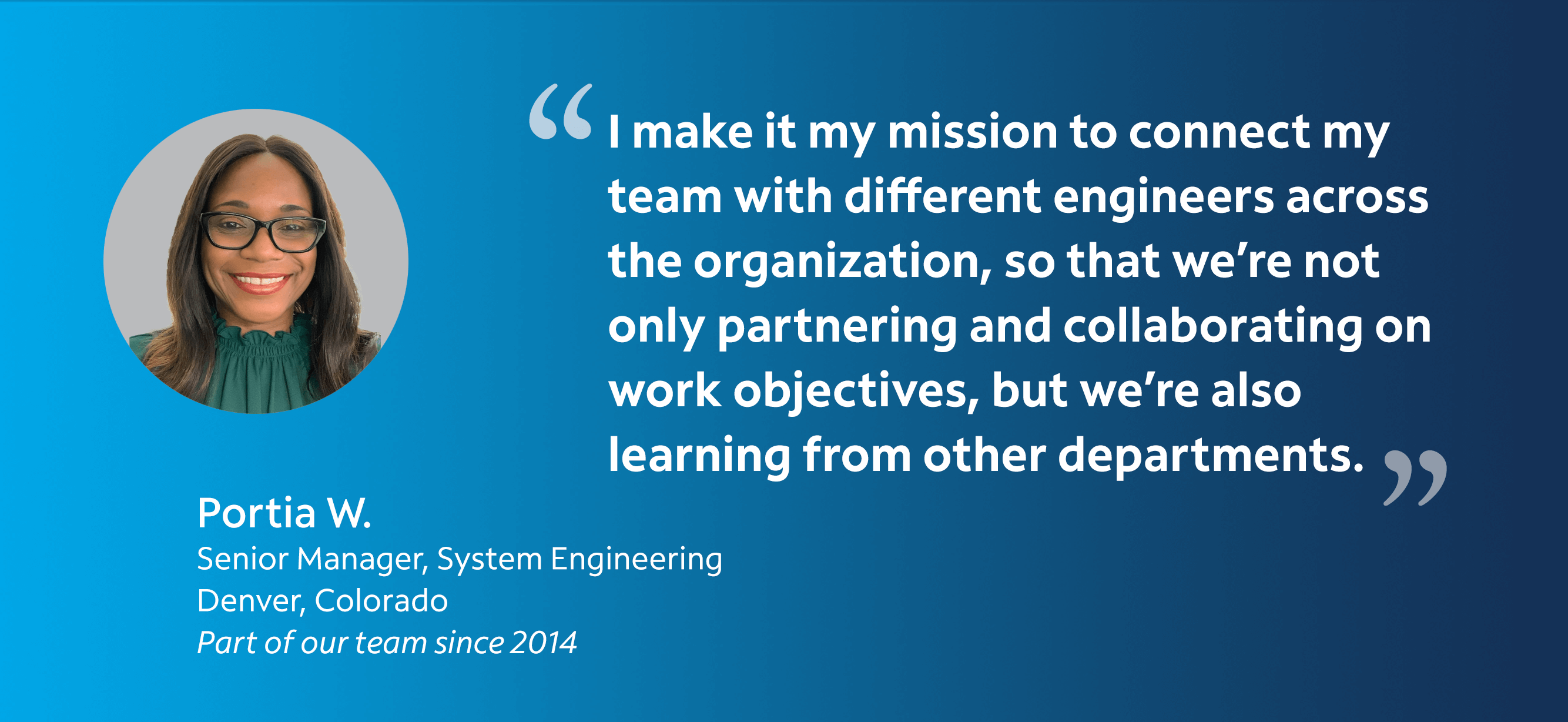 As a senior manager on the systems engineering team, my team ensures our Network Operations business unit runs smoothly. We report on outages and ensure we have mechanisms in place to both resolve them, and proactively identify future potential incidents. It's an important role in the Spectrum ecosystem—we make sure the products and services millions of Spectrum customers rely on run continuously so they can stay connected to one another.
My approach to creating a supportive environment for my team starts with inclusion. I believe who you are matters; the background, beliefs and values that make up our identities are unique and deserve to be heard. When you feel comfortable bringing your best ideas to the table, it's easier to think outside-the-box, creatively solve problems, and focus on innovation. I do my best to build this type of community on my team—an environment where we understand one another and everyone knows that no idea is too outlandish to be heard and listened to.

Learning Through Connections
Beyond empowering my team to share ideas and listening to them attentively and respectfully, I derive so much energy from watching them learn, grow, and thrive. Spectrum's culture is a learning one; we invest in development opportunities, paid training and coaching to encourage a dynamic career. There's so many opportunities for advancement, such as our nationally-certified Broadband Field Technician Apprenticeship Program, that make it easy to turn your first job at Spectrum into a career.
I believe that part of creating a learning culture includes connecting the dots between the different businesses and work streams. For example, our systems engineering team interacts with numerous other business units, including: Network Operations, Customer Operations, and Product and Technology. I make it my mission to connect my team with different engineers across the organization, so that we're not only partnering and collaborating on work objectives, but we're also learning from other departments, expanding our technical skills and grasping ways of working more efficiently.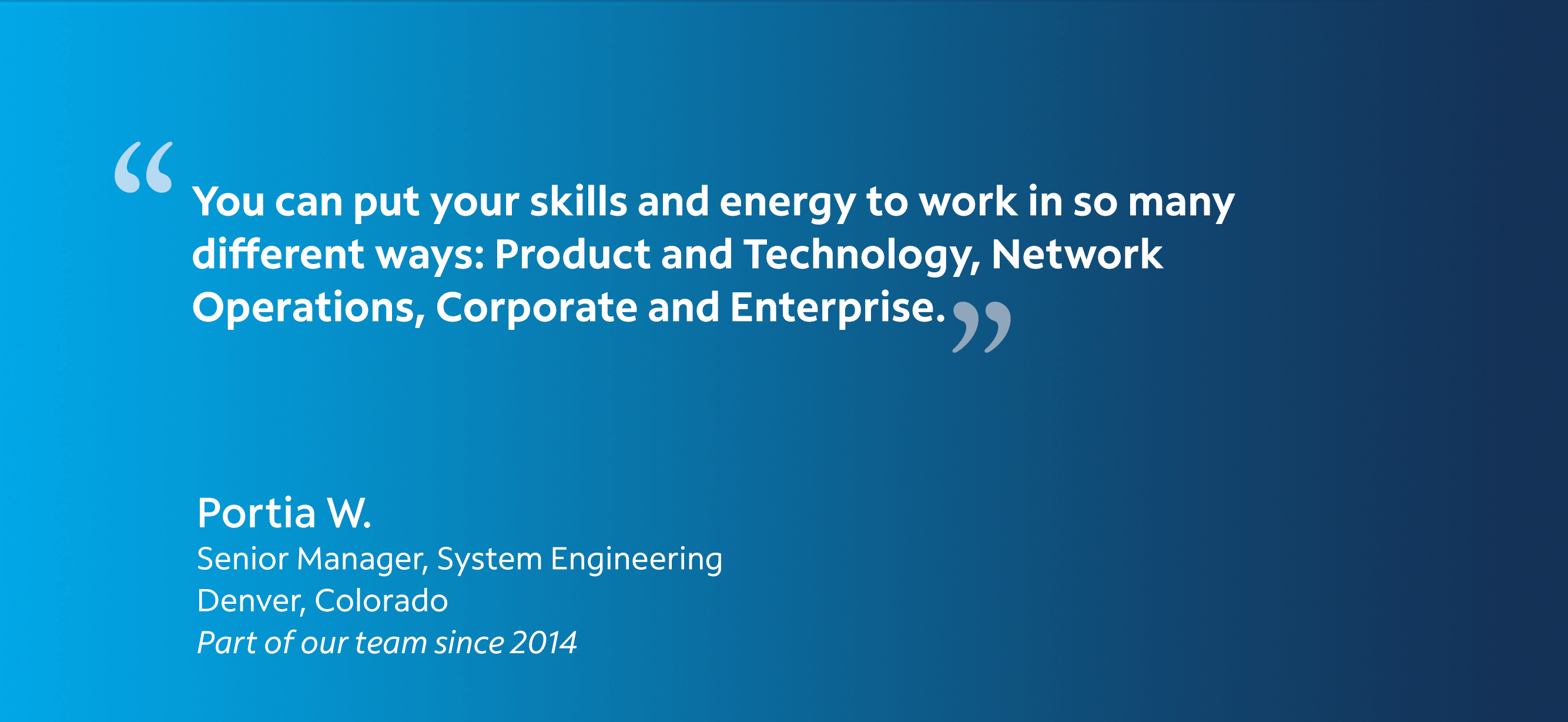 A byproduct of these partnerships is that I'm able to encourage my team to explore new opportunities outside of systems engineering. Spectrum offers so many career paths within each business line, but we also enable employees to pursue new roles in other departments. Our internal job board, Charter Career Connect, identifies these opportunities to advance and grow careers. You can put your skills and energy to work in so many different ways: Product and Technology, Network Operations, Corporate and Enterprise.
Our work can be challenging and often requires the involvement from cross-functional teams. In the event of an outage, it can be stressful and requires an "all hands on deck" mentality until it is resolved. We identify the outage, diagnose the issue, and learn from it so we can proactively prevent others from happening. Overcoming these challenges helps us learn so rapidly and brings us closer together as a team. I appreciate that no two days are the same at Spectrum; the evolving nature of our industry and work requires innovation and constant learning.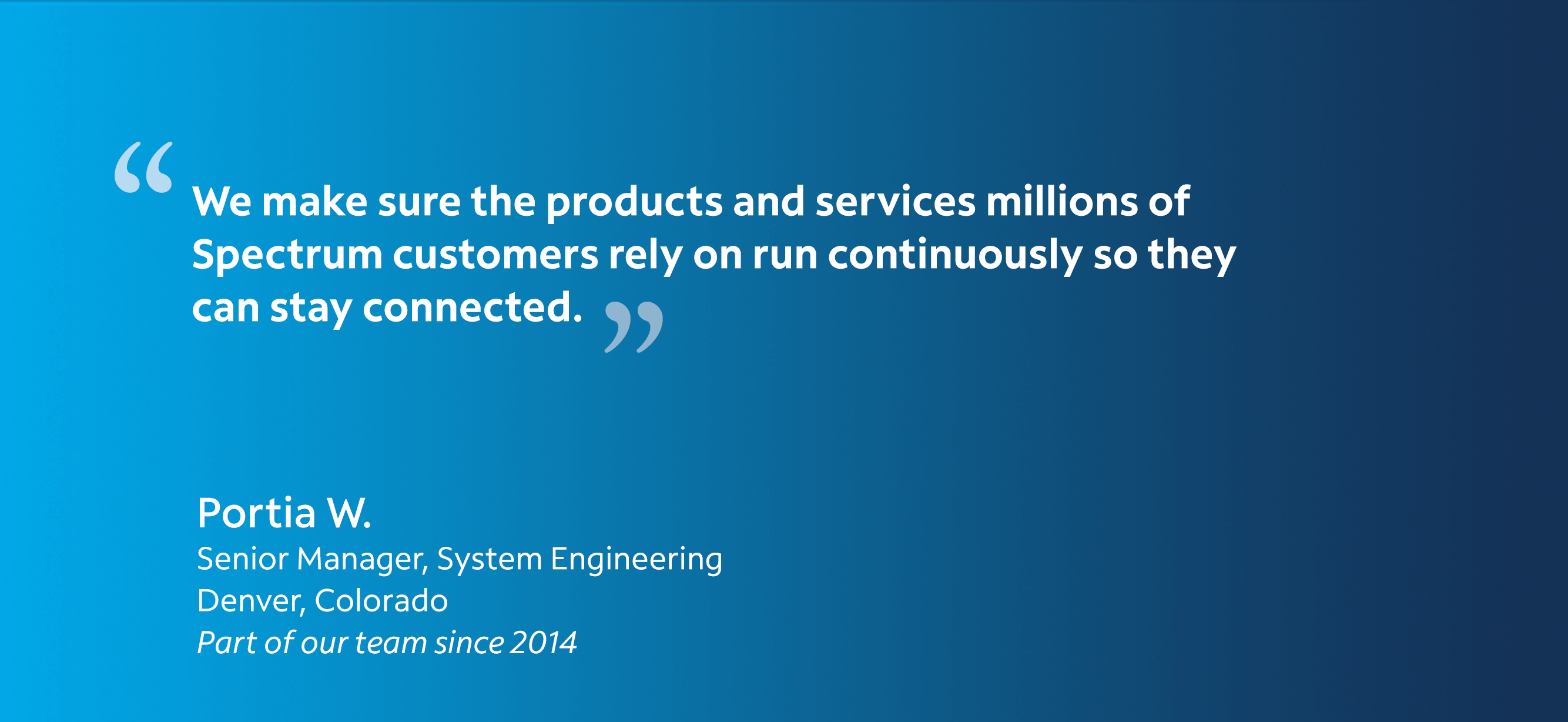 Growing as Spectrum Grows
One of the most exciting aspects of working at Spectrum is our future growth story. We're an incredibly stable, Fortune 75 company serving 32 million customers in 41 states. We have roots in the pioneering days of cable, and millions of people rely on these core services of cable, internet, telephone, and wireless. But we also have a really compelling future ahead of us: broadband connectivity, innovative video and voice products, and forward-thinking mobile offerings. I take comfort in the fact that as our organization grows, my career and the careers of my team will continue to grow and evolve.