A Drive to Succeed. A Culture to Enable Success.
Have you ever wondered what it's like to work in sales for a Fortune 100 company? Recently, we met with Scott Niles, Group Vice President of Residential & SMB Direct Sales, and three members of the newly formed Residential Connectivity Sales team, Eric H., William A., and Marisa R.
Our goal? To learn more about sales at Spectrum and what it takes to succeed in the direct sales business. What we discovered was—despite coming from very diverse backgrounds and experiences—there is a commonality among the four employees.
It all starts with an inner drive and ambition to be experts in their craft.
Fire in the Belly
How would you describe yourself?
"Competitive," says Eric. "I love to be challenged and strive to be the best. I don't accept defeat and I will fight until the end."
"Very competitive," Marisa adds. "I am always trying to push to do better than my previous month's sales quota."
Competitiveness and success are often characteristics of someone who is drawn to sales, or as Spectrum's sales leadership team likes to call it: having a fire in the belly.
"Fire in the belly is your intrinsic drive to be successful and aspire to achieve whatever it is that you want. You need to tap into this and be committed to it," advises Scott. "There's no difference here than any other profession—you'll get as far as you have the drive to get there."
Scott, a former 82nd airborne paratrooper with the United States Army knows all about fire in the belly. What he used to apply to his work in the army, he now applies to leading Spectrum's outside sales teams. After almost twenty years at Spectrum – both in direct sales and then leading direct sales teams – he knows that fire when he sees it.
"You have to want to be good. You have to care. You have to work hard, make good decisions, and be honest too."
What gives you that fire in the belly?
"I carry a picture of my wife and daughters behind my work badge," shares William. "No matter the challenge, I know what I have at home, and quitting is not an option."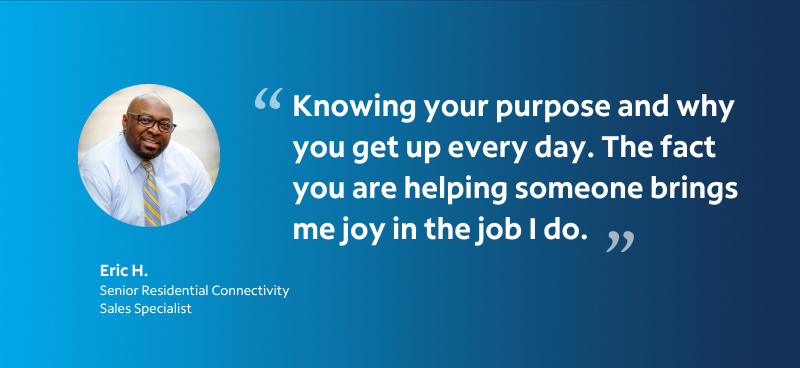 Eric shares, "Knowing your purpose and why you get up every day. The fact I am helping someone brings me joy in the job I do."
"With uncapped incentives here, I want to be the best I can be. That self motivation to get through the no's and find the yes's gets me excited."
Profile of a Successful Outside Sales Professional
Having an entrepreneur's mindset, tenacity, fortitude, and passion to connect with potential customers gets Spectrum's top sales performers far. Another aspect of the job that drives them to succeed is the uncapped earning potential, which allows individuals to strive toward their professional and personal goals.
What are the most important traits for a Residential Connectivity Sales Specialist?
"It's very important to be a self-starter," Eric reveals. "If you're not, you can easily let the role pass you by."
William adds, "You are the owner of your own business, and staying organized and focused will pay off at the end of the month."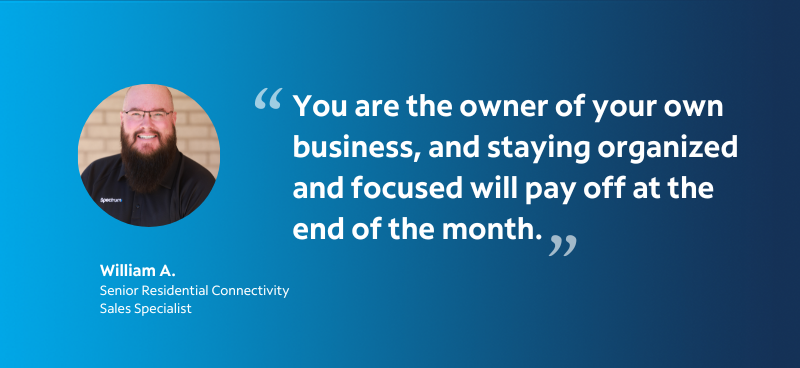 "The number one trait needed, hands down, is work ethic," says Scott. There's no question about it. In addition to work ethic, you need to be relatable and be able to strike up a conversation with a stranger quickly. We're asking people to open their doors to us. People are only going to open their door for a short time – you have to be able to make a connection and articulate yourself, quickly and succinctly. Your success is dependent on your ability to turn a no into a yes – many of my employees share that this drives them."
Uncapped Earning Potential
"When I took my first direct sales job, I did so because my brother-in-law was doing it. Being a sales guy was the last thing I would have considered. But then I saw his first commission check and said, 'I'm in!' We hear this kind of story constantly – people are blown away by the earning potential they can have in this job," says Scott.
"I was in accounting before becoming an outside sales representative. I knew I didn't want to sit at a desk eight hours a day," says Marisa. "When I learned Spectrum offered uncapped commissions, I knew I could do it. I've been doing this for four years – I love my job."
"There is no cap on the commission plan," says Scott. "We want our salespeople to make money. Some of our best sales representatives make more than $200,000 a year. Their ambition and this unmatched opportunity, allow Spectrum's sales teams to connect to more—more opportunities to provide for their families, themselves and customers."
Culture of Camaraderie and Support

While sales is an individual role, the team reveals that camaraderie and connection are great motivators. "Group chats help us communicate throughout our days and help individuals on the team keep pushing through the day," says Marisa. "It's some friendly competition as we update our sales stats and go about our days." Eric agrees, adding, "When you do get discouraged, I pick up the phone and call a peer. We have all been there. The culture here is like no other. We thrive as a cohesive unit."
"My leaders have always been supportive from day one," Eric offers. "I can pick up the phone or email my supervisor and he or she is readily available and responds in a timely manner. I get to see my supervisor face-to-face because they physically come out to knock on doors with me, as do others on the team from time to time. And, Marisa has had this same experience. "It's nice when, even at the manager and director level, they step onto the turf and are right alongside me knocking. It shows how supportive they are and interested in my career."
As the head of the Direct Sales team, Scott wants to use his experience to teach others how to sell, how to establish rapport, and how to handle objections. "As a sales leader," he shares, "when you have an interested and engaged team, you need to have the time, energy, and desire to develop them. And for me, I've always wanted my teams to have the same opportunities I did."
Dynamic Growth and Uncapped Opportunities
We are turning a new chapter at Spectrum and more opportunities are on the horizon. "I know that I could do anything in this company," William shares. "My path is sales, and the new role and responsibility that it brings are keeping me motivated to help others have the same success. Being a Residential Connectivity Sales Specialist gives you the ability to make life-changing money and work for one of the best companies in America."
The opportunities are here, as Marisa has experienced first-hand, "You just need to work hard and, here, hard work does not go unnoticed. If you voice your interest in your career path, leadership is very supportive, as long as you are putting forth your best effort."
Scott concurs and shares that the growth opportunities at Spectrum can be life-changing. "We hear from our employees that this 'is the best job nobody knows about.' As sales professionals, they set financial goals for themselves and love achieving them. One sales professional just shared with me how she was able to purchase her first home during the pandemic, which, as you will recall, was not an easy time for many businesses and people."
The Best Part About Working in Sales at Spectrum
From helping customers reduce the cost of entertainment and essential services to the uncapped earning potential, there are many aspects of Spectrum that help top performers thrive.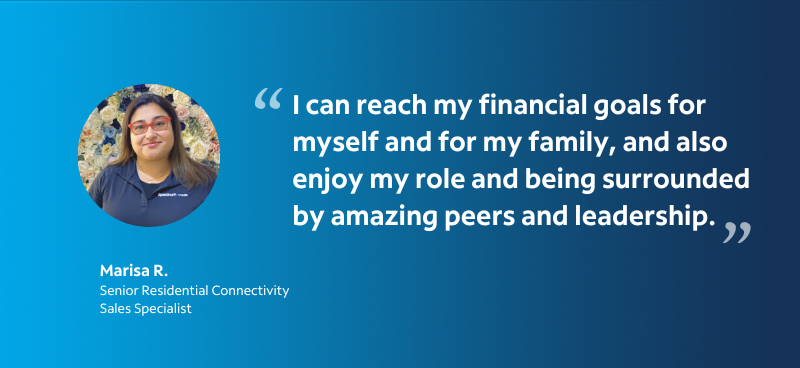 "I enjoy working for Spectrum because it fulfills a well-rounded balance for me in my career life," concludes Marisa. "I can reach my financial goals for myself and for my family, and also enjoy my role and being surrounded by amazing peers and leadership. It's a great feeling to know that you can reach someone and make a positive life change for them. And it starts with you just coming to their door."
Interested in joining Spectrum's Outside Sales team? Learn more: jobs.spectrum.com/outsidesales
Tell us what you think about this story.