Spectrum Honored for Accessibility Achievements
The American Foundation for the Blind (AFB) has selected Spectrum to receive the Helen Keller Achievement Award for our breakthrough innovations in expanding inclusive media for audiences who are blind or have low vision. Spectrum joins several prestigious tech organizations as a recipient of this award.
One of the ways Spectrum has made a difference in the accessibility space is through the Spectrum Access App. The free app is available to all broadband users and is not limited to Spectrum customers; it can be used both in and out of our footprint. The app provides entertainment access to those with vision impairments and who are deaf/hard of hearing by allowing users to select what movie or TV show to watch and download the accessibility track for the program.
Using the Spectrum Access App is easy with these 3 steps:
Open the app and choose a title to sync with your TV
Download the title's audio description or subtitle track
Sync to your TV audio using the microphone on your device
The Spectrum Access App is compatible with iOS and Android devices
The app has allowed the user experience to be more inclusive by making audio descriptions both functional and convenient as the entertainment industry continues to change how people consume media.
"Spectrum is a destination for persons with disabilities because we're committed to providing accessible products for employees and customers of all abilities," said Steve Raymond, Vice President, Accessibility. "Through the products we offer, the customer service we provide and our evolving roadmap to enhance internal technologies and continue to broaden our recruiting process, we strive to be an Accessibility leader. We are honored to be recognized with the Helen Keller Achievement Award."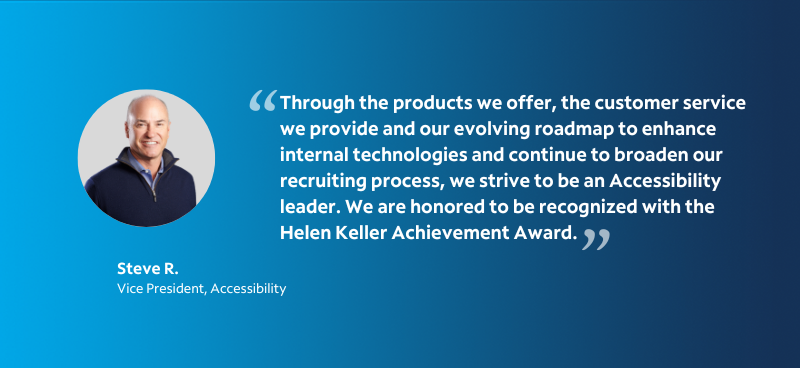 Enhancements made to our products and services are helping to create a more inclusive world for those with disabilities. Learn more about Spectrum Accessibility here.
Explore jobs with us, a company that values people of all abilities: https://jobs.spectrum.com/