Spectrum's Commitment to Employees Reflected in Forbes 'Best Employer' Awards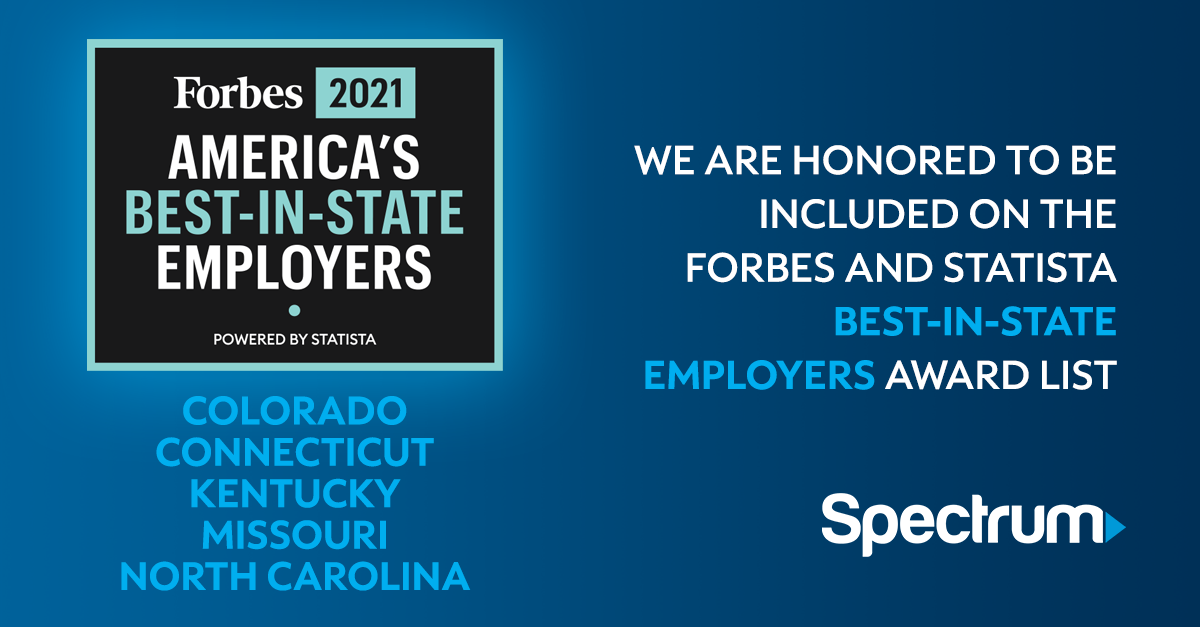 From account executives to analysts and application developers, we're continuing to hire and welcome you to imagine the opportunities in working for a nationally-recognized employer.
Across 41 states, Spectrum employees are the driving force supporting interactions and services for our more than 32 million customers, and we've made it a priority to show our commitment to them by offering dependable career opportunities, living wages, and affordable healthcare costs.
In reflection of our efforts to support our growing workforce, Spectrum has been recognized by Forbes and Statista as one of America's Best-In-State Employers for 2021. This honor considers every aspect of an employees' experience such as working conditions, salary, potential for growth, and diversity. It reflects direct recommendations from our employees as well as indirect recommendations from individuals in our industry.
"It is an honor to be named a Best-In-State employer, especially since it was our employees who lent their voice to the surveys," said Paul Marchand, Spectrum's executive vice president and chief human resources officer. "At Spectrum, we are committed to delivering quality products and services to the communities we serve. The past two years have been some of the most challenging times we have seen. Our employees continue to rise to the test, working tirelessly to keep their communities connected to what matters most, while delivering on the Spectrum mission every day. This recognition is a testament to our commitment to fostering a rewarding work environment that allows our employees to develop their craft, take advantage of our exceptional benefits and build rewarding careers."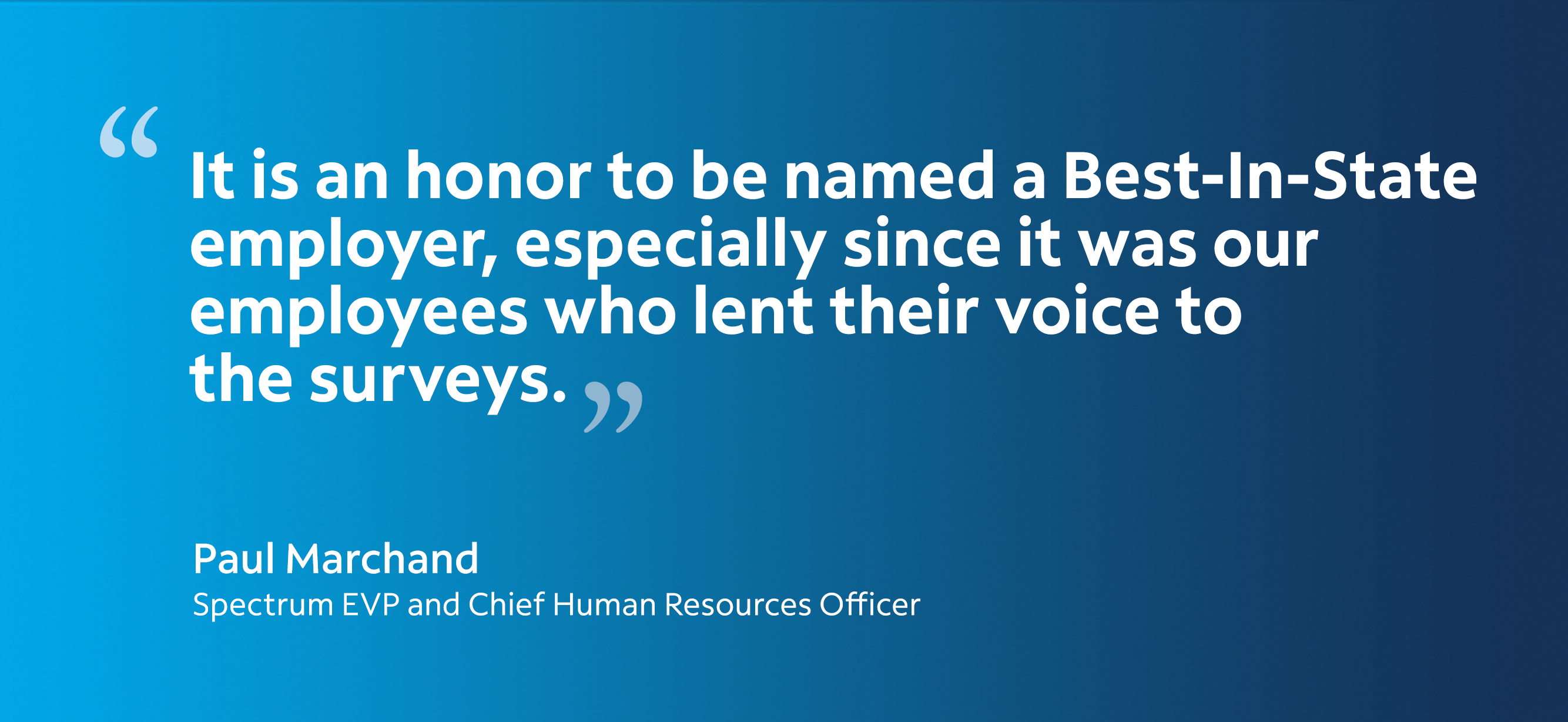 Specific recognition across five states, Colorado, Connecticut, Kentucky, Missouri, and North Carolina, reinforces our reputation as a company that provides excellent employment opportunities both at the local and national levels.
Spectrum also recognized as one of 'Forbes Best Employers for Veterans' in 2021
Spectrum is dedicated to supporting military veterans and their families. Their leadership skills and sense of purpose contributes to our business in a variety of ways, and we're proud to provide career opportunities with comprehensive training and benefits that contribute to their continued success. In reflection of our efforts to support military veterans and their families, Spectrum is recognized by Forbes and Statista as one of America's Best Employers for Veterans for 2021.
At Spectrum, we deploy a Military Talent Attraction team that is passionate about partnering with external organizations to combat veteran unemployment and hire the best in military talent to join us. We're a proud participant in Hiring Our Heroes and other programs designed to help service members transition to the civilian workforce. Our team facilitates that partnership as well as others with Centurion Military Alliance (CMA), Student Veterans of America, and Military Spouse Employment Partnership—MSEP. The USO Pathfinders Transition Program and FourBlock, two of our newest partners, help us interact directly with members of the military community so we can continue to build a diverse talent pipeline.
Spectrum's commitment to these efforts shows through our workforce with nine percent of our employees identifying as veterans, representing different branches of service, and 10 percent at our manager level and above—the highest workforce representation of veterans in telecommunications companies. We are proud to be a strong supporter of military veterans in our workforce and proud to receive public recognition for our efforts.
Our employees have always been, and continue to be, our greatest asset. We are also proud to call them our greatest advocates. There's a strong connection here and we invite you to become a part of the connection.
To determine the list of Best-In-State Employers, Forbes and Statista Inc. partnered to survey more than 80,000 employees representing over 1,300 companies and distributed surveys from October 2020 through June 2021. Respondents were asked to rate their employer on a variety of factors, including: how likely they would recommend their employer to family and friends, working conditions, salary, potential for growth and diversity and inclusion. Spectrum's Individual rankings per state include: Colorado - 29th, Connecticut - 39th, Kentucky - 32nd, Missouri - 62nd, North Carolina - 97th.
To determine the list of Best Employers for Veterans, Forbes and Statista Inc. partnered on an independent survey from a sample of 5,000 U.S. veterans working for companies that employ at least 1,000 people in the U.S. Employers were rated on a variety of general and veteran-specific topics.
Tell us what you think about this story: https://bit.ly/3H99lhS