Spectrum News App: How We Deliver to Millions of Customers
Years from now, when people reflect on the events of 2020, many images are likely to be conjured, but perhaps most significant is how quickly people adapted to living and working in a virtual world. And the significant increase in the usage of—and reliance on—technology that enabled us to do it.
While it is consumers who benefited from what McKinsey & Company calls "a quantum leap in digital adoption," visionaries, innovators, and creators worked behind the scenes to deliver groundbreaking digital products and services that forever changed the way people conduct business, shop for groceries, and … yes, receive and consume their news.
With respect to that last one, that day came on July 27, 2020 when Spectrum Networks launched its one-of-a-kind mobile app to its 28 million residential customers, enabling them to connect to Spectrum's local news and weather reports—at home or on the go. Two years later, the Spectrum New App is outranking most news apps for user retention and app ratings.
From Q&A's with expert meteorologists to live breaking news updates, the Spectrum News App is a one-stop shop for all the news that matters to our audience. Now, let's take a closer look at what sets the Spectrum News App apart.
The Spectrum News App at a Glance
The app offers Spectrum's flagship local news, political and public affairs, general interest, and comprehensive weather reporting. It features original content produced by teams of dedicated digital reporters, and content from Spectrum's existing newsrooms and weather teams, as well as locally relevant content from partner news organizations. The app features news articles, original podcasts, video on demand, weather radar and data, and real-time election results in our Politics Hub.
In addition to digital-first journalism, the Spectrum News App also brings Spectrum's objective, award-winning TV news channels to its customers. App users can access original reporting, up-to-the-minute weather updates, breaking news, live blogs and other exclusive features, including a Voter Guide—a comprehensive resource where users can find out more about what's on their ballot, who their elected officials are, and how to be civically engaged in their communities.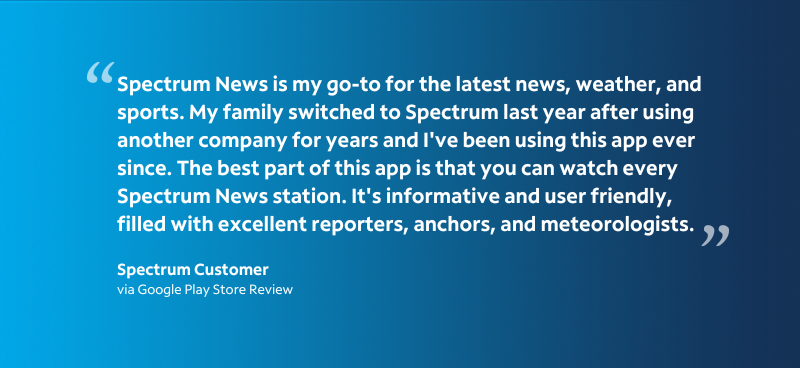 The Spectrum News App is available in both the Apple App Store and Google Play and is free to anyone for the first 30 days. Following the trial period, it remains available to all Spectrum residential video, internet and mobile customers at no additional charge.
Now, let's step back in time to the year 2020 (figuratively, of course) and learn how the idea for the Spectrum News App came to be.
Designed to Be Different
As digital adoption continued to grow during the pandemic, Spectrum executives observed a similar trend. "Internet and mobile customers are the fastest growing segments of Spectrum's customer base, and our viewers are consuming news online more now than ever before," said Mike B., Executive Vice President of Spectrum Networks.
While more people began to gravitate toward digital platforms for local news, the user experience was far from ideal. Most other news apps consisted primarily of viewing repackaged content from existing platforms—namely television—versus programming created specifically for the app or, more importantly, with viewers in mind.
"Research revealed there was an opportunity in the market to deliver truly local news in a seamless user experience, and, more than ever, consumers want access to high-quality journalism about their communities," said Keith N., Vice President of Spectrum's Digital Platforms Agency. "We found an opportunity to deliver best-in-class local news and weather, on demand, wherever and whenever consumers want it."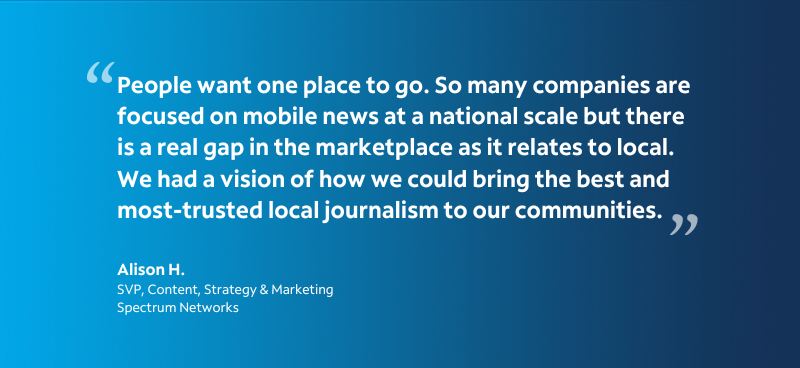 Added Alison H., SVP, Content, Strategy & Marketing for Spectrum Networks: "People want one place to go. So many companies are focused on mobile news at a national scale but there is a real gap in the marketplace as it relates to local. We had a vision of how we could bring the best and most-trusted local journalism to our communities."
From these observations, and after a number of internal brainstorming sessions, the blueprint for the Spectrum News App was born: an innovative, mobile-first product created for those who want to stay connected to local news throughout the day and have a personalized, highly-dynamic experience.
Bringing the Vision to Life
"It was immediately clear that this vision for the app—a fresh, user-friendly, customizable, mobile news platform designed for our communities—had real potential. We had the means to create something unique," said Alison.
It was then over to Jodi R. and the digital platforms team, who were tasked with bringing the app to life. By leveraging existing technology and leaning on its internal expertise and knowledge gleaned while building those platforms, the team rapidly developed what Jodi calls "a unique and compelling experience."
Creating Connections in a Digital World
During the height of the pandemic, when the world was on lockdown, people relied on their devices to stay connected to colleagues, friends, and even their loved ones through video conferencing technology (virtual happy hour, anyone?). This concept is also pulled through in the Spectrum News App.
"At its core, the Spectrum News App is about community connection," said Katie L., GVP, Product & Performance Management for Spectrum Networks. "At Spectrum Networks, our local journalism informs and educates, as well as empowers people to be more engaged citizens."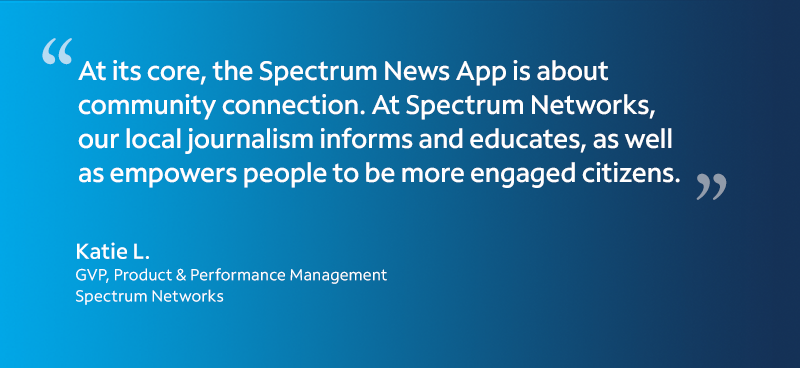 If the technology boom is the top takeaway from this period in our lives, the importance of access to reliable and trustworthy news is a close second—especially in an era of "misinformation," where deciphering the truth has become increasingly challenging. In times like these, we turn toward local news even more to stay connected to the issues that impact us most and the stories that shape our world.
The Spectrum News App celebrates this special relationship between viewer and local journalist, and brings it to life in a digital environment.
"We know that local journalism is vital to the communities we serve," said Mike B. "From political coverage of press briefings, local debates and elections, to public affairs programming and community news that is relevant to local residents, our networks serve as a valuable resource, especially during times of crisis."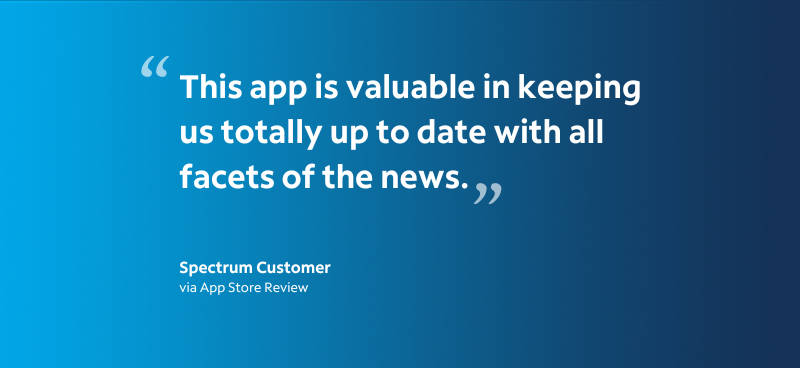 Spectrum's customers concur. As one recent reviewer stated, "the app is valuable in keeping us totally up to date with all facets of the news." Said another: "I absolutely love not only this app but the Spectrum News team. This app allows you to do so many things. Weather and non-biased news is great and very accessible."
The Future of Spectrum News App
As the Spectrum News App enters its third year, it continues to evolve. Most recently, in April 2022, the app made its debut in St. Louis, MO, with content created specifically for its residents, such as the "The People's People: St. Louis," a podcast that seeks to deepen the connection between state and local elected officials and the communities they represent. This is one example of the hyper local content Spectrum customers can expect more of in the future.
The team continues to focus on quality and overall user experience, analyzing trends and data. "We're measuring everything in order to understand the experience and improve where it has the most impact. We're also looking at a number of new features to launch, including in our Politics Hub—a highly engaging experience where users can find out more about what's on their ballot, who their elected officials are, and how to be civically engaged in their communities," said Keith.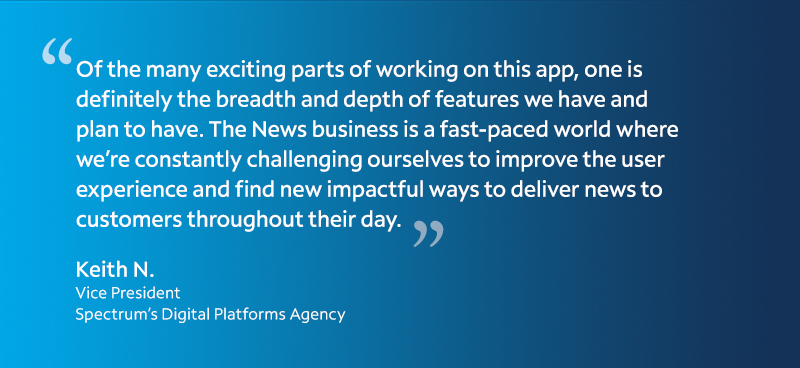 "Of the many exciting parts of working on this app, one is definitely the breadth and depth of features we have and plan to have. The News business is a fast-paced world where we're constantly challenging ourselves to improve the user experience and find new impactful ways to deliver news."
The team also continues to innovate ways to make local news accessible as customers' viewing habits further to evolve. Based on the technology and design of the mobile app, the group launched the Spectrum News App for Roku and Apple TV in the last few months. Like the mobile app, this app features content tailored specific to the platforms, along with access to all of Spectrum News existing programming.
If the last two years are any indication, we can only marvel at what Spectrum News' apps will look like in another two years as it creates even more connections and revolutionizes how millions access local news.
Fun Fact:
While the app is designed to access local programming, you can access every Spectrum News station—even those outside your own geography. As one customer notes in Google Play, it's "the best part of the app!"
Tell us what you think about this story.