Texas Workforce Commission Honors Our Commitment to Veterans
More than 10 percent of our Texas employees are veterans.
Spectrum's commitment to hiring veterans, National Guard and Army Reserve members runs deep. Now, thanks to the Texas Workforce Commission, our customers will know this the moment they step in our door.
Spectrum, named one of Forbes' Best Employers for Veterans, was recently honored with the We Hire Vets award from the Texas Workforce Commission. The designation recognizes Texas companies with a workforce made up of at least 10 percent veterans.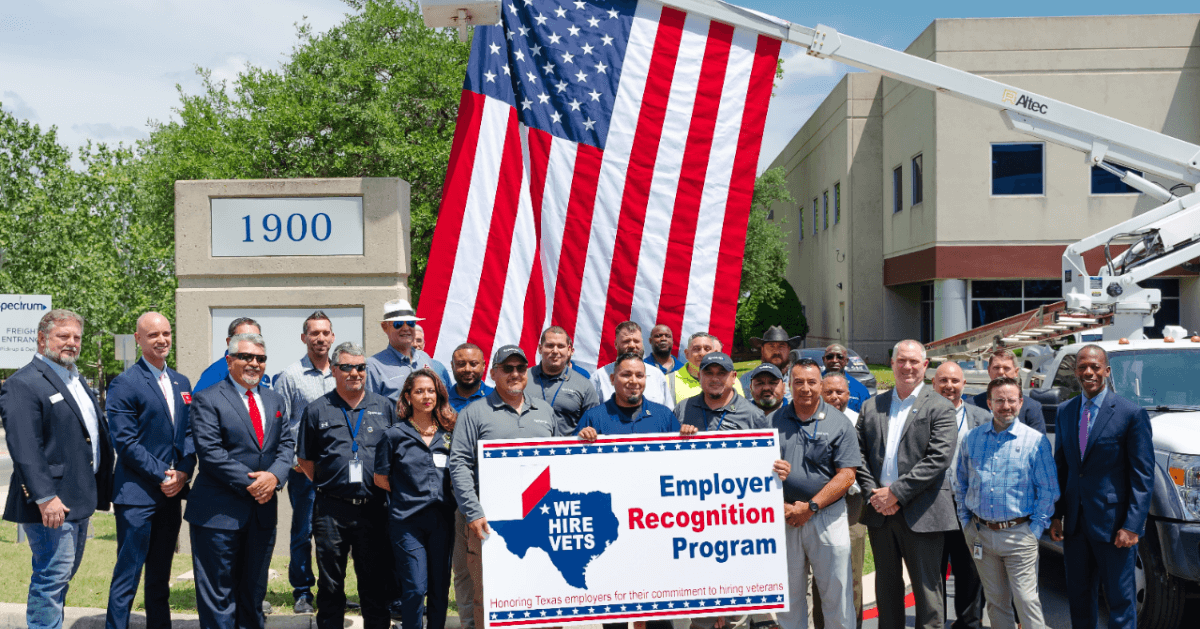 As of May 2022, more than 1,300 of our 13,000-plus Texas employees had served in the nation's military.
A special ceremony was held last month in San Antonio to honor our efforts to hire veterans and provide them with special career advancement programs. Aaron Demerson of the Texas Workforce Commission attended to present the award to Rich F., Area Vice President, South Texas.
"It's just a great honor for us," Rich said. "It recognizes our commitment to veterans, their families and the community."
The award comes with its own badge of honor: a special Texas Workforce Commission decal we can proudly display outside our stores and elsewhere.
Spectrum continues to build strong connections with those who have and continue to serve our country. During the COVID-19 pandemic, we hosted and participated in several military virtual career fairs to connect members of the military directly with our recruiters. We did this because we value the special skills and strong work ethic that veterans bring to Spectrum.
Adam R., a Safety Specialist in our San Antonio offices, also attended the special ceremony. He's been working at our company for 10 years and previously served six years in the Army, completing two tours in Iraq and Afghanistan.
"Spectrum has been a very welcoming place to connect with other veterans," Adam said. "We feel comfortable talking to each other because some people may not relate to what we've been through."
Aside from making an effort to reach out to veterans, we are also strengthening our workforce through our Broadband Field Technician Apprentice Program. When veteran enrollees graduate from the apprentice program, they are certified by the U.S. Department of Labor. While enrolled in the program, eligible veterans can secure GI Bill benefits in addition to their regular paychecks as they transition to civilian life.
Tell us what you think about this story.