Spectrum Recognized as a Top Company for Women to Work
As we begin 2023, we are reflecting on the many great things we accomplished in 2022. One of those accomplishments was being named a Top Company for Women to Work by The WICT Network, an organization whose mission is to create women leaders who transform the media, entertainment and technology industry. Founded in 1979, The WICT Network is the largest and oldest professional association serving women in cable media, and counts over 10,000 members in its ranks.
The Top Company for Women to Work recognition reflects our commitment to diversity and inclusion, and marks the second time that Spectrum has been named to this list in the Operator category. The honor is based on results from The WICT Network's most recent PAR workplace diversity survey, which benchmarks progress toward gender equity in the media, entertainment and technology industries by evaluating each participating company's diversity and inclusion practices supporting the advancement of women.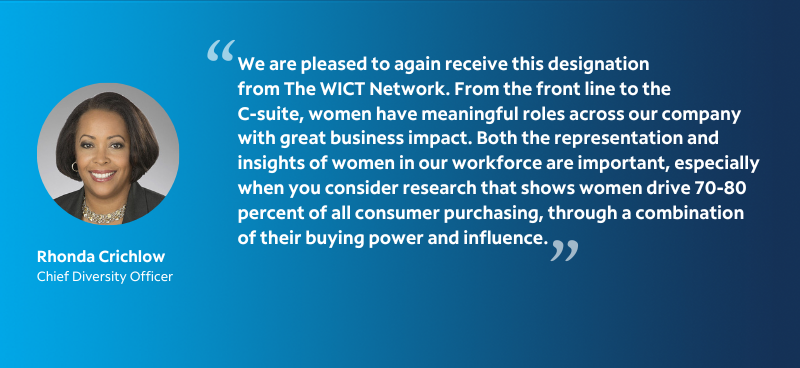 Our diversity and inclusion efforts are an important aspect of working at Spectrum. Fostering a culture where employees can grow and thrive is key. One way we do this is through partnerships with organizations like The WICT Network.
Formerly known as Women in Cable Telecommunications (WICT), The WICT Network is dedicated to helping its members advance by providing leadership opportunities, professional events and education to women in the telecommunications industry. Spectrum is a Strategic Touchstone Partner with The WICT Network and we provide employees year-round benefits, including free membership to all employees and sponsorships of rising leaders for more in-depth development programs. Members surround themselves with women and men who are committed to lifelong learning and share a common goal of enhancing their leadership skills and advancing their careers.
Additionally, each year, leaders from across Spectrum volunteer their time with national and regional chapters of The WICT Network, contributing their skills to the organization's mission of advancing women in our field. Learn more about The WICT Network, and Spectrum's partnership, on The WICT Network Partners page.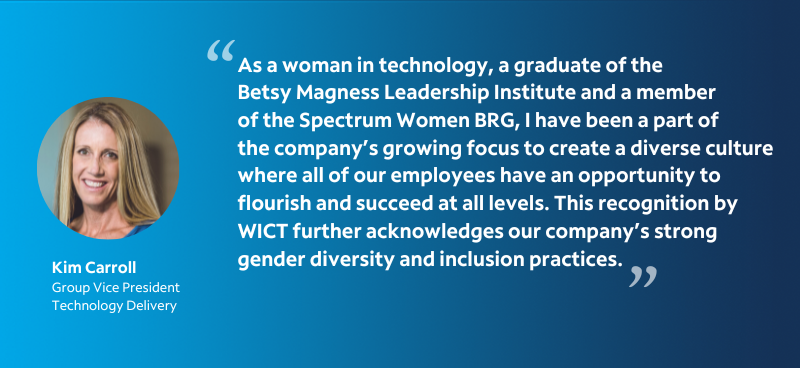 Interested in joining an organization with an inclusive workplace? Learn more: https://jobs.spectrum.com/