World Creativity and Innovation Day 2022
On April 21st, people and organizations around the globe celebrate World Creativity and Innovation Day to raise awareness of the roles creativity and innovation play in all aspects of human development. As a leading broadband connectivity company, creativity and innovation is central to us offering superior communications and entertainment products.
We are using this day as a way to celebrate and feature some of the employees and teams that are pushing Spectrum forward through creative and innovative solutions – both for our customers, and our employees.
Cultivating Innovation
The word innovation is usually associated with big ideas, but one shouldn't overlook the ability to innovate in smaller projects.
To Jacquelyn M., Director of Digital Strategy and Operations, innovation is always bubbling just beneath the surface in our daily lives. "The key," she says, "is knowing how to cultivate it."
"Innovation is taking a familiar process and daring to think about it in a very unfamiliar way," said Jacquelyn. "For innovators, I would encourage them to innovate with what they know, while being willing to wildly reimagine it."
Jacquelyn is currently leading a project that is rooted in innovation and the ability to question existing processes in order to increase efficiency.
Let us introduce you to Aloha; one place to "say hello and goodbye" to employees and contractors.
Onboarding employees and contractors can be an involved and sometimes complex process. Currently, hiring managers interface with six separate software systems to handle this process.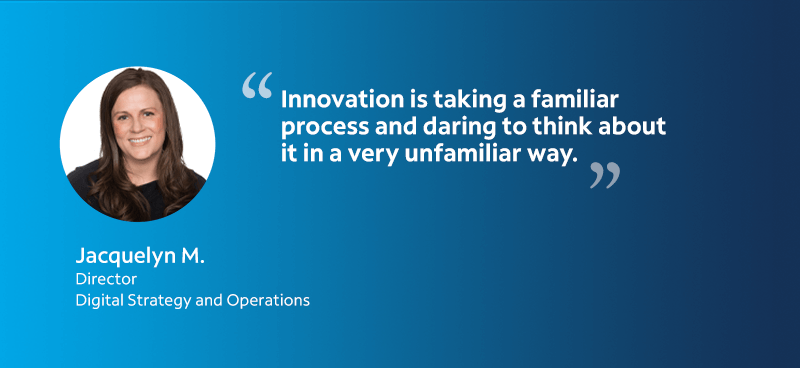 "Aloha is innovative not in its complexity, but rather its simplicity. As a company, we were accustomed to the difficulties of onboarding," said Jacquelyn. "Our team started this project with the question of "Why?" and it has been the guiding light we return to again and again. By getting to the heart of the "why", we were able to take an overly complicated assignment and translate it into a simplified user experience, for both the requester and fulfiller of the task."
Aloha was born when Jacquelyn and team started identifying the problem rather than the solution. Once the solution started to formulate, they were able to make a business case that included risk assessment and financial modeling.
"A key takeaway for me was that it's one thing to be creative and come up with great ideas, but it's an entirely different venture to bring that innovation to life," said Jacquelyn. "By combining creativity with solid logic, we were able to secure the funding we needed to make the dream of Aloha a tangible reality."
When Innovation Leads to Evolution
For Keith A., a Principal Engineer II with Spectrum's Network Technology Group, he often creates something from scratch that either doesn't yet exist, or is an improvement upon a current philosophy that needs technological improvements.
Keith is currently working on analyzing emerging technologies and the potential future impacts on existing networks.
"My work involves development of futuristic network design protocols" said Keith. "The challenge is sometimes the technology is so new that the physical components that will be needed do not yet exist. Or the theories around how it should all work are not yet proven or tested."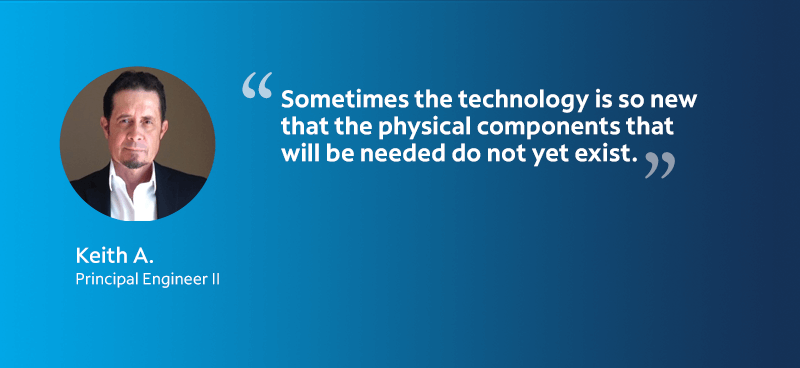 In short, Keith's innovative work delivers a positive customer experience by avoiding service disruptions.
Additionally, in order to stay at the forefront of industry trends, he formed an innovation group where he works with internal Spectrum engineering teams and representatives from other Management Service Organizations to exchange ideas, foster industry-wide collaboration, and contribute to standards development.
"The innovation group I formed where we meet monthly is called the Designers Focus Group. The thirty-three members are from various prominent MSO's and on a global scale," said Keith. "I also hold detailed discussions with our manufacturers throughout the year to discuss upcoming products and their capabilities."
Pioneering Through Machine Learning
For Srilal W., a Principal Engineer II on Spectrum's Video Development Engineering team, creativity can happen at all levels. From a clever enhancement for a routine process to a patent-worthy invention.
"In order to be creative and innovate, you need two things," said Srilal. "An observant mind and what-if curiosity."
Srilal also believes creativity is enriched by pragmatic, out-of-the-box thinking.
When Srilal was evaluating his work at Spectrum, he took this pragmatic approach and used it to observe current industry trends while being cognizant of areas of opportunity in his field. From there, he knew there was a chance to use the power of machine learning to drive innovation.
Srilal's research involves applying machine learning to extract metadata from video streams. One such application is in digital advertising. TV commercials are required to comply with various rules and regulations. For example, alcohol ads are barred from airing during certain TV programs. Training a machine learning engine to auto-identify these categories is a challenge, but is also rewarding as it is currently done manually.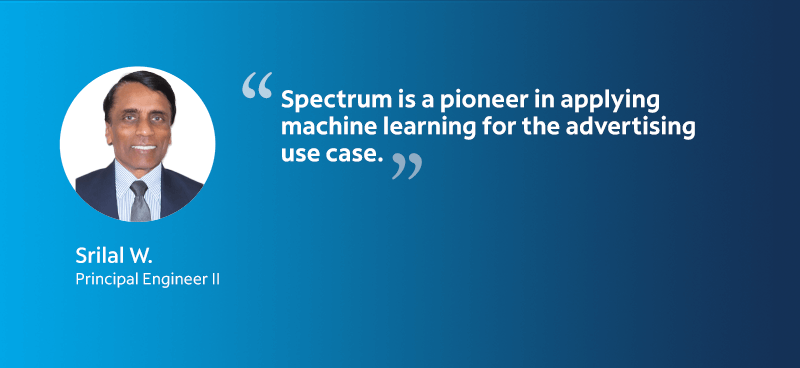 "Spectrum was one of the first in the industry to develop prototypes on video metadata extraction," said Srilal. "Spectrum is a pioneer in applying machine learning for the advertising use case." Srilal's work has resulted in the best practices standard (SCTE-276), journal articles, and a filed patent. He is also the founding chair of Artificial Intelligence and Machine Learning working group of the SCTE (Society of Cable Telecommunications Engineers). The current chair and vice-chair of this group are Spectrum employees who lead working group activities.
Machine learning is a thriving field today and a rewarding byproduct of that is the encouragement of STEM studies. Based on the current demand for artificial intelligence and machine learning, the future of this field is bright.
Innovate with Spectrum
Are you a motivated innovator looking to create what's next? Spectrum is hiring talented individuals to help us move forward while maintaining the connections our customers count on. Explore our open roles today.
Tell us what you think about this story: https://bit.ly/3H99lhS