Hiring Veterans: How A Special Team at Spectrum Makes It Happen
Meet the Military Talent Attraction Team—tight-knit, dedicated and ready to serve. Their track record of action is nothing short of impressive. In 2021 alone, the team engaged with nearly 50,000 veterans and their families, held or participated in more than 150 hiring-related events and conducted upwards of 1,000 one-on-one employment related meetings with transitioning members of the military, which we refer to as office hours.
So, who are these talent warriors? To learn more about them and their unique mission, the Spectrum Careers team met with Molly McKinley, director of military programs, and Nikita Wallace, military talent and attraction manager and former U.S. Marine.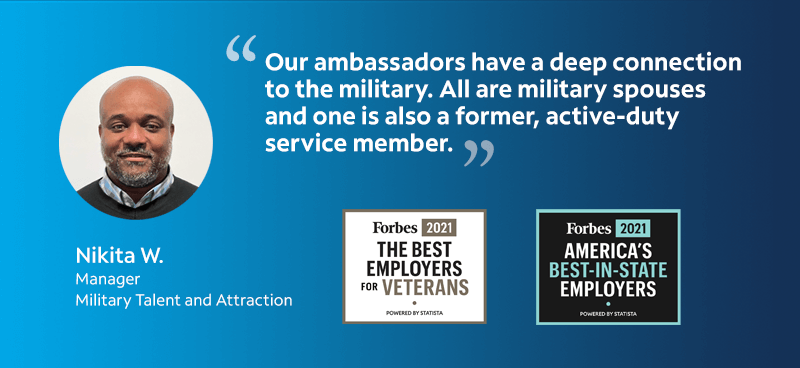 HANDS-ON AND EARS OPEN
Not surprisingly, the Military Talent Attraction Team's top priority is supporting current and past members of the military and their families.
When asked how this priority translates into talent strategy, Wallace highlights three main areas: consistency of local presence; a personalized approach to matching military skills with open roles; and lastly, an active interest in—and effort toward maximizing—spouses' career potential.
"This team includes three Military Outreach Specialists, each person working in close proximity to a Spectrum office location and with a dedicated presence at Fort Hood, Texas; Camp Pendleton, California; or Fort Carson, Colorado," shares Wallace. "Our ambassadors have a deep connection to the military. All are military spouses and one is also a former, active-duty service member."
McKinley weighs in on the impact of guiding spousal career moves:
"Military spouses are often underemployed or unemployed due to the frequent moves and deployment-related absences. This can lead to large employment gaps and a need to sometimes find work based on availability versus career path. Spectrum is able to offer great opportunities for spouses interested in working nearby."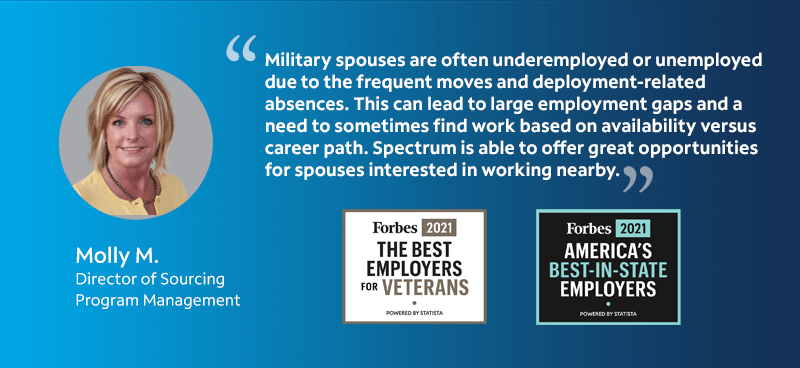 Now, how exactly does the team tailor its offerings? Read on.
FROM SERVING OUR COUNTRY TO SERVING OUR CUSTOMERS
Sometimes it can be hard to translate military experience into a civilian career. But since the team doesn't post or recruit for specific jobs, they're able to offer veterans, and their spouses, tangible career advice tailored to their individual situations and needs.
In fact, one-on-one conversations and a personalized white-glove experience are offered, regardless of whether or not they choose to apply to Spectrum, including:
Resume reviews and writing tips
Interview coaching and feedback
Connecting them with information on upcoming career events
Connecting the dots between military experience, occupational skills and potential career opportunities
A direct veteran connection within Spectrum
So, by now, you've noticed there's a lot of connection happening.
This means, far beyond the nuts and bolts that characterize the team's concierge approach to veteran hiring, lies something bigger.
The power to impact people for the better.
CONNECTION CHANGES LIVES
Consider Kevin's story – a living testament to the purpose behind the Military Talent Attraction Team. When Kevin began transitioning into a civilian career after his time in the military, he was connected with the Military Talent Attraction Team.
"Eniko T. was my primary point of contact and she was amazing," said Kevin. "She helped me update my resume and she gave me some really good pointers on what types of interview questions I should be prepared for."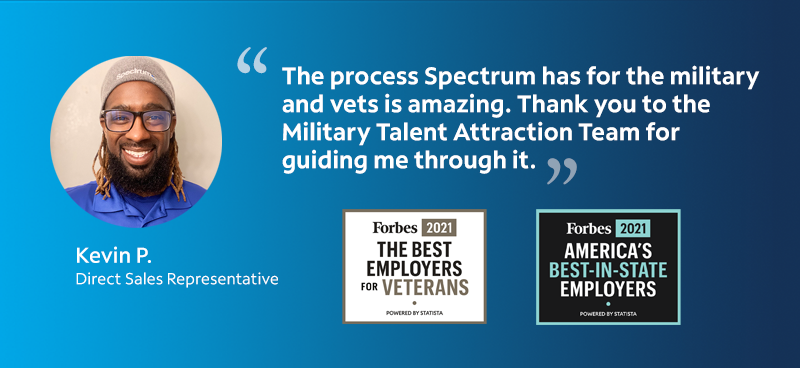 Due to Eniko's preparation, Kevin was able to go into his interview with confidence and zeal. His interview led to an offer and he is currently a direct sales representative at Spectrum. He mentioned that the entire process, from recruitment through onboarding, was seamless and that he felt excited to join the Spectrum team the entire time.
"The process Spectrum has for the military and vets is amazing," said Kevin. "Thank you to the Military Talent Attraction Team for guiding me through it."
This is just one example of the impact Spectrum's connections can, and have, created for veterans.
MOVING FORWARD
In 2022, the team is building upon their existing momentum. Their established local presence in our military communities continues to be a competitive advantage, fueled by the excitement of meeting new faces at recruiting events.
As the year presses on, the benefits of their efforts are clear.
A recent statistic shows that more than 10 percent of Spectrum leaders (managers and above) are veterans. Also, approximately one in every 10 Spectrum employees has a connection to the U.S. military.
Impressive numbers, no doubt, that become even more impactful when Wallace explains the 'why' behind them:
"Those numbers are so much more than metrics. They're proof positive of our philosophy and approach. Most companies tout that they are a 'military-friendly' company. But at Spectrum, we're more. We're a veteran-ready organization. The difference is that we know hiring veterans and military spouses isn't just the right thing to do—it's good for business."
Tell us what you think about this story.