Spectrum Is There to Help Veterans Achieve Career Growth
First in. Last out.
Instilled in me during 23 years of military service, this mentality still rings true when it comes to my role in corporate recruiting. Prior to my civilian career, I served our country as a member of the U.S. Marine Corps. Today, I am one of nearly 9,000 veterans working at Spectrum.
Wearing the title of Manager of Military Talent and Attraction, I proudly lead a team committed to connecting U.S. veterans, and their spouses, with careers at Spectrum. This commitment goes beyond dedication.
It means I am "all in" on and always faithful to a life-long goal of making a difference in the lives of veterans. Growing up in a military family (my father served 25 years in the U.S. Army), I know first-hand the challenges, processes and questions facing military families—especially when transitioning from the public to private sector. Understanding the average veteran, getting out pre-retirement, doesn't receive high pay or many benefits, motivates me to share the good news about Spectrum.
The team I'm part of is an amazing opportunity to provide job stability and security for veterans and their families, while offering rewarding careers in a fast-paced environment.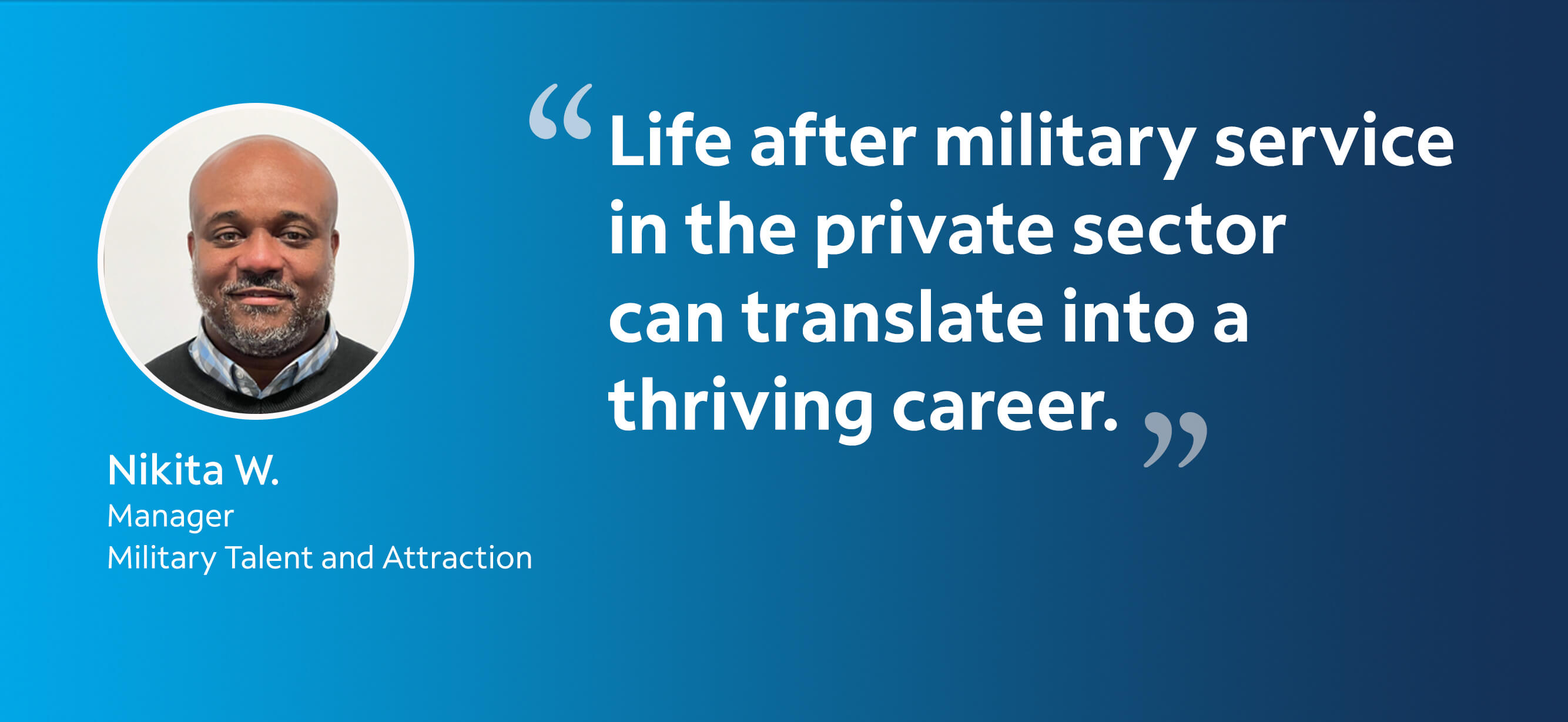 Career Advice Beyond Military Life
During my time inside and outside of the Marines, I've learned a lot about companies, jobs and people. Here are a few key pieces of advice I want to share with anyone reading this:
Focus beyond the title. Oftentimes, people get hung up on titles, but that's not as important as getting your foot in the door. Start by identifying job responsibilities that fit you best. (Spectrum offers Fit Finder, a free tool that quickly assesses your interests and skills to connect you to career possibilities!)


Look for training programs. While military skills are transferable to civilian careers, there are often new skills needed to be successful. Consider training programs as a way to build upon the skills you already have while learning and growing into something new.


Ask about career growth. If moving up the ranks is important, be sure to research what the company offers in terms of career growth opportunities. During interviews, ask questions so you can further understand your future growth potential.


Do a deep dive. When you think about civilian careers and companies, don't assume you know all they have to offer. Many companies, regardless of industry, are looking for people with strong technical skills, leadership abilities, and a sense of loyalty and integrity. Go beyond what you think you know about a company to research what they really have to offer.


Find a mentor. Whether you decide to join Spectrum or some other organization, find a mentor to help you navigate the company and build your network. This is something I did while at Spectrum, and I credit my mentor for helping me advance into a management position.
What Can Spectrum Do for You?
As a member of the Military Talent and Attraction team, my job is to talk about Spectrum's rewarding job opportunities and benefits. And the reason I can confidently do this is, as a veteran myself, I personally feel a sense of belonging and community here. From day one, its welcoming environment and commitment to professional growth have held true. I never felt at home, in another civilian role, until I worked at Spectrum. And, the company's career opportunities are a big reason why. They include:


Broadband Field Technician Apprenticeship Program – This specialized program offers a Department of Labor certification for new field technicians who learn about fiber optics, LAN/WAN, WiFi and phone installation. It is a great opportunity for someone with a technical aptitude who wants to be in the field doing physical work.


Training Programs – Most of our new employees get their foot in the door through our Customer Operations, Sales, Retail Sales or Field Operations teams. Regardless of your entry point, we offer weeks of paid, on-the-job training to help individuals be more successful.


Product and Technology, and Network Operations - If you have experience in engineering, cryptology, sonar or other technical experience, you may have a strong foundation for technology-related roles located in our Denver, CO, St. Louis, MO, Charlotte, NC, or Stamford, CT locations.


Talent Acquisition – I'd be remiss if I didn't mention opportunities within Spectrum's recruiting team. If you have a military HR or recruiting background, like me, I encourage you to look into opportunities with our growing team of recruiters.
There's more to Spectrum beyond telecommunications. There are 10 business units with many teams supporting one another. Currently, we are hiring for more than 2,500+ roles and 50+ career path possibilities across 41 states. And life after military service in the private sector can translate into a thriving career.
What Can the Military Talent and Attraction Team Do for You?
I first learned about careers at Spectrum when a recruiter reached out to me. Now, my team and I are here to help make similar career connections. In my experience, other organizations claim to have a military representative; here, we have a team dedicated not only to hiring veterans but also to offering career-related services, including:
Resume reviews and advice
Career coaching from experienced recruiters
Guidance on how to translate your military skills into civilian jobs
Interview tips to help you put your best foot forward
On behalf of Spectrum's Military Talent and Attraction Team, I invite you to connect to the services we offer. Whether you're interested in joining our ranks or considering other paths, we're here for you.
Spectrum is a proud partner of Hiring Our Heroes, USO Pathfinder®, Wounded Warrior Project, Military Spouse Employment Partnership, Centurion Military Alliance, Student Veterans of America and Paralyzed Veterans of America. I'm proud to be part of a company named by Forbes as a "2021 Best Employer for Veterans" and a culture where veterans can thrive. I hope you read this and take the next step in connecting with us.
Semper Fi!

Tell us what you think about this story.