5 Things to Know About Working in Technology at Spectrum
We recently caught up with one of Spectrum's exceptional employees: Kathy B., lead technology recruiter for the Product and Technology (P&T) business unit. In her role, Kathy supports one of the fastest-growing departments inside Spectrum. From software engineers to app developers and from data architects to product managers, Spectrum's tech teams create, deliver, and operate connectivity products and services reaching nearly 500 million devices.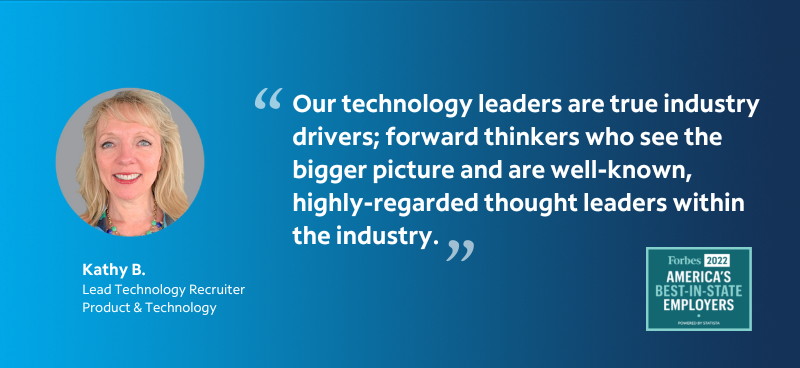 We wanted to learn more about what's new and exciting in the world of technology and innovation at Spectrum. After talking with Kathy, it's clear: Spectrum recognizes technology as a critical strategy for both customer experience and company growth. And the number of career opportunities within P&T—nearly 700 current job openings—further demonstrates Spectrum's investment in its digital transformation and inventing what's next.
Here are five things Kathy (and all of us on the Spectrum Careers team) want you to know about innovation and technology at Spectrum, the nation's fastest-growing mobile and leading internet provider, and recognized by Forbes and Statista as one of America's best-in-state employers.
1 - It's Not Just About the Tech
One of the most compelling aspects of being part of P&T is not only the technology but also the people moving it forward. "Our technology leaders are true industry drivers; forward thinkers who see the bigger picture and are well-known, highly-regarded thought leaders within the industry," Kathy shares. "More importantly, they are very approachable. There's a sense of collaboration and ownership within the team, and everyone's contributions are valued and recognized from day one. When you join the Spectrum team, you have visibility, a voice, and a seat at the table."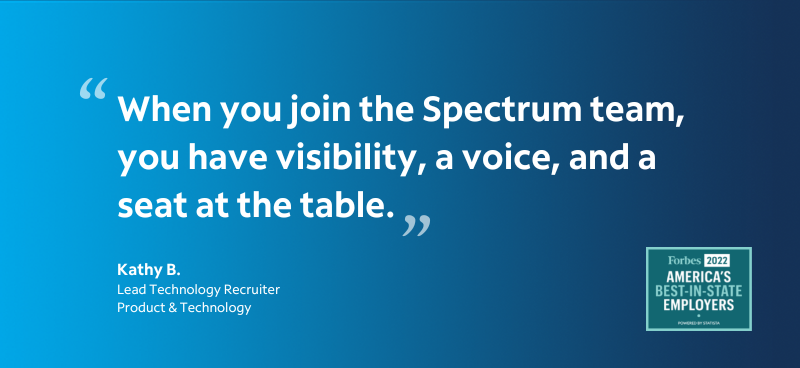 2 - The Shift Toward Self-Service Products and Platforms
Of all the opportunities within the broader technology functions at Spectrum, Kathy reveals it is the Self-Service Products and Platforms (SSPP) organization that is keeping her the busiest these days. "This group has been establishing, expanding, and evolving their teams. There is tremendous growth and opportunity within that particular function … a lot of movement and upward mobility. We've seen a number of internal promotions over the last several months, as well as numerous contractor-to-full-time employee transitions. It's a very exciting place to be as we are transforming the way people connect with our products and services online."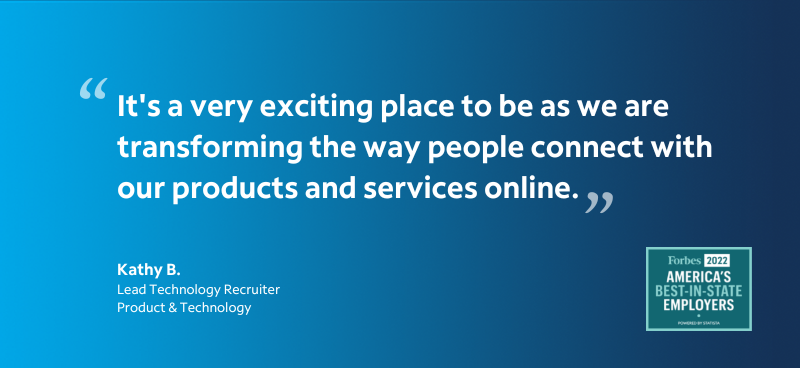 In addition to the aforementioned internal promotions and transitions, SSPP has experienced marked success in hiring externally and hiring at the Senior Director and Vice President levels. In fact, this year, SSPP was leading in external hires within Spectrum's Digital Platforms organization.
So, what exactly is SSPP and why is it so exciting?
Self-service products enable a customer to navigate through the full product experience—from signing up and managing their account to activating new features—all within the platform. Spectrum places a tremendous amount of focus on enhancing its portfolio of self-service products and customer experiences, as well as accelerating speed to market of new functionality for residential and business customers using its Video, Internet, Voice, and Mobile products.
The SSPP team is responsible for the design and delivery of high quality and transformational customer-facing web and mobile self-service platforms. They are committed to streamlining and simplifying the customer experience. This includes identifying opportunities for continuous improvement, developing and testing new features or optimizing existing ones for current self-service functions, such as adding new services, troubleshooting equipment, paying a bill, scheduling service appointments, and WiFi management.
"Right now, specifically in the SSPP organization, they are building out their teams, each having their own service to focus on as they evolve to a more multi-disciplinary, outcome-focused organization," Kathy said. "There are so many opportunities to make a difference and so many different directions you can take your career."
3 - Spectrum Drives Innovation and Innovation Drives Spectrum
Spectrum prioritizes innovation and recognizes it as a top strategic imperative. From transforming connectivity to reimagining streaming entertainment, Spectrum's tech teams in Charlotte, NC; Denver, CO; St. Louis, MO; and Stamford, CT embrace complex challenges and collaborate to deliver the highest quality customer experiences. As a recruiting professional, Kathy has an insider's view of the innovation, cutting-edge technologies, and projects in the pipeline. As such, she recognizes the constant evolution of the Company's technology strategies and initiatives, and shares her knowledge with candidates.
"I meet with the hiring managers for every role we open. I gain in-depth knowledge of the team, their leadership style, the technologies they are using, and the pertinent details around the responsibilities for the role," Kathy shares. "When I engage with a candidate about career opportunities, I speak of the big items we are driving toward across mobile, WiFi, streaming, etc. Then bring it to more of a granular level to discuss the initiatives underway within the particular organization that will be interviewing the candidate."
Spectrum has worked hard to create a culture of innovation by constantly challenging the status quo, studying consumer trends and staying on top of industry shifts, facilitating team contributions, taking risks, and providing independence and autonomy for the teams and individuals owning the work.
4 - Spectrum Is a Great Place to Work
Kathy also understands first-hand the opportunities that Spectrum provides candidates and the career growth and longevity that make the company an employer of choice for tech candidates across the country. After one year working for the company as a contractor, Kathy was hired into a full-time permanent position. The company's workplace culture and company values are, in her mind, key differentiators.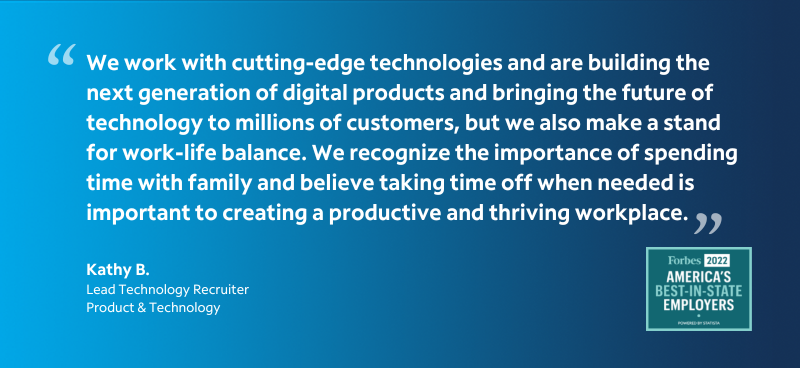 "We work with cutting-edge technologies and are building the next generation of digital products and bringing the future of technology to millions of customers, but we also make a stand for work-life balance. We recognize the importance of spending time with family and believe taking time off when needed is important to creating a productive and thriving workplace," Kathy said. "We value our employees as people and embrace diversity and inclusion to create a welcoming environment for all. We are also very active in the communities where we do business and place a strong emphasis on giving back. Spectrum is committed to improving communities and impacting lives where our customers and employees live and work."
5 - How to Prepare for Your Tech Interview
After having spent the past 25 years in IT recruiting roles, Kathy has met thousands of candidates. Last year alone, she hired more than 120 candidates into full-time tech positions. So, she knows a thing or two about how a candidate can stand out amongst the competition.
"When I prepare candidates for interviews, I provide the background on the leaders and hiring managers, and encourage candidates to look at their LinkedIn profiles and familiarize themselves with the people they will be meeting with," Kathy said. "It's important to thoroughly review and study the careers and corporate site to learn more about the organization and what we're working on. I try to do as much as I can to prepare them on what types of questions to expect from the hiring managers and leaders that will be conducting the interviews and encourage them to study all aspects of the job description and be prepared to speak to it."
One final tip: "I recommend you reach out to each of the folks who interviewed you and send them a quick, personal follow-up note. Thank them for their time and express your enthusiasm for the role. I tell candidates to do this within 24 hours of their interviews, when they're still fresh on the hiring managers' and leaders' minds."
Ready to learn more?
Working in tech at Spectrum means bringing your expertise and applying it every day to create, develop, and deliver powerful technology solutions. Bring your ideas and let's go create, together. Explore tech jobs at Spectrum.
Tell us what you think about this story.