Success is building strong connections.
When residential communities are being built, and people begin moving into new homes, all they can think about is getting unpacked and feeling settled. They also want to quickly get connected to the Internet and TV, to family and friends. Market Development Specialists play a vital role in getting new residential communities connected.

Market Development Specialists
Spectrum, a Fortune 100 company, has a network poised to power the future. As part of our team, you will manage a sales territory that includes new residential communities and housing developments. Through lead generation and prospecting, you will sell Spectrum's superior products at an exceptional value to residential customers.

Power Your Potential
Your goals are our goals. From best-in-class sales training to manager support to advancement opportunities, we're here to help you every step of the way.
Earnings Elevated
Your base salary is just the beginning. Motivated Market Development Specialists are eligible to earn uncapped sales commissions, incentives and performance bonuses.
Continuous Learning
If you're ready to learn and grow your career, our comprehensive sales training and dedicated leaders will help you achieve your goals. Learn winning sales techniques and gain product and service knowledge to confidently advise customers.
Independent Self-starter
As a Market Development Specialist, you'll thrive in this independent, customer-facing role. Expect to work rain or shine, days and nights, and to knock on many doors before closing a sale. It's hard work, but with your professional resilience, you can excel in this position.
Future Focused
Have your sights set on a rewarding career with a stable company? You will appreciate the variety of career paths filled with opportunities for future success.


Pay & Benefits
Earn more and take care of your health. When you join our sales team, you will receive a base salary, plus uncapped commission, incentives and performance-based bonuses. The average first-year target compensation is up to $100,000+. Beyond your paycheck, we provide affordable, market-leading benefits to our employees.


Reach your professional and personal goals. New specialists will participate in a professional sales training program to learn about our products and become experts in their field. Plus, you can reach your personal educational goals by earning an associate degree, bachelor's degree or professional certificate tuition-free through our partnership with Guild.


Invest in your future. For every dollar you put into your 401(k), Spectrum will match up to 6% of your eligible pay. On top of that, most employees receive an additional company contribution equal to 3% of their eligible pay into a Retirement Accumulation Plan—helping them save and realize their future financial goals.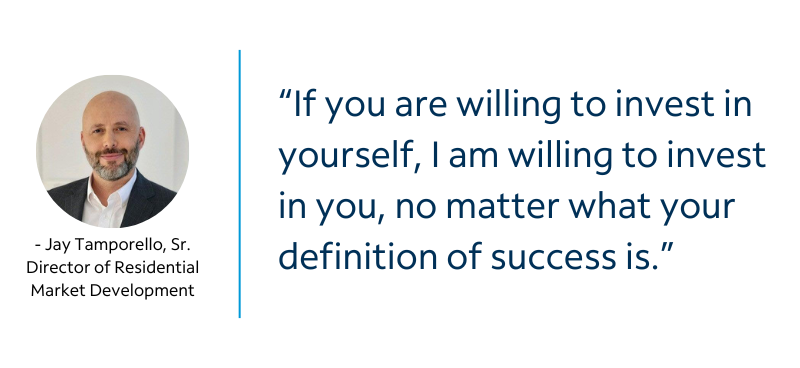 Connect to more
You know what you want to do. Now see how we help you do it. Find out what our company offers its people and get tips about taking the next step.