Discover How Charlene Learned About Spectrum Employee Community Grants
Charlene, Facilitator, learned about Spectrum Employee Community Grants (SECG) during her first week on the job. Spectrum employees who volunteer with a qualifying nonprofit, and who've been with the company for a year, can nominate their organization to be considered for a grant.
As soon as Charlene became eligible to submit a nomination, she jumped at the chance to submit her first nomination for Florence Crittenton Services of Charlotte, NC.
"I was very excited to nominate Florence Crittenton Services on my one-year anniversary," says Charlene. "When I started here, it was great to know our company is willing to give employees the opportunity to connect with the community and help local nonprofits."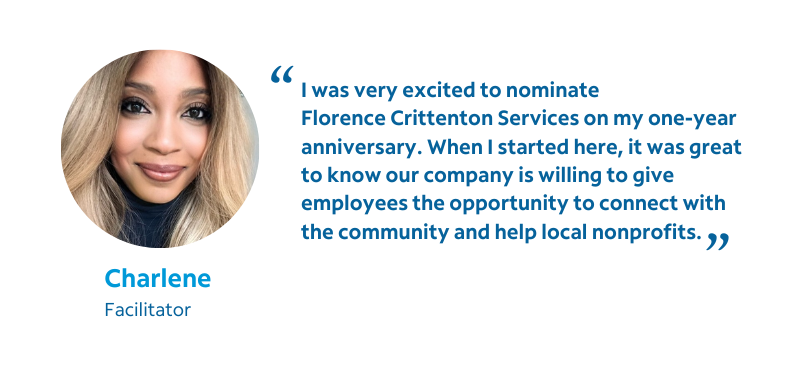 Charlene has been volunteering with the organization for more than fifteen years, including serving as president of their board of directors. Florence Crittenton Services provides comprehensive health, counseling, and education services for pregnant, parenting and young women in foster care.
The Carolinas Region is home to thirteen other organizations that received a SECG, thanks to nominations by Spectrum employees. In addition to Florence Crittenton Services of Charlotte, NC, other recent SECG recipients included Habitat for Humanity Central North Carolina and House of Hope of the Pee Dee.
The latest round of grants totaled $39,000 in funding in North and South Carolina.
The SECG funds are awarded to qualifying nonprofit organizations within Spectrum's 41-state footprint that deliver critical social services and help underserved residents meet basic needs. Grant recipients are nominated by employees who've worked for us for at least 12 months, and who've volunteered with those organizations for more than a year.
Since its inception in July 2019, SECG grants have gone to more than 315 local nonprofits in 31 states.
Are you a Spectrum employee that volunteers with a qualified nonprofit within Spectrum's footprint? Nominate it for a SECG.