Introduce yourself
We'd love to get to know you better; take a minute to record a video introduction. This is your chance to tell us about yourself so that we can connect you with the right resources based on your interests and experience.
"ONE VETERAN AT A TIME" - OUR MILITARY HIRING MISSION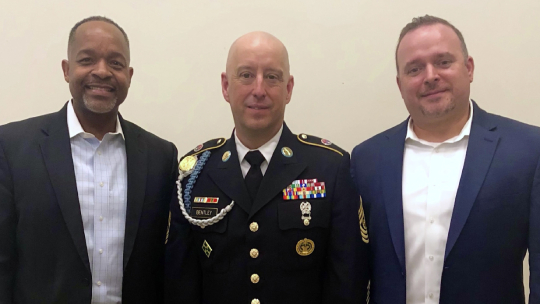 As a veteran, military spouse or transitioning service member, you've worked hard to develop your skills, displaying honor and courage, resulting in making the world a better place. Now it's time to give you a hero's welcome as you take your next step—as part of our team. We're committed to increase military hiring through successful partnerships with Federal, State, Local and Non-Profit agencies. Explore our rewarding career opportunities or contact our Military Recruitment team.
Our Spectrum Broadband Field Technician Apprenticeship Program is helping veterans leverage their existing skills and transition to civilian life.
Spectrum is committed to helping our Transitioning Military, Veterans, National Guard and Reserve members find meaningful careers.
Our company has partnered with the U.S. Department of Labor to develop a Field Technician Registered Apprenticeship Program. It is a unique, flexible training system that combines job related technical instruction (online) with structured on-the-job learning experiences. The program is available to all recent hired Field Technician employees.
Eligible Veterans enrolled in this program can apply for and receive GI-Bill Benefits during the program. Spectrum employees also enjoy a progressive wage scale and an established career path to complement their career.
Upon successful completion of the program, graduates receive an industry issued, nationally recognized credential that certifies occupational proficiency and provides opportunities for career advancement. The Field Technician Apprenticeship Program is continuing to grow and will expand to our entire 41-state service area over time.
Click here to see Field Technician opportunities >
Our company is proud to partner with:
Join Our Military Network
In our veteran employee network, you'll get access to exclusive resources and updates to help you succeed in your civilian career.