Servant Leadership: From the Military to Spectrum
After serving 20 years in the United States Air Force, Davin Y., joined Spectrum in 2022 as a Hiring Our Heroes Fellow.
Hiring Our Heroes (HOH) works to connect the military community with companies, like Spectrum, to create meaningful civilian careers through employment opportunities, fellowships, and networking. We are honored to partner with organizations like Hiring Our Heroes as part of our commitment to being veteran-ready for our military-affiliated employees.
Since his Hiring Our Heroes Fellowship with Spectrum, Davin has transitioned to his current role as a human resources manager, where he applies values from his military service every day.
We spoke with Davin about his role at Spectrum, his time in the military and everything in between. Read our conversation below.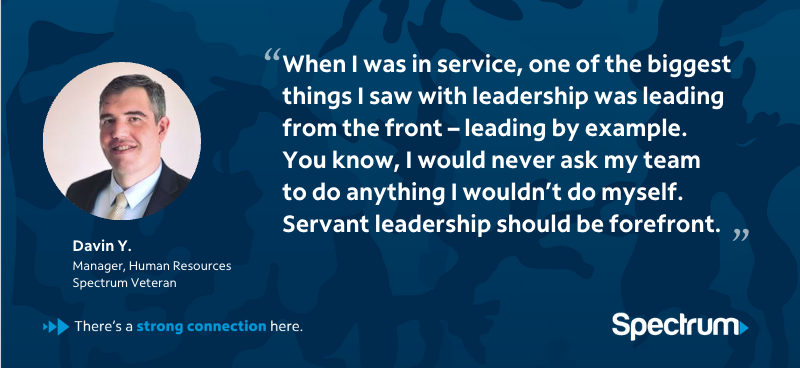 Q: What is your current role at Spectrum and what are your primary responsibilities?
My current role is Manager of Human Resources for our Customer Operations organization. I manage the daily operations of everything HR. For that, I have two HR Generalists that work for me, two HR Coordinators, and our recruiting team.
This involves taking care of recruiting and assisting our employees with needs like Americans with Disabilities Act (ADA) accommodation requests and helping them understand and navigate things like benefits.
Q: How do you lead your team, and how did your military service prepare you to be a people leader?
Leading a team, and leading them confidently, is one of the things that translates most from my time in the military.
When I was in service, one of the biggest things I saw with leadership was leading from the front – leading by example. I would never ask my team to do anything I wouldn't do myself. Servant leadership should be forefront.
When we're serving in the military, we're serving America. Now, at Spectrum, we're still serving – we're serving our customers. In my case, our customers are our employees. From top down, it's about serving them the best we can as a team.
Q: How did you begin your journey with Spectrum?
I came in through Hiring Our Heroes. About a year out from my military retirement date, I was able to start looking around and apply to different things, and Hiring Our Heroes really caught my eye. I connected with Spectrum's Military Talent Attraction team and they guided me through the process.
Hiring Our Heroes was great because they give service members a good transition point to go from military service to corporate employment. They connected me with the HR Director here at Spectrum where we basically began the interview process.
When I first came onboard, I didn't have a lot of recruiting experience, so I used my fellowship experience to learn more about talent acquisition and the ins and outs of recruiting.
Spectrum gave me an opportunity to come in and learn a skill that I wasn't familiar with. I knew I could lead and manage people, but the Hiring Our Heroes Fellowship provided me with that extra piece of corporate and recruiting experience I needed.
It helped prepare me for when I would eventually apply for the HR Manager role here.
Q: How has Spectrum helped with your transition from military service to corporate?
What Spectrum did that really helped my transition from military service to corporate service was breaking down similarities between the two. I say corporate service because that's the key – it's service related.
In the military, you are taught and trained to serve something higher than yourself. You're serving your team, your country, and the world. You can take that same service mindset and apply it to any corporate setting. We're building teams, managing large projects, and ultimately, we're serving people. Service is the key component that translates.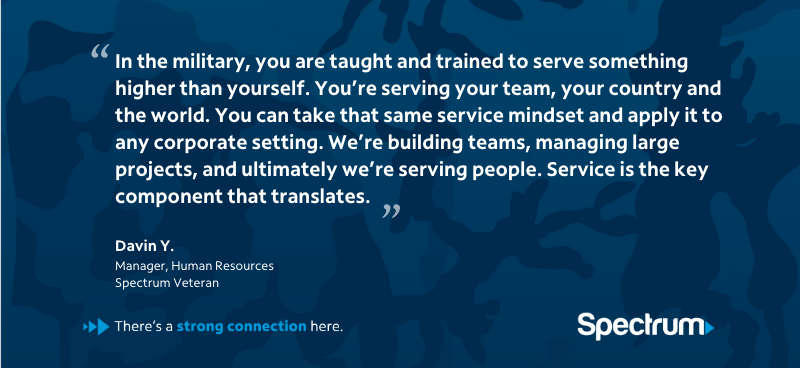 Q: What would you say makes Spectrum a veteran-ready place to work?
I served in the Air Force for 20 years. The Air Force's core values are Integrity First, Service Before Self, and Excellence in All We Do.
Those core values are the same constructs we use at Spectrum. Here, we're honestly and transparently developing our talent, providing quality service to our customers and employees, and delivering excellent connectivity products all over the country.
That's what makes Spectrum veteran-ready.
Q: Okay, tough question. What do you do outside of work for fun?
Since leaving the military, it's all about family life for me. For 20 years of my life, I was all over the world and traveling, so building that connection and spending quality time together is so important to me. We do a lot of hiking, go to cool events, and explore the Pacific Northwest. Pretty much every weekend we'll go see a new place together.
When we're not exploring, stereotypical of a military man, I'm usually smoking brisket on my smoker or grilling burgers.
Besides that, I really enjoy playing video games with my son and his friends. It's a feat as an old man to get on there and beat a bunch of 14-year-olds at video games.
Did you enjoy hearing from Davin about his transition from military service? If so, learn more about our military recruiting program here. We welcome you to explore open roles with Spectrum and experience first-hand, how we're veteran-ready.