This article was originally posted on PowerToFly.
4 Tips For Developing Your Own Personal Brand
Insight from Spectrum's vice president of marketing & creative strategy
Gone are the days when branding pertained only to companies. In a competitive job market, more and more professionals are leveraging personal branding to authentically market themselves.
Just ask Claire Avery, Vice President of Marketing and Creative Strategy at Spectrum, which operates the Spectrum brand of connectivity products and services. "I'd describe my personal brand as, 'Trusted guide driven to inspire and elevate,'" she says. "I want to help others grow, develop, and recognize their strengths while fueling their passion and creativity."
As a seasoned marketing professional who leads Spectrum in the development and execution of advertising campaigns, Claire knows a thing or two about how a strong brand leads to growth. This time around, we asked her to put her own brand in the hot seat and share how personal branding has benefited her career (and could for you, as well).
A passion for marketing
From a young age, Claire enjoyed considering what makes people tick.
"I've always liked connecting with people — understanding what motivates them and inspires them," she says. Marketing, an industry where Claire knew she could find strategic ways to connect, attract and engage an audience, seemed like the natural fit as she kickstarted her career.
After college, Claire landed a marketing role in technology and telecommunications. To this day, she appreciates that the industry is constantly evolving and there's always a new challenge to solve. "I've never liked standing still, and this industry keeps me on my toes," she says.
Claire joined Spectrum in 2007 as a Corporate Marketing Manager and has since worked her way up to her current role as Vice President of Marketing and Creative Strategy. Along her career path, she's tapped into her professional branding experience to develop her own tool for growth: her personal brand.
Leveraging marketing principles to build a brand
One's personal brand can be described as how they communicate and present their value to others. To develop her own brand, Claire has leaned into the foundations of her work as a marketing professional.
"Building and evolving a corporate brand is not that dissimilar to building a personal brand," she says. "You start with identifying your core values and beliefs — your truths. From there, you do research to understand how others perceive you, what you're known for, and what you're not known for."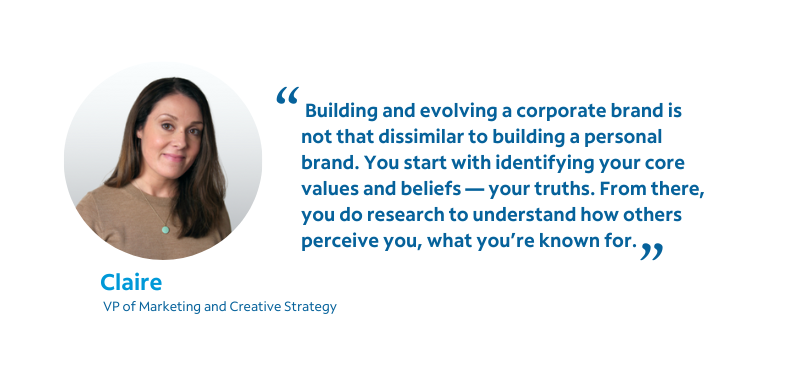 It's important for people to find their "why," Claire says. Just as a company exists for a certain purpose, professionals should consider what they stand for. "This is what people connect with," she explains. "It's who they're choosing to do business with and who they are choosing to hire or promote."
In addition to identifying your core values and beliefs, another crucial component of your personal brand is your visual identity, which can greatly enhance your personal brand package, making it more memorable and recognizable to others.
As the Co-Chair of the Spectrum Women Business Resource Group, Claire highlights the significance of this topic. The group recently organized a panel discussion focused on finding your "one thing" (your why) to underscore the importance of understanding your purpose. By educating their member base on this topic, they aim to empower professionals to create a powerful personal brand.
By combining a clear sense of purpose and leveraging resources, you can create a personal brand that can positively influence your professional success.
The importance of branding
"Building a strong personal brand can absolutely help advance your career," Claire says, adding that it's essential to stay authentic to your brand, however challenging that may be.
"I want to ensure people know who I am and what I'm about," she says. "Every interaction helps inform my brand and my value. And those are what open doors to create new opportunities not only for me but for my team."
The way Claire expresses herself, communicates, and adapts to her environment continually evolves with her career, but she always comes back to the same values, beliefs, and intentions. By showcasing this part of herself, Claire is able to garner trust, bolster her presence, build credibility, and ultimately, grow her career.
4 tips for developing your own personal brand
Whether you're building your personal brand from the ground up or looking to make adjustments to the foundation you've created, Claire offers these four tips:
An important step in developing your brand is to know your why. "Ask yourself, 'What is my purpose, and what drives me?' Try to be as succinct as possible," Claire suggests.
Once you've answered that question, ask your peers or colleagues to share how you're perceived. "We're all naturally drawn to certain types of people, both personally and professionally," Claire says. "These characteristics that draw people to us are our inherent strengths. Getting input from all directions, such as direct reports, peers, and leadership, is a great way to start."
Pinpoint what makes you unique and the value you bring. "Learn how to align your values and intentions with how others perceive you to make the most impact through your brand," Claire says.
Lastly, be authentic. "The best brands know their why and purpose, and they live their truths every day during every interaction," Claire says. "You'll build trust with those around you by being consistent, intentional, and authentic. From there, this trust can lead to growth and new opportunities."
At the end of the day, Claire leans into her own brand to help others grow, develop, and recognize their individual strengths. "I'm driven by a desire to make a positive impact on those around me, and by using my strengths, I can help inspire and encourage growth in others," she says.
Interested in leveraging your personal brand to grow a career at Spectrum? Check out our openings.