6 Tips for Realizing Your Career Potential from a Spectrum Leader
As a regional vice president within Spectrum's Field Operations business unit, I lead a team of 3,500 fulfillment, maintenance and construction employees, who together support over 10 percent of the company's 32 million customers. My team is often the face of Spectrum – meeting customers in their homes and businesses, ensuring they stay connected to what matters most. The work is rewarding – especially as we've seen over the past two years.
While this field has been traditionally occupied by men, there are many opportunities available to women. As a leader in this field, I'm committed to attracting and supporting more women to join and succeed in the industry. I'm proud to say we just recently celebrated two promotions of women within my organization, one to a Manager and another to a Director. It is incredibly rewarding to see women find meaningful career paths in what has predominantly been a male profession. I hope my personal career journey will demonstrate the success that can be found within the connectivity industry and at Spectrum.
Being Open to Change
Growing up in the midwest, I graduated from Indiana University and lived in Indiana, Michigan and Ohio. I received a degree in criminal justice and psychology, and originally wanted to go into the FBI. As with life, plans change and I went the business route. I'm a mother to two sons, and at the age of 39 (one week before my 40th birthday), I graduated with my MBA. Currently, I'm living in North Carolina and play an active volunteer role through our church in the community.
Prior to working in telecommunications, I was in the automotive industry. I was working in customer service for a company that represented a luxury car brand and loved it. But, then we moved to Ohio and it was time for me to find a new path. A neighbor told me about the great company she worked for – Spectrum – and its fast-paced environment, leading-edge technology and benefits, and how many opportunities there were. I applied and it turned out to be one of the best moves I ever made.
In 1998, I started working at Spectrum as a customer service supervisor. In this position, I had a team of 12 to 15 representatives, and together we worked a lot with Field Operations, engaging field technicians in support of our customers. As a customer service supervisor, I never imagined that I'd be where I am today.
Working at Spectrum, I've come to learn that leaders are looking for people with potential. Hard workers to tap on the shoulder, who may or may not think they are ready for that next opportunity. And, while moving from customer service to field operations is not a typical career path, it's one that I'm happy to be on.
It was the company president (at that time), who saw potential in me. He approached me about building out three new, experiential retail stores. I had zero experience ever doing anything like this before. He saw something in me, though, that I had yet to see in myself. He essentially acted as my sponsor and ally. I'm grateful for his advocacy, and my experience is an example of how having a sponsor can accelerate your advancement.
Now, looking back, opening those stores was incredibly rewarding—and are stand-out moments in my career. The opportunity challenged me. It pushed me beyond what I thought I could ever possibly do. It opened the door to an even larger role and that's when I made the decision to shift my career again, this time to Field Operations.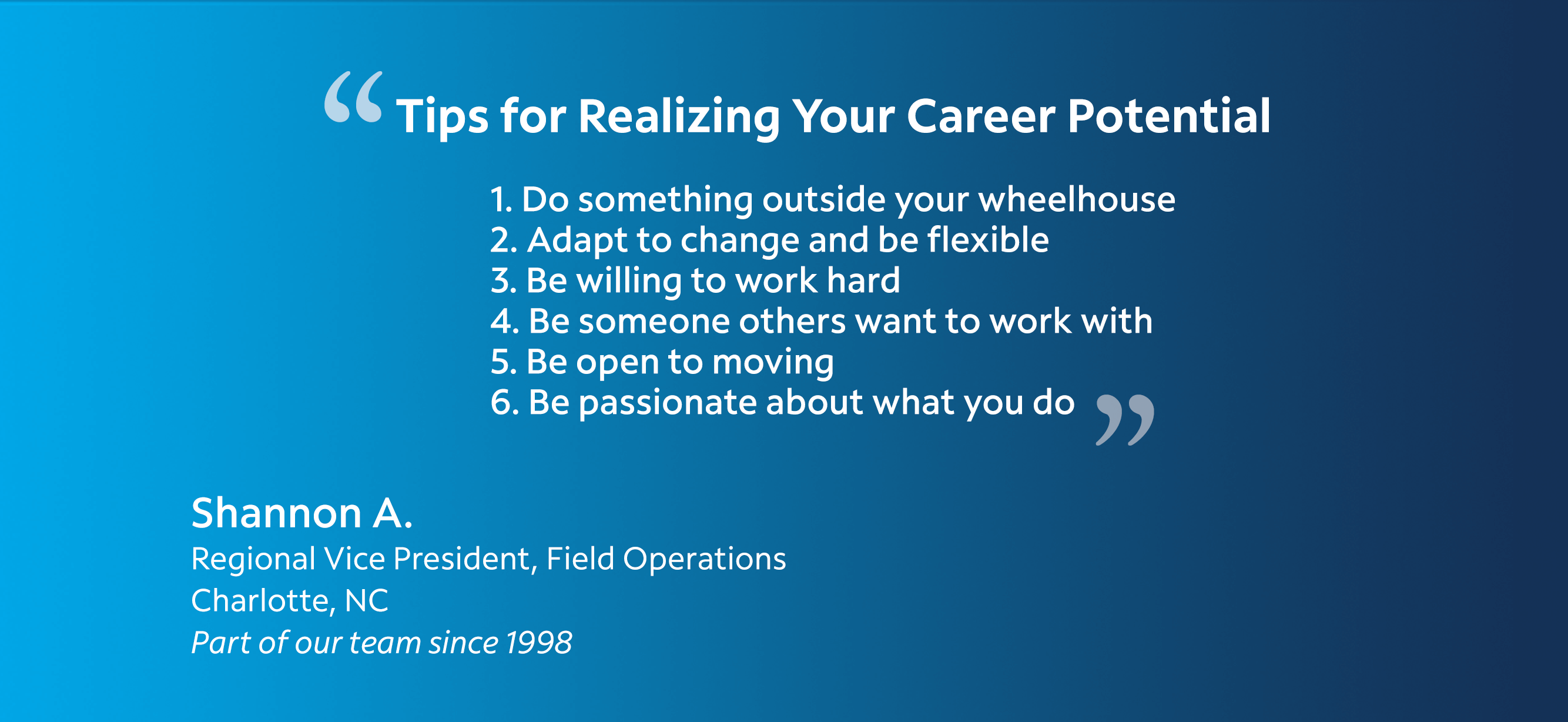 Realizing Your Career Potential
Today, my role is all about leading people. Here at Spectrum, I'm working to create an environment where people work hard, do the right thing, see the potential in others and show them the many career path possibilities here. That's the strong connection I am trying to build and foster. But I cannot do this alone. People have to put forth their best effort to be successful, too. As a people leader, here is my advice to you:
Do something outside your wheelhouse. I've found that people who are willing to find a way to go outside their comfort zone are people who are open to growth and may be identified for new opportunities.
Adapt to change and be flexible. Companies are constantly changing. Technology is changing at a rapid pace. Being able to adapt is important to short- and long-term career growth.
Be willing to work hard. Here in Field Operations, our work is physically and mentally demanding. Hard work is necessary. Regardless of team or department, a willingness to push and challenge yourself is important to overall career growth.
Be someone others want to work with. You never know when you're working with someone that might be your boss someday or might have some form of impact on your career down the road.
Be open to moving. Don't be afraid to make a move. That could mean taking a lateral move to learn another part of the business or moving to a new location. Take advantage of ways to network with others in your company and beyond so you can learn about these opportunities.
Be passionate about what you do. Passion cannot be taught; it's something that I look for when I am hiring and in my team.
There is a career path here anyone who wants to work hard, is up for a challenge and looking for fulfilling opportunities. Spectrum is at the cutting-edge of our industry and I wouldn't want anyone to miss out on an opportunity because they don't think they have what it takes. The potential is here. Let's realize it together.

Tell us what you think about this story.