Introduce yourself
We'd love to get to know you better; take a minute to record a video introduction. This is your chance to tell us about yourself so that we can connect you with the right resources based on your interests and experience.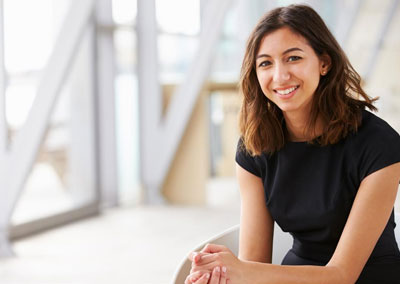 Internship Opportunities
Here at Spectrum we have summer internship opportunities in different areas of our business including Sales & Marketing, Finance & Accounting, Technology & Engineering, Network Operations and News & Media.
As an intern, you'll work on challenging projects that will allow you to develop your skills and hone in on your passion. A mentor will work closely with you to set benchmarks and goals throughout your internship to gain meaningful experience from your summer with Spectrum. Interns gain practical, hand-on work experience and skills they will use for years to come.
View our internship opportunities
A few words from recent interns
Anup Nepal

Finance Intern 2016

"My internship included professional development seminars to enhance our skills to be successful in the professional world. I truly appreciate the opportunity to work with such a wide group of executives and fellow interns."

Daniela Perez

Technology Intern, 2014-16

"I was able to learn and experiment with technologies that I wouldn't have the opportunity to anywhere else."

Caleb Bhagwandin

Meteorology Intern, 2015-16

"Every day I walked into work with a smile on my face, looking forward to another fun-filled day with a multitude of opportunities to learn, create and develop. I was able to put together a compilation of video time-lapses from the Sky Cameras across the Tampa Bay area."
An inclusive Organization
At Spectrum, we're proud champions of all of our employees and the work that they do. And our industry is taking notice, too. In 2015 we were named one of the Top Companies for People of Color by the National Association for Multi-Ethnicity in Communications (NAMIC). We're also one of Women in Cable Telecommunications' (WICT) Leading Employers. Our commitment doesn't stop there.
Check out the ways we're making a difference for all of our employees.
PARTNERSHIPS
We are proud to partner with foundations such as the Emma Bowen Foundation and the T. Howard Foundation. Each year we sponsor fellows from these two growing organizations by providing them with internship opportunities throughout various areas of our business. These fellows have proven to be key contributors throughout our internship program.
Our Philosophy
Here at Spectrum, we partner with national organizations and our in-house recruiting services team to seek hardworking college grads that are ready to take the next step in their professional career. We believe education, hard work and dedication to progress are important to the success of our employees. Spectrum employees welcome new talent and are eager to spread knowledge of the diverse aspects of our business. We work together as a team, providing skills and leadership that will help you grow as you begin your career with Spectrum.
Positions for Recent Grads
Have a question? Connect with a University Relations Talent Sourcer today. Email SpectrumUniversityRelations@charter.com