Spectrum Named as One of Forbes America's Best Large Employers
Forbes has named Spectrum to its 2023 list of America's Best Large Employers.
Forbes joined forces with market research company Statista to survey 45,000 Americans who work for U.S. businesses with at least 5,000 employees. Participants were asked to rate how likely they'd be to recommend their employer, or other employers with which they are familiar, to friends and family.
Having employees who think so highly of Spectrum, that they not only stay, but they also recommend us to others, is something we value and appreciate. It is no accident; it's the result of our long-standing commitment to investing in our employees.
"The benefits and opportunities here are endless," said Maintenance Technician, Travis. "Spectrum is a great place to be. I have colleagues that I work alongside every day who have been with the company for over 30 years."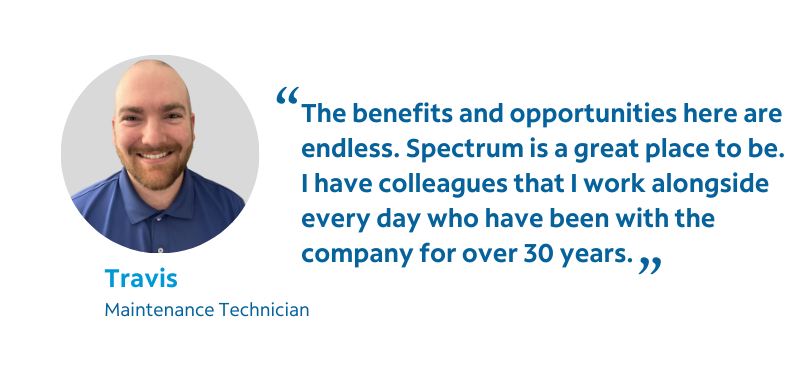 One way we encourage our employees to create lasting and dynamic careers here is by offering comprehensive and affordable benefits, going so far as to absorb the full annual cost increase every year for the past decade. Our market-leading retirement program, which includes the 401(k) Plan with company match and Retirement Accumulation Plan, features a company contribution of up to 9% of your annual pay each year. And at $20 an hour, our starting hourly wage is nearly three times the federal minimum wage.
In addition to that, we recently made significant investments by enhancing our pay and benefits programs. Some of the highlights include:
• More vacation days based on years of service.
• Nearly doubling the amount of education assistance to $10,000 per year.
• Providing two additional weeks of paid parental leave, for a total of four weeks.
• Expanding benefits eligibility for part-time employees and unmarried domestic partners.
• Significantly discounted Spectrum Mobile employee benefit for employees and their families.
• We also provide significant opportunities for job training and advancement, giving employees the opportunity to develop the skills and expertise necessary to build long and successful careers here.
"I've always been proud of the meaningful ways we invest in our employees, and honors like the one we received from Forbes are nice," said Executive Vice President and Chief Human Resources Officer, Paul Marchand. "But having our employees recommend us as a great place to work is the ultimate endorsement of our company."
Are you interested in joining an organization that is invested in you? Explore a career at Spectrum: https://jobs.spectrum.com/